Full Service Digital Strategy
Driving 715% more qualified leads for a pioneer in backup power.
KOHLER Generators, a division of KOHLER Power, is one of the oldest generator manufacturers in the world, having created the first modern-day generator in 1920. Although Kohler is a household name, KOHLER Generators lacked the brand awareness of their competitors in the backup power industry. This was due to their reputation as leaders in kitchen and bath, as well as competitors who advertised to a greater extent. 
KOHLER Generators has set a multi-year business goal to grow consumer awareness and generator sales. Our job was to assist them in reaching this goal with brand awareness, lead generation, and lead nurturing strategies.
Understanding our audiences and establishing our position.
To effectively target our audience, we had to understand their pain points and establish how Kohler's product meets their needs. We pored over segments, psychographic data, motivators, and behaviors and identified the most important things to our audience: reliability, safety, and peace of mind during power outages.

We also analyzed competitor products and identified key ways our product is different, making it ideal for our customer.
From there, we established key messaging pillars that helped position KOHLER's product as the obvious choice — with a focus on reliability, safety, trust, and empowerment. We deployed this core messaging strategy across all channels.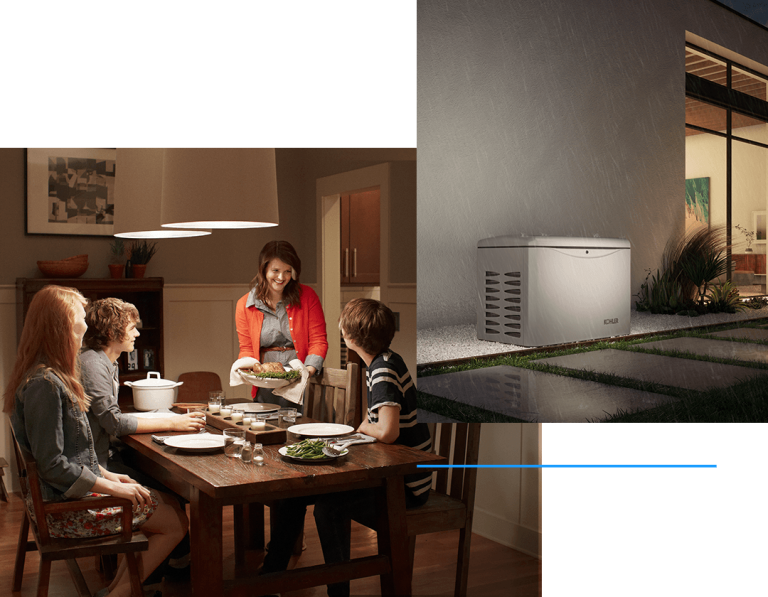 Lead Generation
Introducing KOHLER Power to new audiences with paid media.
Knowing our audience prioritizes safety and peace of mind, we created a direct response campaign strategy targeting specific geographic regions with substantial business opportunity based on likelihood of severe weather, demographic relevance, and population size. Over the course of 2020, we deployed 5 different direct response campaigns covering 44 markets that fit the criteria above.                                      
Simultaneously, we ran a national campaign to bolster visibility across the country, build brand recognition, and capture demand. The national campaign ran on search, display, and social channels, allowing us to deepen consideration among some audiences while creating new awareness among others.   
Over the course of 2020, these campaigns generated 36,000+ leads at a average cost of $50 per lead. In addition, we established a presence in 44 unique markets, strengthening brand awareness and recognition.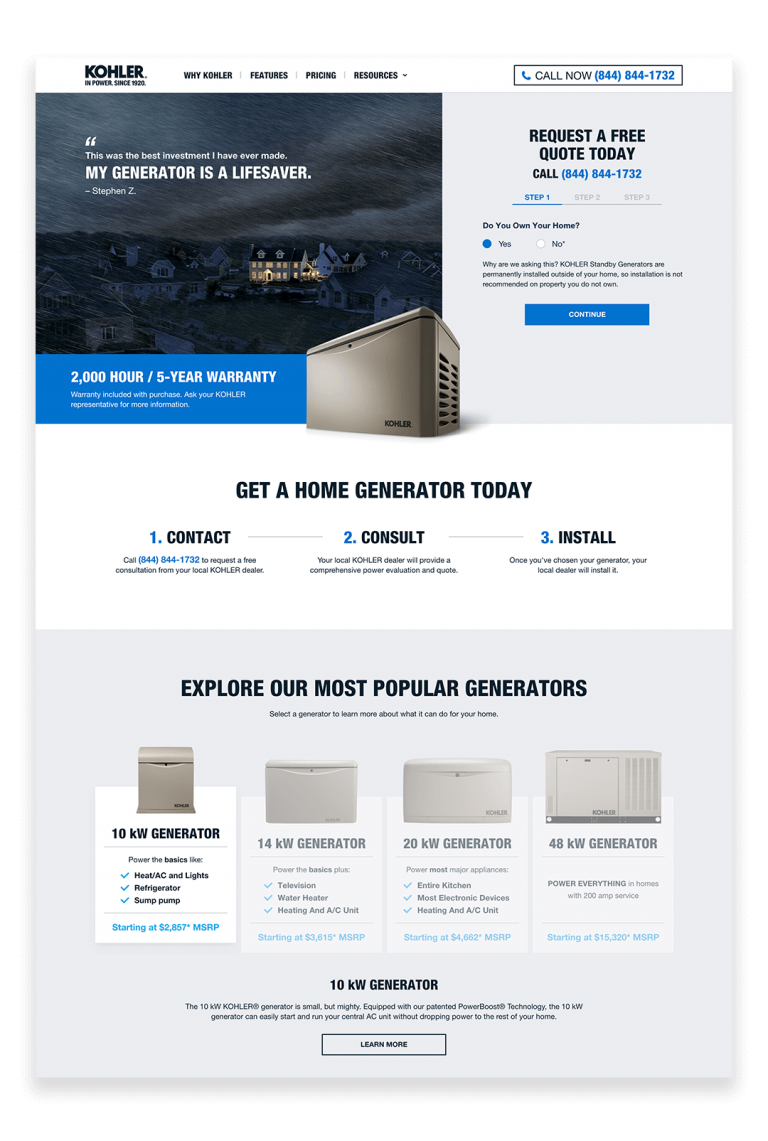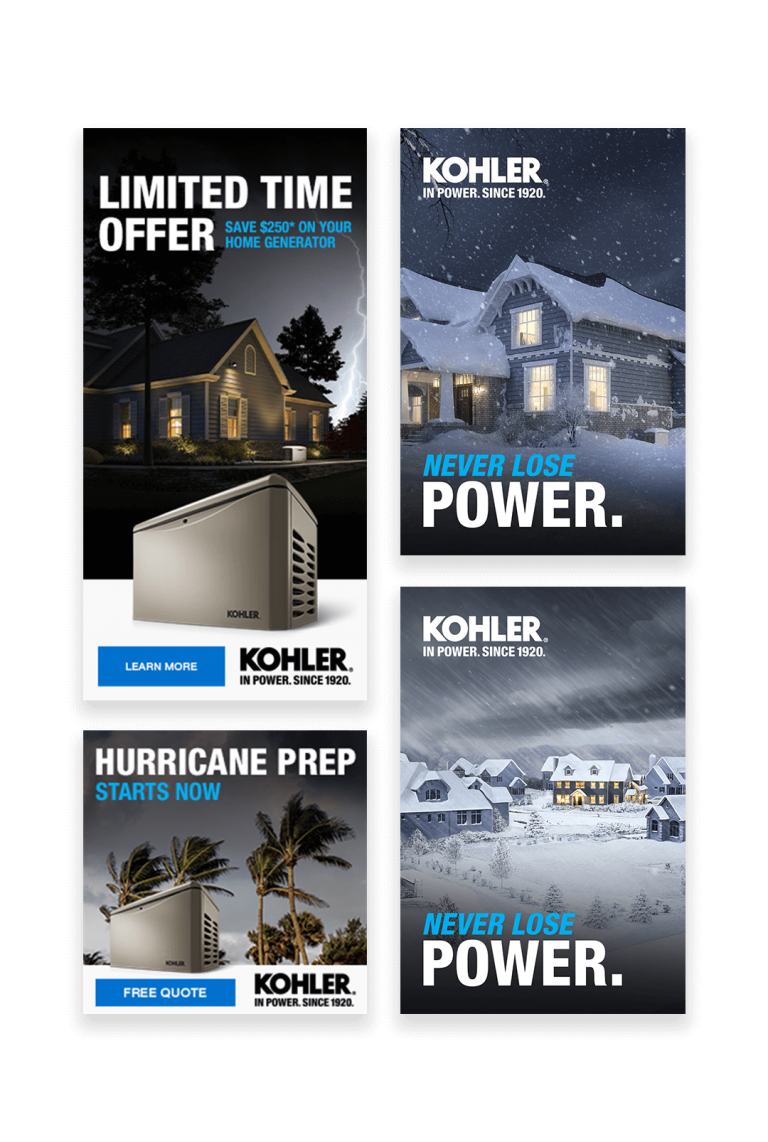 When comparing direct response campaign performance to a previous agency, we generated:
715% More qualified leads
PAID SEARCH
Reaching high-intent users in search results.
In search campaigns, we used effective keyword management and aggressive bidding strategies to dominate the top of the fold on both Google and Microsoft search engines in key Direct Response DMAs. This ensures KOHLER has prime visibility among high-intent audiences at time of search.
Our messaging highlighted key value propositions, product benefits, and location-specific pain points, speaking directly to customers in hurricane-prone areas, Californians who experience public safety power shutoffs, and those in areas that experience severe winter weather. While our competitors targeted audiences similarly, our messaging differentiated us. Our ads spoke to the way owning a generator makes you feel: safe and secure.
Once we had insights on which areas were generating the most leads, we utilized proactive and reactive geographic targeting in our national campaign to allow us to effectively focus our budgets for the strongest response and ROI.
We utilized an extensive negative keyword strategy to eliminate irrelevant traffic and ensure that our ads were displayed on only the most relevant queries.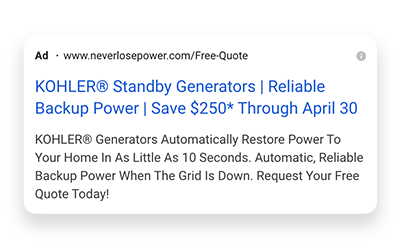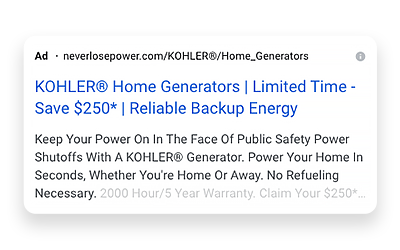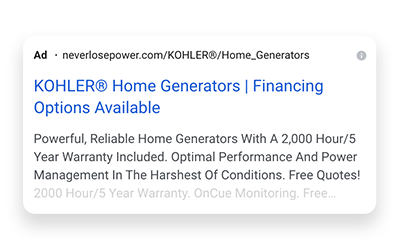 Paid Social
Stopping the scroll with high-converting social ads.
From our audience research, we knew social media was a place our demographic turned to when researching products. To meet our customers where they are, we executed demand-generation and conversion campaigns on Facebook, Instagram, & Pinterest. Like our search and display campaigns, we aligned Kohler's key messaging pillars with regionally-specific strategies. We also used insights from community management initiatives to learn from our audience and better refine our ads.
These campaigns exceeded expectations, generating 28,000 leads at an average cost of $39 per lead with a 1% click-through rate and a 7.2% conversion rate.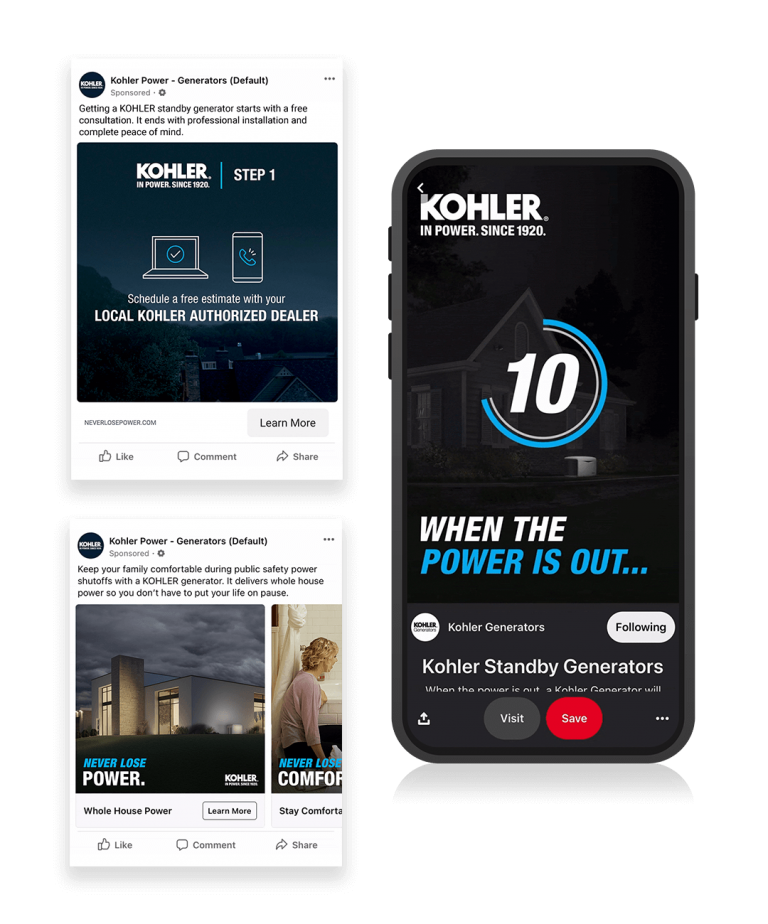 DISPLAY & YOUTUBE
Delivering tailored messages with Display and YouTube.
Since safety is personal and customers across the country have different motivations for seeking out backup power, tailoring the messaging and visuals in our campaigns was key.
We did this by creating ads with both messaging and imagery tailored to specific geographic regions or storm events. By doing so, we ensured the landing page experience matched the display ad messaging via tracking template variables to allow for quickfire changes.
To further grow brand awareness, we also layered in Top 10-20% Household Income targeting and contextual targeting to exclude renters and remove irrelevant traffic.
In addition, we successfully tested "Placement" campaigns, displaying ads on local news station and national weather websites.
Using remarketing lists, we recaptured the attention of users who had engaged without converting in the last 30 to 60 days via both display and YouTube networks.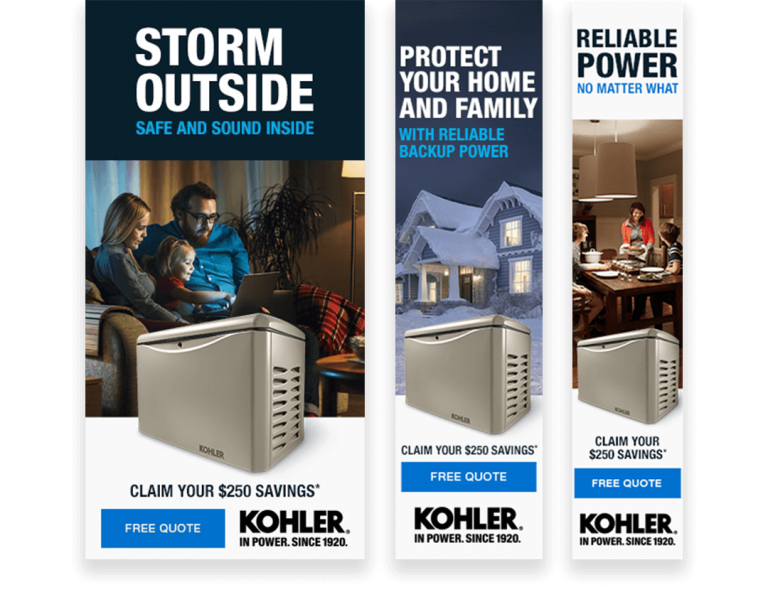 Video & Animation
Getting creative with video storytelling.
When you're dealing with something as personal as safety in the home, video is critical to fostering an emotional connection and experience with the product. With COVID-19 restricting our video production capabilities, we got creative with the footage KOHLER already had—leveraging product footage and existing long-form testimonials to create bite-sized stories to tell on social platforms. 
We also leveraged creative animation to answer frequently asked questions about topics such as the generator's fuel source and how they are installed.
Incorporating these videos drove a 108% increase in click-through rates when compared to static creative.
108% Increase in click-through rate in video view campaigns
Partners
Broadening our reach with new platforms.
In an effort to expand our reach, we have begun advertising KOHLER Generators on new platforms, including Pinterest, Nextdoor, Connected TV, and Google Discovery.
While these platforms are still a new part of our strategy, we are seeing promising results, such as a $0.98 cost per click and $40 cost per lead on Pinterest.
$6 Cost per thousand impressions
User Experience Strategy
Optimizing the path to conversion.
After we captured attention of prospects in search, social, and other channels, we needed a compelling landing page experience that reinforced product value and made it easy for customers to request a quote.
We achieved this by observing and analyzing consumer behaviors using tools like HotJar and Google Analytics. These tools allowed us to see user activity on the site and identify drop-off points and missed conversion opportunities.
Instead of a single-page landing page, we created a microsite with content to provide information customers want and need before requesting a quote. This included installation information, FAQs, a pricing page, and a page dedicated to discussing the features that set KOHLER Generators apart.
In addition, we A/B tested form conversions with a 1-step vs. 3-step form. We saw a 58% increase in conversions with the 3-step form, bringing us to a 9% conversion rate.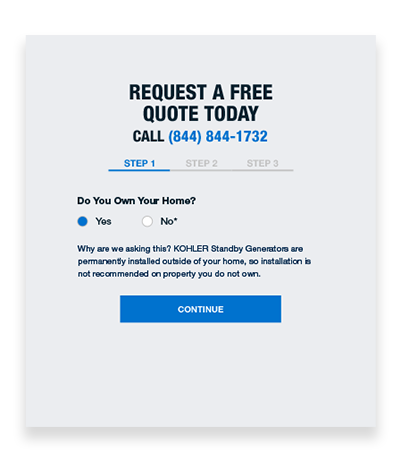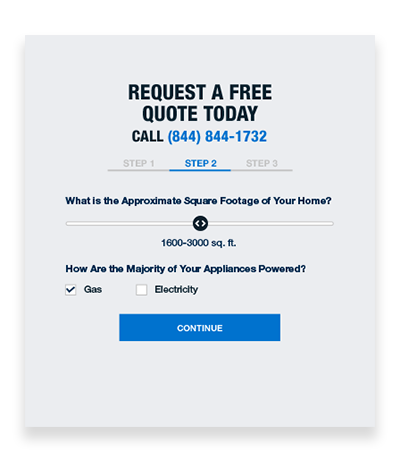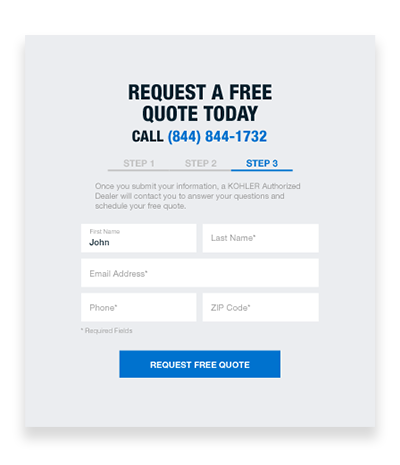 58% Increase in conversions with 3-step form
Nurture Strategy
Email
Delivering updates and valuable information straight to users' inboxes.
After prospects submitted a request for an estimate, we had an opportunity to continue educating them about the product, deepening engagement and likelihood of purchase. We deployed a four-part email drip campaign to keep KOHLER Generators top-of-mind and provide critical decision making information. On average, our open rate for these campaigns is 32.8%.
And we know that sometimes, decision-making on a big purchase like a generator can take months. As a way of continuing to add value for the prospect, we also developed and deployed a monthly email series around other helpful themes like emergency preparedness and product updates. Our goal with these emails was three-fold: build trust with consumers, become an emergency preparedness resource, and position Kohler as an authority in backup power.
We also stay on top of weather-based events in the country and regularly send regional emails with safety and preparedness information to prospects in areas facing major weather events, such as hurricanes or snow storms.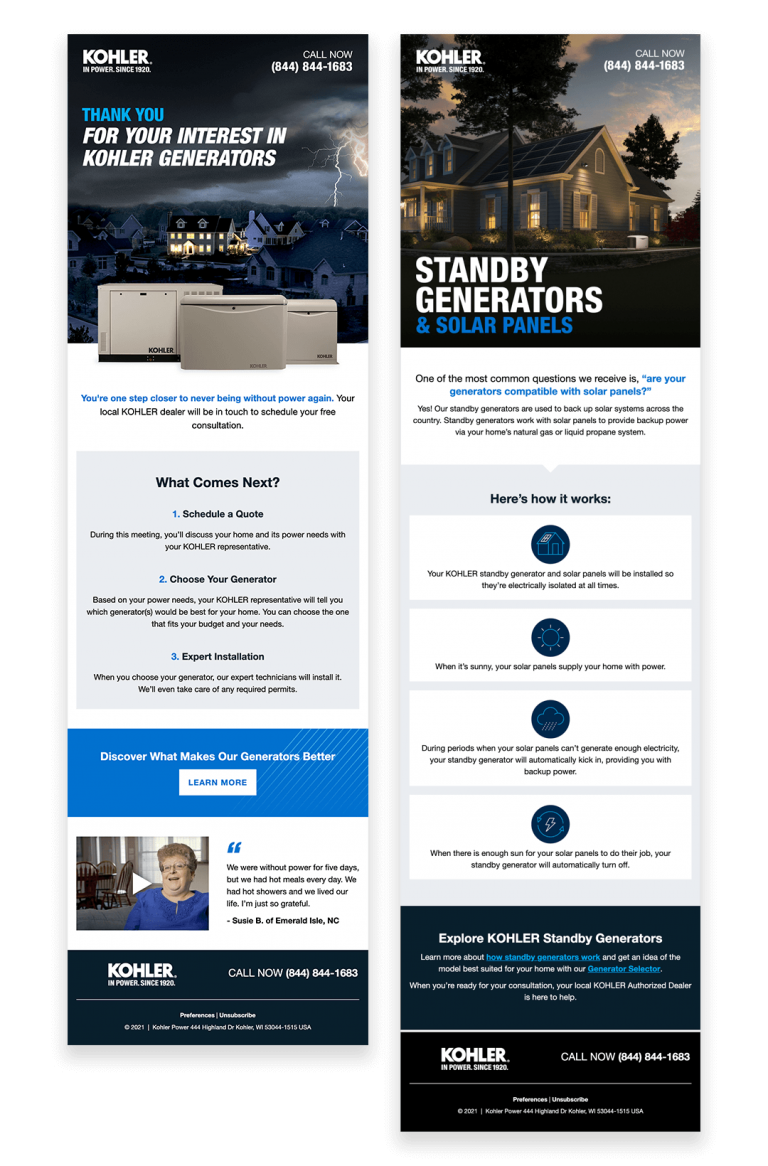 32.8% Average open rate for drip campaigns
Community Management
Communicating directly with our customers
With our robust social campaigns, our ads began generating comments from prospective customers. In addition to asking questions about the product, we noticed that commenters were discussing backup power (both Kohler and competitors). To provide better customer service, answer questions, and monitor customer sentiment, we developed a community management strategy.
This has allowed us to answer customer questions that may move them further along in their purchasing journey, such as "What kind of fuel does it use?" and "Are your generators compatible with solar panels?" 
The insight we have gained from our community management strategy has helped improve our ads, fueled much of our content strategy, and allowed us to better speak to our customers' concerns and pain points.
Community management has also allowed us to gather testimonials from customers who already own a KOHLER generator. We plan to leverage these testimonials in an upcoming campaign.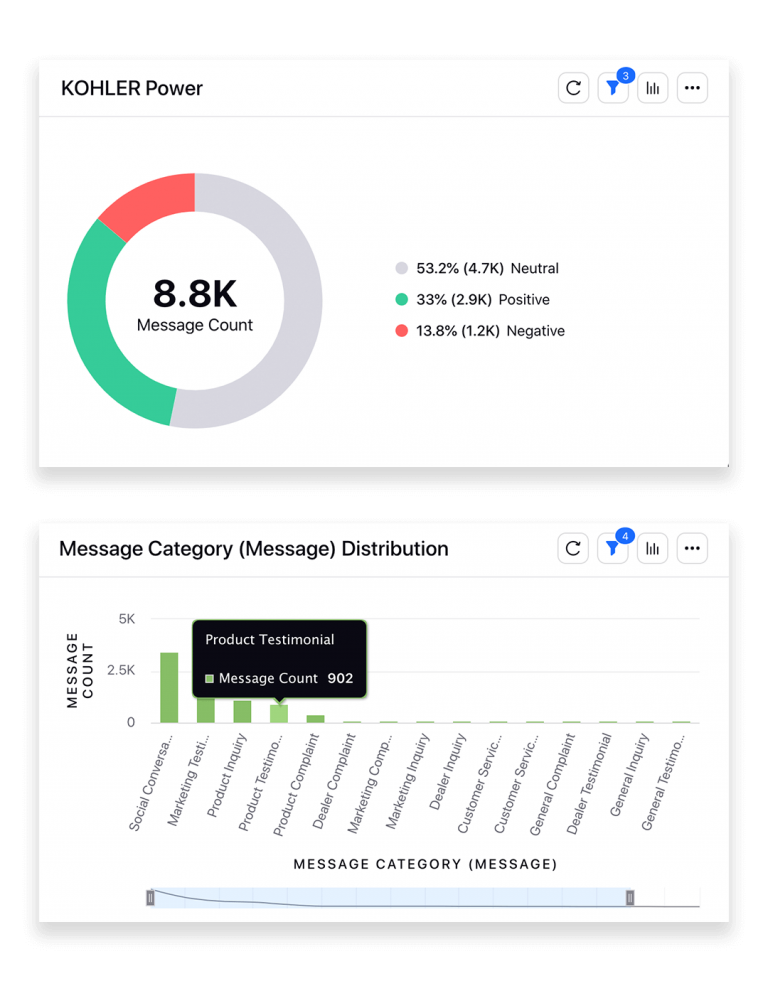 Conclusion
With an integrated strategy across multiple platforms, we were able to introduce KOHLER Generators to new audiences, build their reputation as a leader in backup power, and continue boosting the reputation of the Kohler brand overall.
Each piece of their marketing strategy informs another, which allows us to continually refine our campaigns. While we're thrilled with the performance we've seen thus far, we're excited to see how much further we can take KOHLER Generators.