A call to action (CTA) is a vital part of any content strategy. Without a strong call to action, readers may not understand what to do next, causing them to fall right out of the marketing funnel.
To keep customers in your orbit and guide them through the buying process, understanding what makes a good CTA—and how to create one—is key. Let's talk about what exactly CTAs are and how to craft great ones.
What is a Call to Action?
A call to action (CTA) is a piece of writing that directs the reader to take action. Some of the most common examples of CTAs are:
Buy Now
Get Started
Read More
Learn More
Those follow the standard CTA best practices: they're clear and start with a strong command word.
But they're not the most exciting. They're also not as effective as they could be.
Let's talk about how to improve your CTAs, and by extension, your click-through and conversion rates.
How to Write Better CTAs
1. Lean into FOMO
The fear of missing out (FOMO) is a powerful marketing tactic and it's especially useful when writing calls to action. When you apply FOMO, you make readers feel as if they'll regret not taking advantage of your offer. This is most commonly used in ecommerce, since sales are limited-time offers, and naturally lend themselves to feeling like you'll miss out by not taking advantage.
But even if you're not in ecommerce, you can weave FOMO into your CTAs! Instead of focusing on when your offer ends, try thinking about what would make your reader feel like they need to act now. What problem will your product or service immediately solve?
A great example of this is the CTA on Window World of Colorado's energy savings calculator. After determining roughly how much you could save on your energy bills when you switch to energy-efficient windows, they call on you to "start saving today", which reinforces the idea that if you don't click, you'll miss out on serious savings.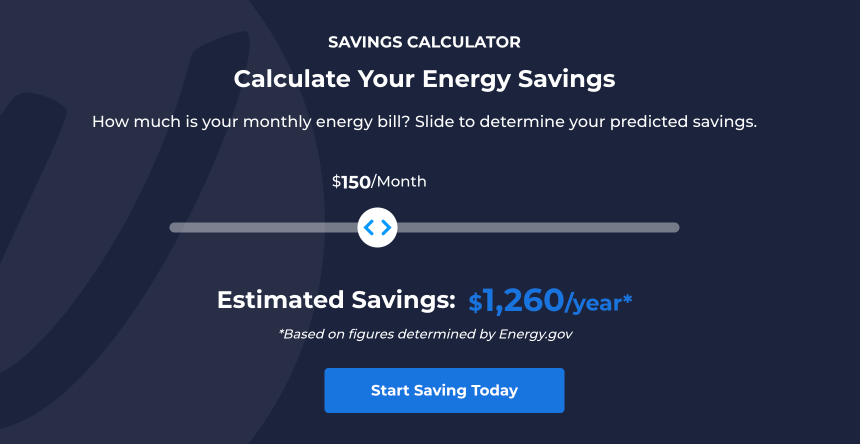 2. Speak in First-Person
When writing CTAs, try shifting from second-person (you language) to first-person (I, we, me, my language). Why? Research has shown that click-through rates increased by as much as 90% (!) by making this simple shift. Making this change also humanizes your brand and brings your language closer to the way we speak, which builds a closer connection to your audience and makes you sound more relatable.
Here are some examples of traditional vs. first-person CTAs:
Shop Deals → Show Me The Deals
Read More → I Want More Info
Get Started → I'm Ready
3. Don't Be Afraid of the Exclamation Point
While an exclamation point isn't always appropriate, there are plenty of times that it is! A well-placed exclamation point can make your CTA more engaging and generate excitement. Just use exclamations sparingly, since overusing them may overwhelm your readers—and if everything gets an exclamation point, it waters down the excitement.
4. Get Playful
Loosen up a bit, ditch the corporate-speak and get more playful with the language in your CTAs. Playful CTAs are quirky, inviting, conversational and may even pull in cultural references, like this example from a Kohler LuxStone email.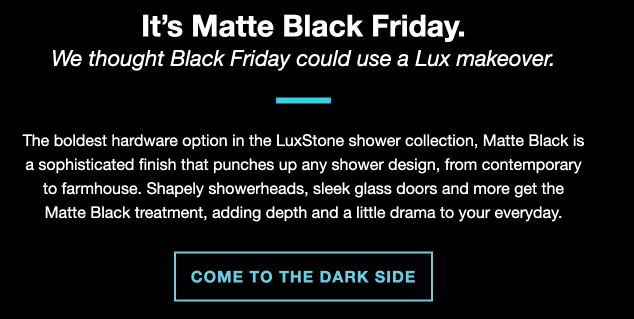 5. Make Your CTA a Question
CTA best practices say to start with a strong verb (read, get, learn, shop), but what if we threw that tried-and-true advice out the window and asked a question instead? Turning your traditional CTA into a question elicits a response from the reader, instantly making your content more engaging.
Instead of telling someone to "Read More," how about asking "Want More Information?"
And instead of "Request a Quote," try "How Much Will This Cost?"
To turn your CTAs into questions, write or type up a list of the CTAs you use most frequently. Going down the list, turn each CTA into a question about your product or service.
Step up Your Digital Marketing
Engaging CTAs are just one part of the puzzle. Improve your digital marketing efforts with tips on email accessibility, social media trends and how to use user-generated content.