If someone has reached the lead nurturing stage of your sales process, they're aware of your business or service, but they don't know everything about you. In fact, they may not know much aside from your name and a general idea of what you do.
Lead nurturing is how you educate prospective customers or clients about what you do, why you do it, how it works, and, most importantly, why any of it matters to them. It's an extremely important part of turning a prospect into a loyal customer.
While it's important, it doesn't have to be complicated. We'll break down the three stages of lead nurturing and how to turn a "maybe" into a "yes!" at each step. (This approach was created by Ken Krogue, co-founder of Inside Sales. We have expanded on it.)
A Lead Nurturing Strategy in Three Steps
These are the stages in which someone interacts with your business. In the first stage, they don't know a lot about you. Your goal is to provide more and more information with each stage, allowing them to make an informed decision. Here are those three stages and what you can do for prospective customers at each one to nurture them to a sale.
1. Interest
At this stage, people are interested in your business, but they may not know very much about you. They don't have enough information to make a purchase yet. They want and need to know more.
This is your chance to explain your offering, including the benefits of your product(s) and service(s). In short, why is what you do important? You can answer these questions on a variety of platforms in a variety of ways: social media, website content, email marketing, print and more.
Consider creating a series of social media posts, videos, animations or emails about the basics of your business and a few benefits. This could also be a blog post or page on your website where you point people who need a "crash course" on your business.
This social ad from KOHLER Power Reserve does a great job of answering a frequently asked question in a quick clip.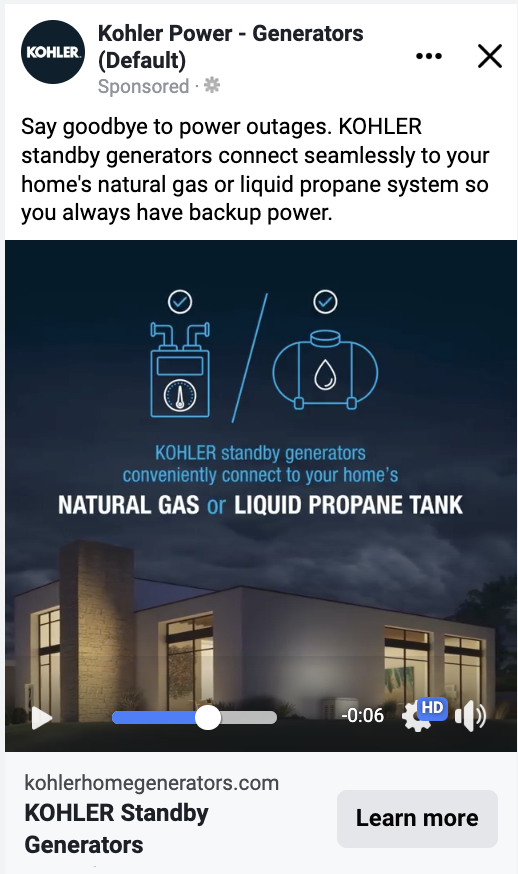 Important Dos and Don'ts During This Stage:
DO use vivid language. As the saying goes, paint a picture for your customers.
DON'T use jargon. Jargon and industry-specific terms only confuse people who aren't in the industry, like your customers.
DO talk about the benefits of your product, but keep those benefits concrete. Use numbers and statistics when possible.
DON'T overwhelm your audience with information. At this stage, stick to the top 2-3 benefits. You'll have the opportunity to tell them more later.
2. Understanding
At this stage, people know what you do and are aware of your product, but they probably don't fully understand it. They may know you paint homes, install windows, or make high-quality handbags, but they aren't sure what sets you apart from your competitors.
This is your opportunity to explain what makes your business special.
Here are some examples of questions to answer to better help people understand your business:
Do you offer free consultations?
How do you help customers decide which service/product would be best for them?
What is your delivery timeline? How long does it take to start using your product/service from the point of purchase?
What are your qualifications/certifications? Are you licensed/insured? (If applicable.)
What is your return/refund policy? Do you offer a warranty?
This video from Window World of Colorado takes a complex topic (energy efficiency) and explains it in a way that is easy to understand. It's also versatile enough to be used across their website, social, or email campaigns.
Important Dos and Don'ts During This Stage:
DO listen to your customers. Create content that answers questions that real people have asked about your business. If one person has asked it, there are likely many more who kept their question to themselves.
DON'T get too bogged down in details at this stage. Give prospective customers the information they want, but don't provide information that doesn't serve them yet. For example, prospective customers might not need to know what installation of your product entails at this stage.
DO get creative with the way you present this information. How can you tell – or better yet, show – your audience what you're all about and what they can expect?
DON'T put this information in just one place. You will likely need to repeat key information in several places across your website, ads and customer communications.
3. Relevance
Customers care about you, but they care about themselves a lot more. They want to know how your service or product can solve a problem for them
This is where your communication gets more personal. Speak directly to your customers and address their pain points.
Are they a busy parent with no time to wait around for a contractor who might show up between noon and 4 PM? Stress that your technicians always show up at a previously scheduled time.
Maybe they're a college student who needs a durable bag to carry around campus. Highlight your bag's reinforced seams and strong waxed canvas material.
In this email from Closets by Liberty, the customer testimonial takes up almost the same amount of room as the sale announcement. The combination of a sale announcement followed by a testimonial instantly bolsters a prospective customer's confidence in the product.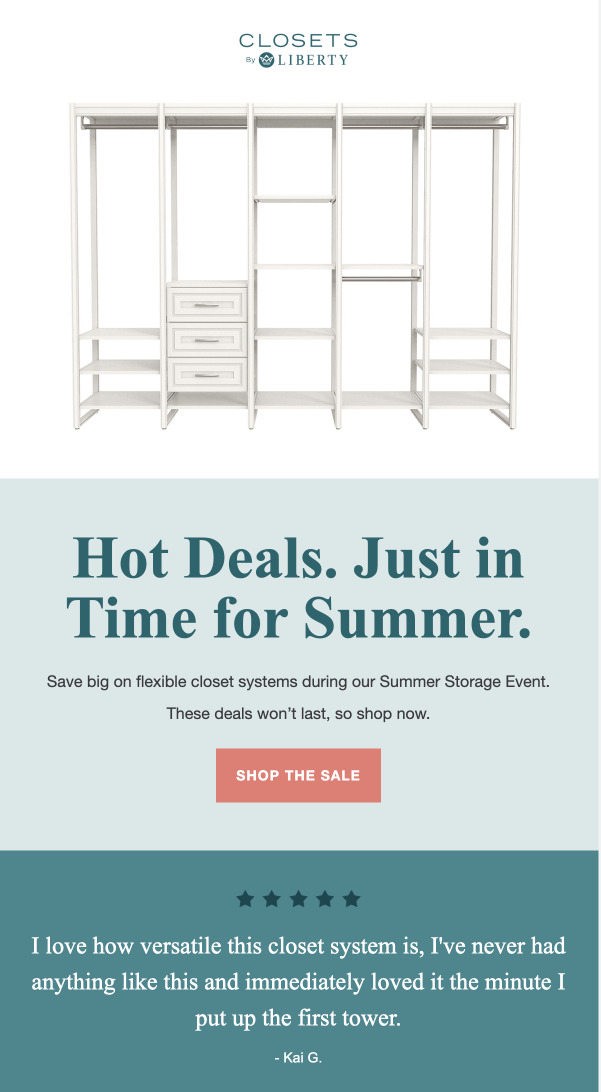 Important Dos and Don'ts During This Stage:
DO use customer testimonials or reviews to reassure prospective customers that your product or service is the right choice for them. A little social proof goes a long way.
DON'T focus on the same things you did in the understanding phase. Dig a little deeper into what makes you unique to really hook prospective customers.
DO segment your email lists and create content tailored to each segment. This will ensure that you get the most from your email nurturing efforts.
DON'T try to speak to every individual. Use your audience personas to speak to broader key demographics (parents, college students, homeowners, etc).
Nurture Your Leads the Right Way
With the right lead nurturing, prospective customers will turn into loyal customers and brand ambassadors.
Need help putting this plan into action? We're here.