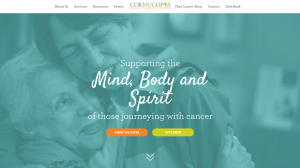 TriMark Digital is proud to announce the completion of Project404, a nonprofit initiative awarding complimentary digital strategy to Cornucopia Cancer Support Center. As part of Project404, TriMark redesigned and developed Cornucopia's website, www.cancersupport4u.org.
Project404 began in the fall of 2015, when TriMark asked the community to nominate causes worthy to receive complimentary digital services, including development, design, video, SEO and content. After receiving over 30 submissions, TriMark narrowed it down to three deserving causes. The "finalist" was determined by a community vote, and in which Cornucopia Cancer Support Center earned the consensus.
Cornucopia Cancer Support Center is based in Durham, N.C. and has been making a difference in the lives of cancer patients and their families for over 20 years. The mission of Project404 was not only to give the Cornucopia Cancer Support Center a new, more user-friendly design, but also to make sure the site could be easily found online so that more people touched by cancer could benefit from its free support services.
"The work TriMark does is fantastic, and we could not be happier with our new website—it's amazing!" exclaims Olivia Stancil, Director of Community Relations at Cornucopia Cancer Support Center. "It has a fresh and clean look that engages many viewers and keeps them on our pages. We are very proud of our new website and are lucky to have the ongoing technical support of TriMark Digital."
About TriMark Digital
TriMark Digital
is a full-service, integrated digital agency headquartered in downtown Raleigh, N.C. Providing
digital marketing solutions
and strategies uniquely designed to drive measurable results for each client, TriMark Digital strives to partner with like-minded companies seeking innovative, calculated strategies that stimulate, engage and convert prospective customers.
About Cornucopia Cancer Support Center
Cornucopia Cancer Support Center offers support and resources to those journeying with cancer, their families and caregivers through complementary therapies, movement classes, individual and group support, expressive arts, information and resources, all in a non clinical setting.