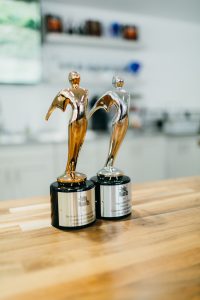 TriMark Digital is proud to announce it has earned two prestigious Telly Awards – one Bronze Telly and one Silver Telly, the highest honor – for its video projects with Buckner Companies and Sageworks.
"We are honored to be recognized by The Telly Awards for work from our 2016 visual content portfolio," said Randy Goins, President and Founder of TriMark Digital. "We're proud of our growing video team for these accomplishments and will continue to set lofty goals to produce the most creative stories for our valued clients!"
"This Is Jan," produced for Sageworks' Electronic Tax Return Reader, was awarded a Silver Telly in the Craft – Use of Graphics for Commercials/Marketing category. Less than 10% of entries are chosen as Winners of the Silver Telly. View the entry.
TriMark Digital's video for Buckner Companies' homepage was named a recipient of a Bronze Telly in the General – Professional Services for Commercials/Marketing category. Approximately 25% of entries are chosen as Winners of the Bronze Telly. View the entry.
The 38th Annual Telly Awards received more than 13,000 entries from all 50 states and numerous countries. With judging done by a prestigious panel of over 500 accomplished industry professionals – each a past winner of a Silver Telly – this is truly an honor for TriMark Digital and its ongoing commitment to high-quality video production.
"It means a lot for TriMark to win these two awards because of the planning and teamwork that went into creating these pieces for our clients," said Graham Rountree, Director of Video Production at TriMark Digital. "We hope these two awards are just the start for TriMark. In 2017 alone, we have doubled the size of our video team and made major investments into upgrading our gear and studio space so that we can continue to produce high-quality work."
The Silver Telly Council evaluated entries to recognize distinction in creative work. Entries do not compete against each other. Rather, entries are judged against a high standard of merit.
"The Telly Awards has a mission to honor the very best in film and video," said Linda Day, Executive Director of the Telly Awards. "TriMark Digital's accomplishment illustrates their creativity, skill, and dedication to their craft and serves as a testament to great film and video production."
To find out more about the Telly Awards, visit www.tellyawards.com.
About TriMark Digital
TriMark Digital
is a full-service, integrated digital agency headquartered in downtown Raleigh, N.C. Providing
digital marketing solutions
and strategies uniquely designed to drive measurable results for each client, TriMark Digital strives to partner with like-minded companies seeking innovative, calculated strategies that stimulate, engage and convert prospective customers.
About The Telly Awards
Founded in 1979, the Telly Awards is the premier award honoring outstanding local, regional, and cable TV commercials and programs, as well as the finest video and film productions, and web commercials, videos and films. The Telly Awards annually showcases the best work of the most respected advertising agencies, production companies, television stations, cable operators, and corporate video departments in the world. The Telly Awards is a widely known and highly respected national and international competition and received over 12,000 entries from all 50 states and 5 continents.