TriMark Digital Honored for 5th Year in A Row as Inc. 500/5000 Fastest Growing Companies in America
Back to Newsroom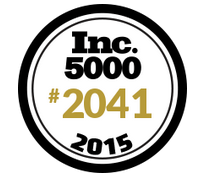 For the 5th consecutive year, TriMark Digital has been named one of Inc. Magazine's Fastest Growing Companies in America. With this honor, the Downtown Raleigh marketing agency has been inducted as a member of the Inc. Honor Roll—a recognition awarded to 5-time honorees. Previous rankings include #2140 for 2013, #1519 for 2012, #571 for 2011 and #372 for 2010.
Since 2011, TriMark Digital has everything but flaked on its place in Inc. Magazine's prestigious group. The digital-focused, data-driven marketing agency has maintained steady inclines in revenue growth, clientele and employee base since its inception in 2006.
However, according to TriMark President and CEO, Randy Goins, rapid growth is far from the company's primary end goal. "It's an honor to be recognized as an Inc 500/5000 for the 5th straight year, one we are proud to share with so many accomplished companies," says Goins. "With that said, as our agency's evolution continues upward, our goals of strengthening around client services and strategy far exceed growth goals. With a continued focus on what matters most to us, client service and performance, it's possible our run on this list may continue for a very long time."
"It's been quite journey we've traveled these past 9 years and it wouldn't be the same if not shared with the loyal clients and employees who have invested in our brand for so long," he adds.
About TriMark Digital
TriMark Digital
is a full-service, integrated digital agency headquartered in downtown Raleigh, N.C. Providing
digital marketing solutions
and strategies uniquely designed to drive measurable results for each client, TriMark Digital strives to partner with like-minded companies seeking innovative, calculated strategies that stimulate, engage and convert prospective customers.
About Inc. Magazine
Founded in 1979 and acquired in 2005 by Mansueto Ventures, Inc. is the only major brand dedicated exclusively to owners and managers of growing private companies, with the aim to deliver real solutions for today's innovative company builders. Winner of the National Magazine Award for General Excellence in both 2014 and 2012. Total monthly audience reach for the brand has grown significantly from 2,000,000 in 2010 to over 13,000,000 today. For more information, visit www.inc.com.