If you've spent any time online, you know that video is everywhere. From endlessly scrolling TikTok to rewatching that incredible play from last night's hockey game or watching your friend's Instagram stories, it's hard to not watch videos online. They're eye-catching and entertaining!
But for businesses and digital marketers, video is a huge marketing tool.
Why Does Video Marketing Matter?
Put simply, video marketing is versatile and effective. It can be used by nearly every industry on a variety of platforms to serve many audiences and purposes, from long-form videos on YouTube to short-form videos on social media. Whether you want to educate your audience, show your process or simply talk to your customers, video can do it.
One of the things that's so great about video is that it can do all of that at any stage of the funnel. Video marketing builds trust, shows your product or service in action, and is incredibly shareable on social media. From explainer videos to nurture someone who is becoming familiar with your brand to testimonial videos that push them to convert, video marketing is a powerful tool no matter where someone is in the marketing funnel.
Let's take a deeper look at these reasons, plus a few more.
5 Reasons to Start Video Marketing
1. Your Audience Wants Videos
Whether it's via YouTube, Facebook, Instagram, Twitter, LinkedIn, Snapchat, TikTok, blogs, emails or your homepage, people want—and consume—video content.
Some interesting stats about consumer behavior and video:
65% of people turn to YouTube to help them fix something in their home or car. (We've all headed to YouTube for help to fix a leaky sink or change a headlight, right?) How-to videos, also called "self-directed learning," are a huge marketing tool for service-based industries or even ecommerce businesses that may need to provide extra instruction for their product.

Emails with video are shown to improve click-through rates by 65%. This doesn't mean that you need to put a video in every piece of email marketing, but it does mean that when you really want your message to make an impact, video can help.
2. It Drives Conversions
People are 144% more likely to purchase if there is a video associated with a product or service. For ecommerce businesses, this could be as simple as a short video showing your product being used or worn. If you've done any online shopping recently, you've probably noticed that many retailers include videos of real people wearing their clothes or shoes on their product pages. When customers can get a clear idea of what an item looks like on someone and how it fits, they're more likely to buy. On landing pages, videos can increase conversions by 80% or more.
For service-based businesses, explainer videos are a great way to inform customers and increase conversions. Explainer videos are exactly what they sound like: videos that explain a service or product. They're short, typically 30-90 seconds long, and give a high-level overview of your service and how it works. It's essentially your elevator pitch.
3. Videos Create Connection & Credibility
Part of the reason video performs so well is that it allows you to create a connection with your audience by putting a face and a voice to your company. (Or multiple faces and voices.)
Video marketing also helps establish credibility and trust. Whether you create explainer videos, how-tos, or even video testimonials from clients and customers, video marketing goes a long way in proving your business is trustworthy.
4. Videos Can Help Improve SEO
Video can improve your site's SEO in two ways:
Adding video to your website decreases the bounce rate and keeps people on your site longer. In fact, people tend to stay on a page with video 1.4x longer than pages without. Since time on page is one of Google's ranking factors, video, along with proper optimization, can help boost your site in search results.
In addition to increasing time on page, optimized videos can rank on Google, giving you another opportunity to get a featured snippet spot. Featured snippets appear at or near the top of search results, which means instant eyes on your content.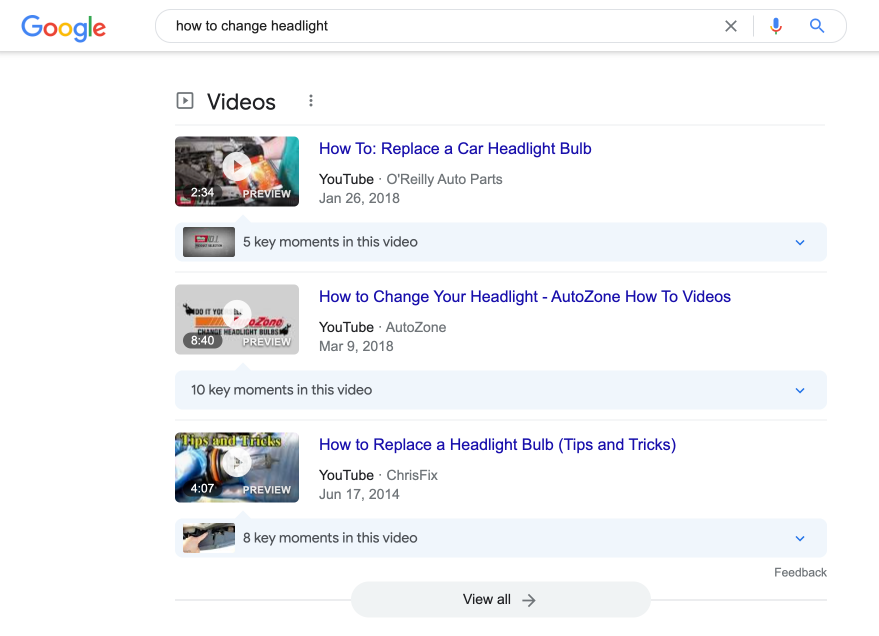 5. Videos Are a Hit on Social Media
With the rise of TikTok during the pandemic, other social media platforms have tried to mimic the video-only platform. Facebook and Instagram Reels and YouTube Shorts were created in an attempt to capitalize on TikTok's popularity and hopefully bring a little of that non-stop scrolling to those platforms.
And there's no shortage of ways to share videos on social media:
Facebook – in posts, stories and on Facebook Live
Instagram – in posts, stories and Reels
LinkedIn
Twitter
YouTube
TikTok (need TikTok inspiration?)
The Key to Video Marketing
There is one thing to keep in mind when it comes to video marketing: like most forms of marketing, it's only effective if it's authentic.
Authenticity is key on social media, thanks in part to TikTok's popularity. That means you no longer need a six-figure budget to produce great video content. You just need useful, informative or entertaining content (preferably all three!)