In a world, where data privacy is more important than ever.
Where marketers are saying goodbye to third-party cookies.
Only one data insight tool can bring the answers you need.
Google Analytics 4.
On computer screens this summer.

What is Google Analytics 4?
Google Analytics 4 (GA4) is a digital customer insight tool used to track website activity. Companies can use this service to measure customer usage metrics, like bounce rate and conversion, to help them measure the success of their marketing campaigns. This data is then stored and processed via data architecture for future use.
GA4 vs. UA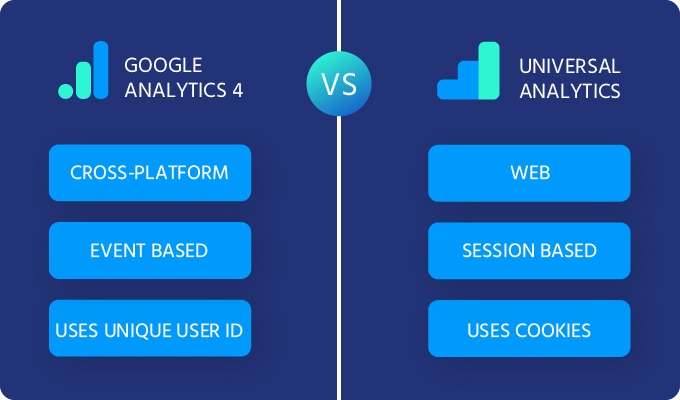 GA4 and Universal Analytics (UA) are both measurement tools for tracking website traffic. UA is the predecessor of GA4, and as such, it has some more limitations than GA4.
First, since UA depends on "cookie-based" tracking, it offers less data privacy than GA4. It's also centered on sessions, whereas GA4 is centered on events and users.
While UA tracks views in separate mobile-specific properties, GA4 allows reporting and analysis across mobile apps and web pages with its cross-platform reporting capabilities.
New GA4 Features
Back in October 2020, Google launched its fourth version of GA to include new modeling capabilities that can fill gaps in customer behavior. This iteration came with several added features:
Cross-platform data unification
AI-driven insights and predictions
Audience Trigger
Access to BigQuery streaming export
Advance Analysis tool
GA4 is more customizable than previous GA versions and has consolidated a lot of its other products into one. For example, instead of having Google Analytics for your website and Firebase for your app tracking, they are now integrated.
Why GA4 is Important for Your Business
GA4 is the future of data measurement and gives you information on your customers so you can provide them with the information they need at each stage of their customer journey.
"The benefit of using Google Analytics is that it's your own data," says Conor Dalton, TriMark Digital Director of Organic and Data. "You really know why and how and if customers are going to your website. It's still a free tool. It's the most user-friendly and civilian-accessible customer insight tool."
From an SEO perspective, this allows companies to forecast using predictive metrics and gain precise insights into user behavior through custom events and measurements. GA4 also helps "position your company to be on sound analytics footing with minimal gaps in data upon the sunset date," says Tim Succetti, TriMark Digital Director of Technical SEO.
On the Horizon
Universal Analytics will be retiring in July 2023, making it important to act quickly in modernizing your data and analytics strategy. Unfortunately, many brands are vastly underprepared for this transition and are at risk of losing important data.

Dalton and Succetti recommend being proactive and setting your analytics strategy up with an experienced professional who can ensure you're prepared. Keep in mind, when setting it up yourself, you may miss out on collecting the right data if you don't configure your properties correctly. For many, the process is proving more complicated than initially expected, making it helpful to rely on an expert.
"We have a lot of experience. We've done it for all our clients on many different levels," Dalton says.
A marketing agency can help brands export and warehouse their historical data for long-term use. They can also make sure a brand's properties are configured properly.
"A reason to be proactive and have a professional do it is that you get it set up and QAed, and you ensure that everything is flowing as comparatively as possible as in UA," says Dalton. "Even though things are going to look and feel a little bit different, it's set up as apples to apples as you can get it. The reason you do it soon is that you want to have them running in parallel to have some sort of continuity."
Getting Ahead of the Curve
Being forward-thinking allows you to identify any major issues and address them early. It also makes future analysis easier since it means you'll have more insight and information to rely on. The sooner you set up your GA4, the sooner you'll start collecting data and using it to your advantage. After all, the worst-case scenario would be to realize your data is no longer accessible after the UA phase-out.
To make the transition to GA4, follow these steps:
Set Up Your GA4 Account: Sign in to your company's Google account and go to the Google Analytics homepage. Click "Start for Free" and answer the three prompted questions.
Create Your Data Stream: After logging onto your GA4 dashboard, set up a data stream to set parameters for the data you collect from your site.
Begin Gathering Data From Your Site: Add an Analytics tag to your web pages to collect data from your website.
Configure Your Setup: Set up your configurations under the "Configure" icon to customize your data.
Confirm Your Setup: Go to the "Reports" section of your GA4 dashboard, open your "Realtime" report and verify that you set up your account correctly.
Ready or not, GA4 is gearing up to replace UA. Taking a few proactive steps today can ensure that your business is ready for the new age of data strategy.
GA4 Migration Services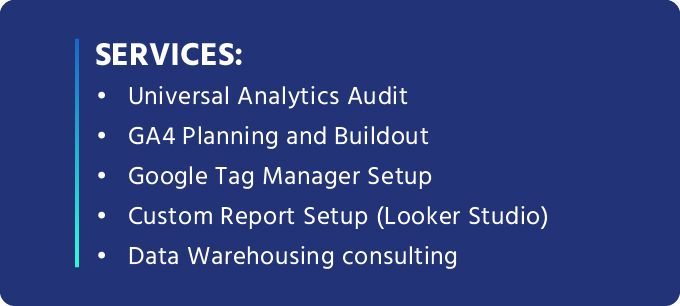 From training your organization on how to use the GA4 platform to setting up your Google Tag manager and making sure it's operating as close as possible to your UA account, TriMark Digital offers a variety of migration services. Contact us to learn more about how we can help you spring ahead and prepare for the shift to GA4.