Inside the Gracious Living Blog
Driving a 30% Increase in Organic Traffic With an SEO-Rich Blog Strategy.
Since stepping into a niche market in 2016, the KOHLER® Walk-In Bath has become a trusted aging-in-place solution in the bathing industry. As one of Kohler's first direct-to-consumer channel businesses, Kohler's brand recognition gave the product an early lift, along with our aggressive multichannel lead generation strategy. 
But while KOHLER Walk-In Bath excelled in paid lead capture, the product still trailed in organic search for general walk-in bath queries. Competitors in this space had the advantage of having a more established search presence in a market they've dominated without challengers for years. As a newcomer, KOHLER Walk-In Bath needed a nuanced approach to become an important player in the non-branded space and earn that real estate over other walk-in bath brands.
That's when we decided to launch the Gracious Living blog, a one-stop resource for those looking for a graceful aging-at-home experience that only Kohler could provide. 
The Challenge
Our Strategic Approach
With a focus on product- and lifestyle-focused resources, we quickly developed and launched a blog experience focused on providing value to our prospects. We shared critical product information, answered commonly asked questions and also shared other expert-level advice on aging in place. We also focused our time on answering queries our competitors weren't, even around tricky subjects like price. With our transparent and helpful approach, we hoped to gain trust and quickly establish ourselves as the comprehensive aging in place resource that was missing in the space.

We set our targets on three key goals:
Boost organic traffic by capturing a new and wider audience with relevant non-branded keywords and relevant topics while pushing competitors lower in SERPs.

Qualify consumers in the research phase while educating them on the product and the brand, deepening purchase intent.

Increase engagement to foster brand awareness and loyalty with quality earned—not paid—impressions.
To achieve these lofty goals, we developed an integrated plan bringing together our content, design, SEO, paid and user experience teams. We needed to learn as much as we could about the information our prospects were seeking, and develop a plan to deliver that content effectively. We pored over paid and organic keyword and query data, heatmap charts, user recordings and other interactions to gain critical insights. We then developed a plan to create and deliver that information seamlessly, through an easy-to-navigate interface and organic optimization strategy. Here's what happened. 
Capturing More Traffic
Bringing a Wider Audience to the Website
Our research showed that competitors continuously outranked KOHLER Walk-In Bath's main website (or non-blog pages) for non-branded search queries such as "what is a walk-in tub?" As a result, we were missing shoppers in the research phase who were likely unfamiliar with Kohler or the walk-in bath product. We realized we needed a more robust strategy targeting more generalized and non-branded keywords to capture users who were just beginning their journey. Once we identified these and other common questions, we set out to answer them as directly as possible.
After several months of blogging, we began to see our content taking off. And in just one quarter, between Q4 2019 and Q1 2020, we saw a 356% increase in unique blog page views.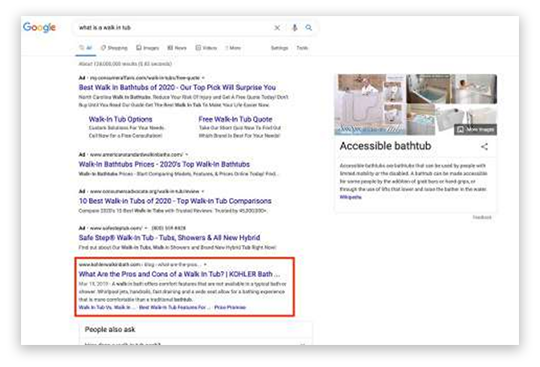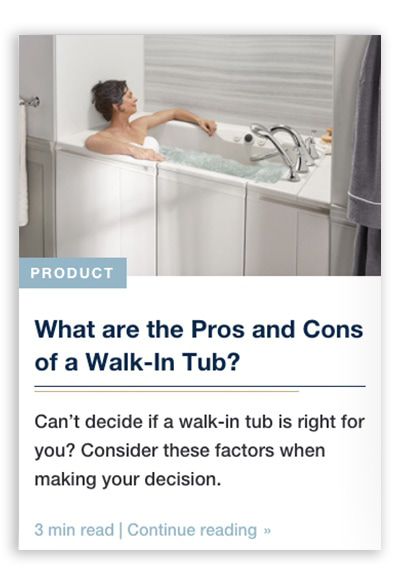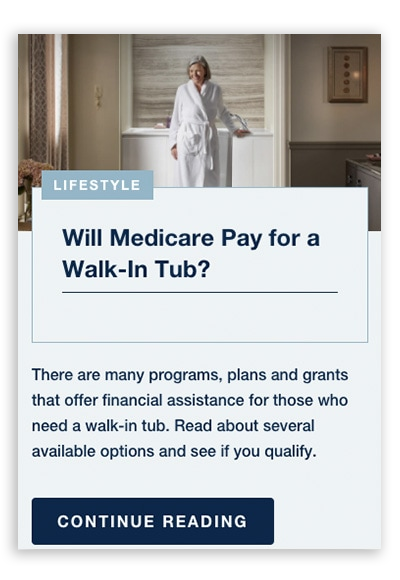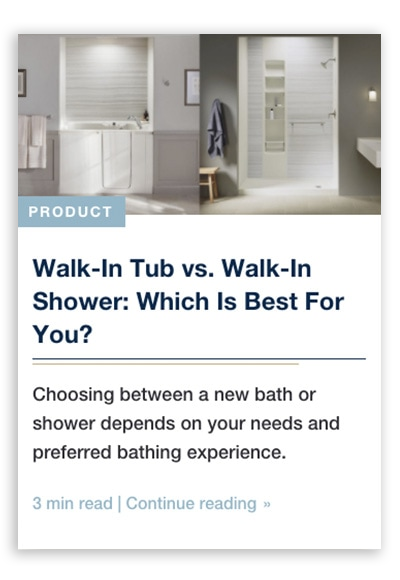 Organic strategies take time to see a return on investment, but over a year later, our blogging strategy paid off in big ways:
#1 Rankings in SERPs for Key Queries
Optimized for non-branded keywords to capture shoppers in the research phase.
High Volume of New Organic Traffic to Key Posts
Answered informational searches by targeting high-volume, non-branded keywords to ensure blog content is useful, relevant, and trustworthy.
Growing "Entrance Rate" for Blog Posts
Achieved high search engine visibility by providing relevant and interesting content to introduce new audiences to the Kohler brand/product.
72% of all blog pageviews are entrances
56% of full site pageviews are entrances
Building Brand Relationships
Increasing Engagement to Foster Brand Awareness and Loyalty
With a wider audience visiting our site and reading the blog, we soon found that blog users were staying around longer than main website page users. (In fact, users were spending around 2:17 on each blog—33% higher than time spent on other website pages.)
We also reviewed hundreds of user recordings and found blog users were also engaging more deeply, visiting multiple different pages on both the blog and the site. This signaled that our efforts to answer questions and engage users were successful.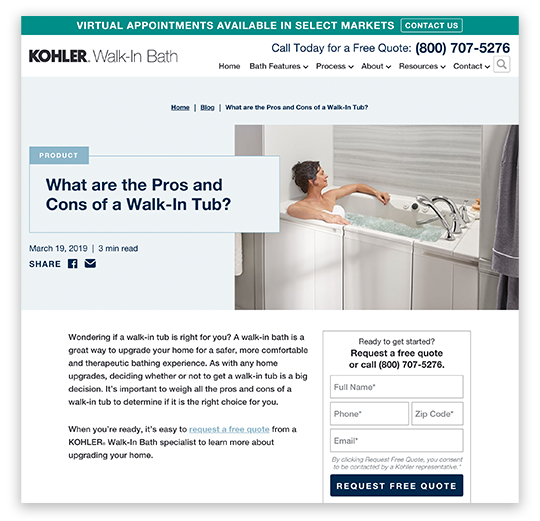 78% of users went to
another blog post
22% of users went to
a non-blog page next
33% Higher average time on page
Converting New Traffic
Turning Prospects Into Qualified Leads Through Consumer Education
Once users found their way to blog posts, our goal was to convert them. After carefully planning and placing content answering critical decision-making questions, we also strategically included Contact options at intuitive points during the user experience, making it easy for research-heavy customers to take the next step whenever ready.
We found that the more relevant content we were able to provide, the more users began to convert (in this case, requesting a quote via phone or form submission). We began seeing more and more click-to-call actions taken from blog posts and blog users, which signaled high intent. We know from other site data that leads who call vs. fill out a form tend to be more qualified and ready to schedule or even buy. So our hypothesis is and was that the content in the blog helped users who were still in research phases feel more comfortable taking the next step.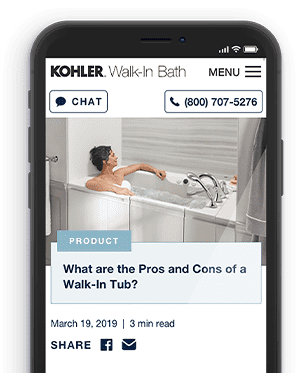 96% of all on-page conversions are CTC on blog pages
81% of on-page conversions are CTC on non-blog pages
Conclusion
Results and Ongoing Strategies
The overall success of the Gracious Living Blog to date proves that targeting non-branded keywords and phrases can drastically increase organic opportunity by capturing an untapped subset of users—those who don't find the branded Homepage in general queries. Through this resource-based strategy, we drove more traffic from a broader group of users with varying stages of consideration, ultimately helping Kohler cast a wider net and drive more sales. 
In fact, traffic to kohlerwalkinbath.com grew by 30% year over year (Y0Y) since the Gracious Living Blog was launched in March 2019.
30% Increase In Organic Sessions YoY
18%  Increase In Organic Conversion Rate YoY
Today, we continue managing this blog with a research- and user-focused approach. We've found that when some questions are answered, others are asked, which provides ample opportunity to create valuable content that helps make purchase-decision-making easier. We'll update this case study periodically with new results as they become available.