B2B Organic and Paid Lead Generation
Driving quality B2B leads while keeping costs in check.
As a highly technical client in a very niche industry, Material Handling Technologies came to TriMark looking to reach new prospective customers in the B2B sector. The TriMark team spent the first couple of years with Material Handling Technologies building the website into a tool for housing products and services offered, but as the needs of the business began to grow, the content on the site started becoming too dense, and lead volume began to slow.
The Challenge
Our Strategic Approach
The strategy needed to shift, so the marketing team pivoted to focus on content consolidation and optimization on-site, and highly targeted paid strategies off-site. Utilizing both Google and LinkedIn on the paid end, as well as technical SEO and UX strategies organically, the TriMark team was able to steadily increase lead volume and provide Material Handling Technologies with high-value prospects in their sales funnel.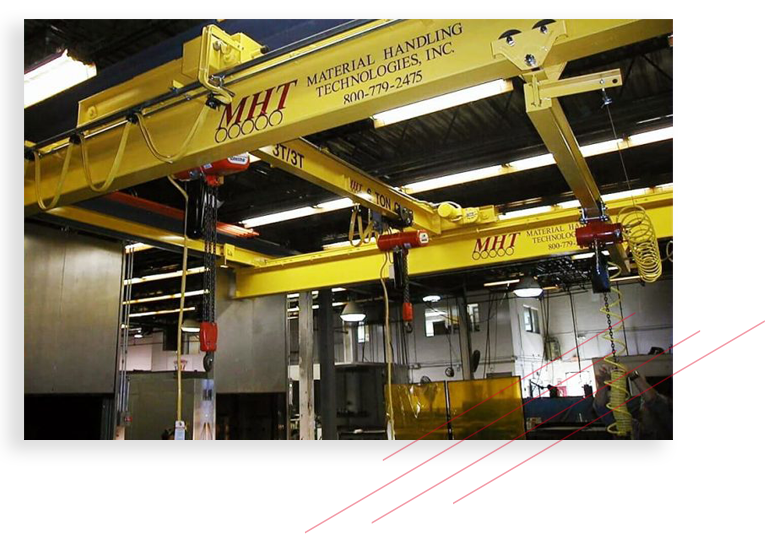 Paid Media
Google Strategy
We knew prospects in this industry were going to be pricey to find, but the payout on a quality lead could easily drive huge ROIs. Finding one right prospect could pay for an entire year of marketing efforts if we approached this strategy right. 
The paid search strategy developed for Material Handling Technologies needed to be highly-targeted and optimized to reach the right kinds of people in the right industries within the southeast region. By combining the geographical and keyword targeting methods that Google provides and the more industry-specific targeting on LinkedIn, we were able to build a campaign to drive a low volume of high-quality leads at an efficiently low cost to still be able to best maximize potential ROI.
Ongoing testing and adjustments to our paid strategies led to 186.67% increase in Google lead volume since launch and decreased Google costs per lead by 72%.
Google Strategy Details
Targeted 50-mile radii around major metropolitan areas in NC, SC and VA

Targeted a mix of broad, phrase & exact match keywords organized by various services & functions that MHT provides (Warehousing solutions, conveyor products, etc.)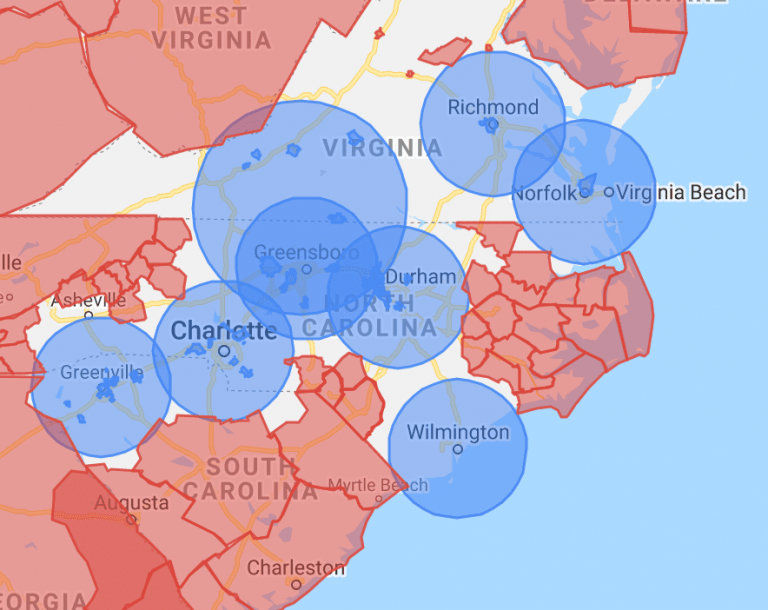 187% Increase in Conversions
LinkedIn Strategy
As part of our full-funnel paid strategy, we also deployed a paid LinkedIn strategy to generate brand awareness and leads. LinkedIn has been a way for us to reach key decision-makers where they are spending time and hit them with a targeted message around MHT's offerings. We targeted a variety of specific job titles that represented key decision-makers who would be responsible for purchasing the kinds of products and solutions that MHT provides, including professionals in Logistics, Manufacturing, Sourcing, and Industrial/Process Engineering. We also layered on company size as a targeting criteria to ensure that we were reaching prospects of the right size with our messaging.
With our LinkedIn campaigns, we have been able to serve nearly 70,000 impressions to those with relevant job functions and titles. Of those that have seen our ads, 193 then clicked through to our website and engaged with our content and offerings.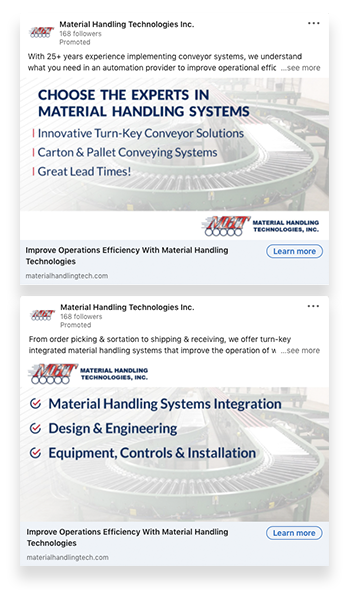 Performance Details since February 2020
Organic Search
It was clear that after the first couple of years of launching the Material Handling Technologies website that the content on it was becoming too dense. Users were showing signs of abandoning pages before taking our desired contact actions, so we needed to devise an organic strategy that would pare down and optimize the content that was there. We also needed to improve the overall user experience to drive prospects to the actions we wanted them to take on the site once they reached us through search results pages.
In working closely with the client team, we were able to revise the content and layout on key pages throughout the site, targeting highly valued organic keywords while providing the industry-specific text that would resonate with potential customers. We added imagery to showcase the work done by Material Handling Technologies, and made the content easier to digest with more optimized calls to action throughout the site. These changes led to an overall increase in organic visibility, organic traffic and organic contact form submissions and leads.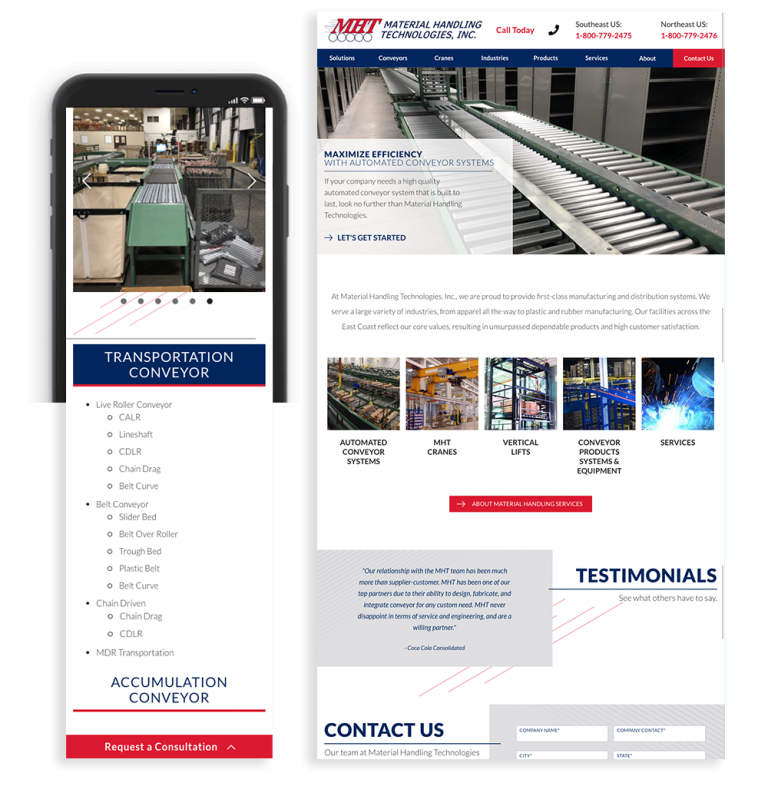 Organic Performance Data
(Apr 2020-Apr 2021 vs. Apr 2019-Apr 2020)
14% Increase in organic traffic
12% Increase in contact form submissions
131% Increase in phone calls
CONCLUSION
Our team is proud to now have a 7+ year working relationship with Material Handling Technologies. We've been able to pivot their strategies and investments based on their needs and our best recommendations over time, including pulling back on strategies as it made the most sense. We've continued to grow the relationship and recommend additional strategies to help diversify their marketing plan, including the potential for industry-specific directory advertising based on quality referral traffic we identified that was coming into the website organically.
"TriMark Digital has been a trusted partner for close to a decade. They have worked in conjunction with us to redesign a website that is appealing to our customer base in addition to driving increased lead generation."

– Material Handling Technologies