 Window World Virtual Consultation Case Study
Empowering America's largest exterior remodeler with a pandemic-proof integrated marketing strategy—in less than one week.
Since Window World's business model is built around the in-home sales pitch, their operation felt the impacts of COVID-19 almost immediately. Without the ability to get into the home and close a deal, their chances of weathering the pandemic seemed murky at best. With scheduled appointments canceling and lead volume noticeably lower, they had to pivot. Cue the Window World Virtual Consultation.
The Challenge
Our Strategic Approach
COVID-19 rendered Window World's in-home sales process nearly obsolete. To help them continue reaching customers and sustain lead volume, we mobilized to produce multiple videos, design and develop a paid landing page from scratch, craft an organic splash page and devise an integrated marketing strategy around the new Virtual Consultation in just one week. Here's what happened.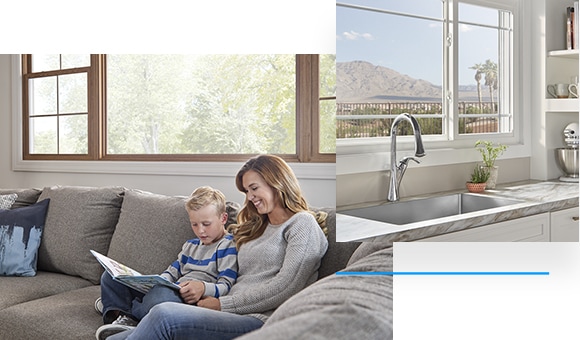 Video Production
Bringing The Virtual Consultation To Life On Screen
We needed to communicate the benefits of the Virtual Consultation in a compelling, visual way. Our goal was to create a series of videos that not only explained how this new process was going to work, but also captured the safety and convenience of receiving a project estimate over a virtual connection. Experience the Window World Virtual Consultation.
ANIMATED VIDEO PRODUCTION
During the production process, we found that some customers still preferred a traditional in-home estimate. Rather than completely deny these leads, Window World opted to continue offering face-to-face consultations. To ensure the virtual and traditional consultations coexisted neatly, we tapped our animation team to create an animated video detailing Window World's updated cleanliness standards and social-distancing measures inside the home. Watch the animated video.
Organic Strategy
Capturing Interest In Virtual, On-and Off-Site
When COVID-19 began, brands took their foot off the gas from an advertising perspective, including Window World's competition. However, what they saw as a problem we saw as an opportunity. The Virtual Consultation helped protect Window World's revenue stream, but before that, it created an opportunity for Window World to continue marketing in a time when its major competitors were not.
With that in mind, we set our sights on Organic Strategy. To capture organic traffic interested in virtual, we created blogs educating people about the convenient 3-step process, the safety benefits, and more. To streamline conversions and capture the attention of users elsewhere on the site, we implemented clickable sticky banners notifying prospects that virtual consultations are available. These clickable banners directed users to a custom splash page designed specifically for Virtual Consultation leads.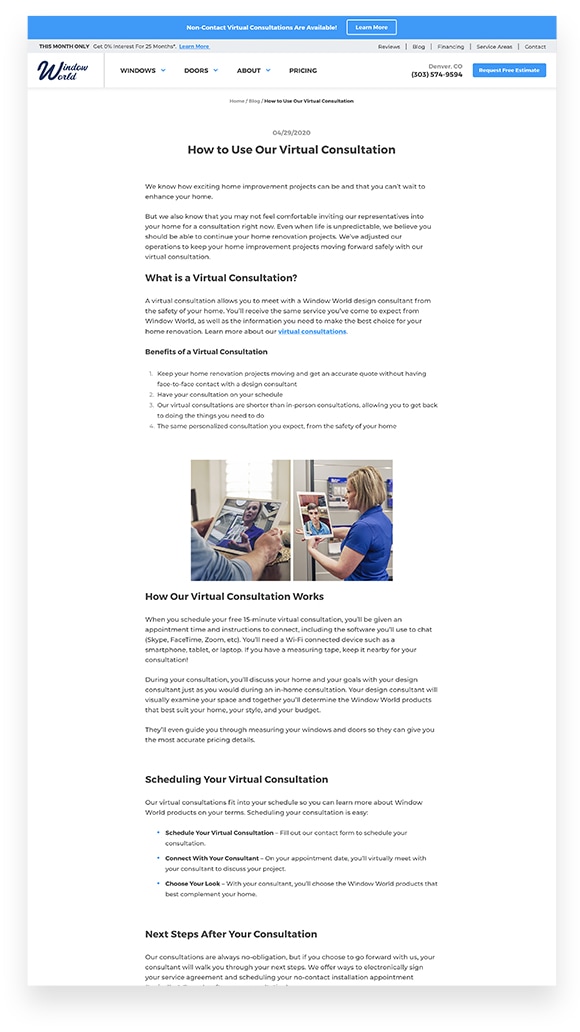 6% Increase in Organic Leads during COVID-19
26%  Organic Conversion Rate on Virtual Consultation Pages
Email Marketing
Safety & Convenience Right In Your Inbox
Much of Window World's business comes from returning customers, and many times these customers are recaptured through monthly emails. Because it has been such a lucrative medium for Window World, we knew email marketing would be an essential piece of our integrated marketing strategy for the Virtual Consultation campaign. 
Here's what we did.
We designed brand new email templates around the virtual process, which incorporated educational content, key benefits and direct CTA's, all centered around the Virtual Consultation video. The CTA's in the email guided customers to the Virtual Consultation splash page on the full site to schedule their virtual visit. With just four email sends, (per location) our Virtual Consultation email marketing strategy generated 91 leads with an open rate of 51%.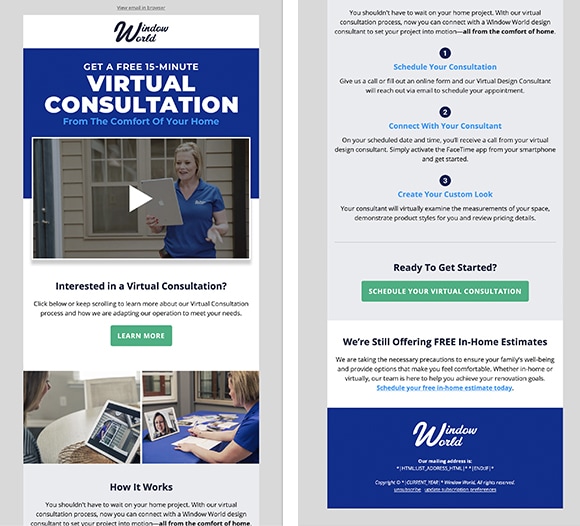 Paid Media
Driving Leads Through A Multi-Channel Approach
To capitalize on the new market share up for grabs, we built an aggressive paid media strategy for Search and Social to drive form fills and phone calls for the virtual process. We created a variety of Search ads and engaging social content designed to generate awareness around the Virtual Consultation and create an easy path to conversion.
PAID SEARCH
Our suite of Paid Seach ads drove customers to a custom Virtual Consultation landing page to further introduce the experience to new leads. Here, visitors were able to learn more about the service and safety benefits, and ultimately schedule their virtual estimate.
PAID SOCIAL
Social media was perhaps our strongest lead tool during COVID-19. And it makes sense. With so many users turning to social platforms while confined to their homes, media consumption on social channels rose by nearly 60%
We were determined to make sure Window World took advantage of this trend. With an arsenal of ad units consisting of lead forms and video ads, we increased paid social leads by 12.3%.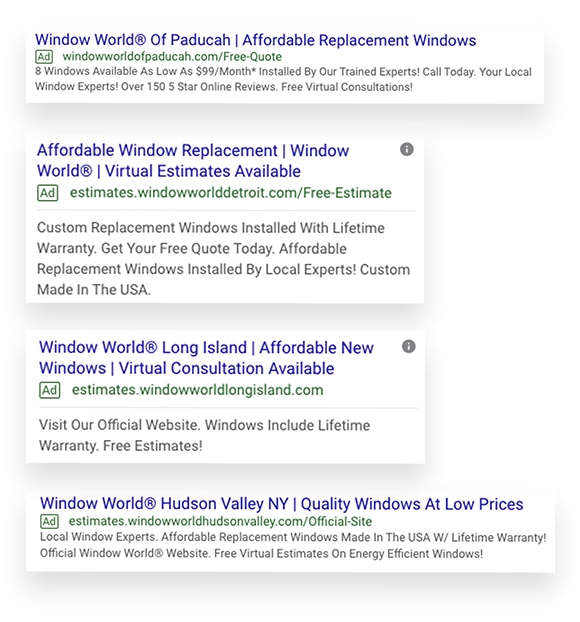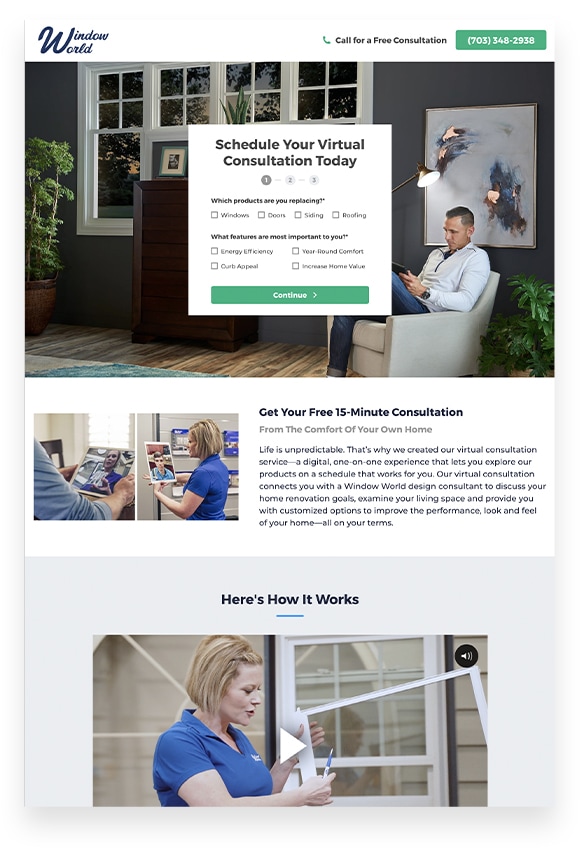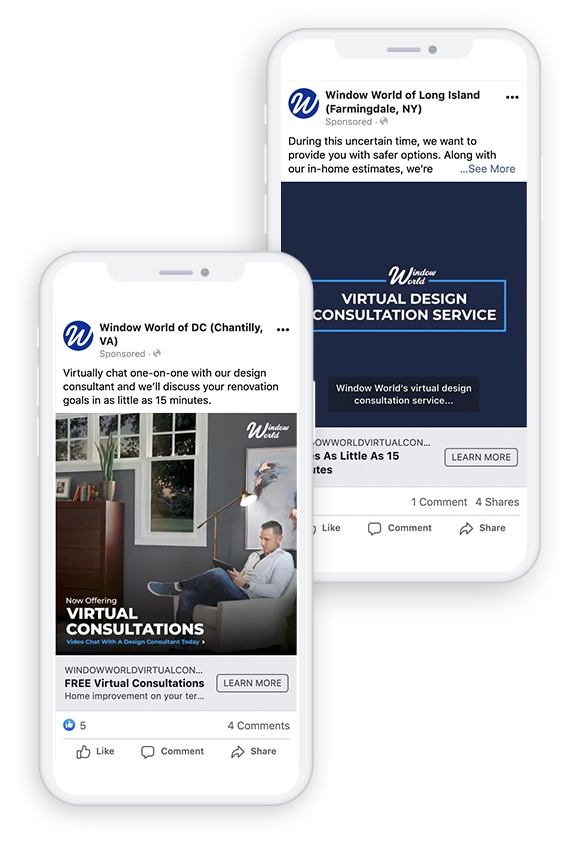 11.5% Increase in Paid Search
leads during COVID-19
12.3% Increase in Paid Social
leads during COVID-19
Conclusion
The Virtual Consultation was more than an integrated marketing campaign— it was a lifeline in an unmarketable time. It forced us to un-think our traditional marketing formula and mobilize in a new direction. 
Through a coordinated strategy leveraging video production, organic strategy, email marketing and paid media, we were able to not only boost Window World's bottom line and continue driving new business, but also introduce the missing link to their sales process—one that's had the success to endure long after COVID-19 is gone.
Award Winning Strategy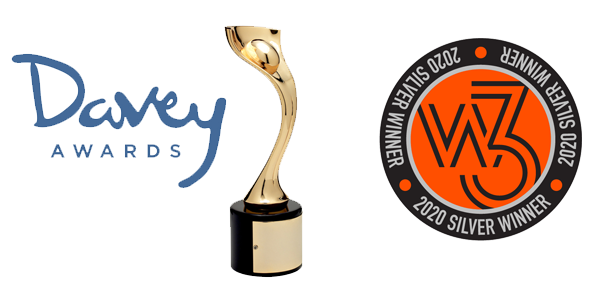 WHAT OUR CLIENTS SAY
The virtual consultation strategy has been extremely valuable to our business during the COVID-19 pandemic. We've been working to incorporate technology into all aspects of our sales process, and this strategy was the missing link. Very convenient and effective for both our staff and customers during these unique times.

— Greg Deathridge, Owner, Window World of Washington DC