Introducing an entirely new bathing experience.
Our job was to position Kohler's walk-in bath as a new solution in an established category that makes the product that's already a need a want, too. Kohler offers a better bathing experience than competitors through a more tasteful bathtub design, extra design options and overall superior experience of product designed for better bathing. Marketing these key qualities required a full-service strategy with paid, organic and engagement components.
The Challenge
Stepping Into A New Market
We were tasked with launching a new product to a niche audience in one of Kohler's first direct-to-consumer channel businesses. After a successful limited market test, Kohler enlisted our help to launch the Kohler Walk-In Bath nationally and maintain a full-service marketing strategy with highly competitive lead generation and sales benchmarks.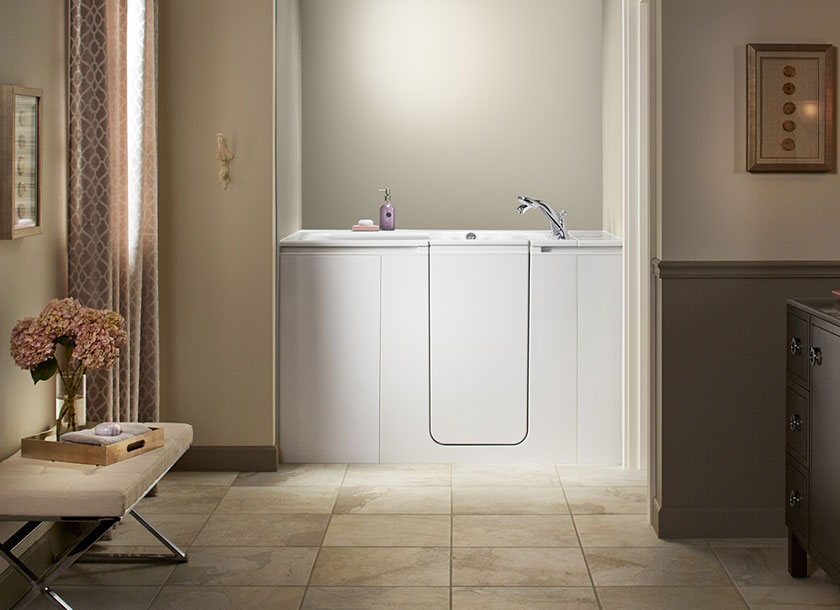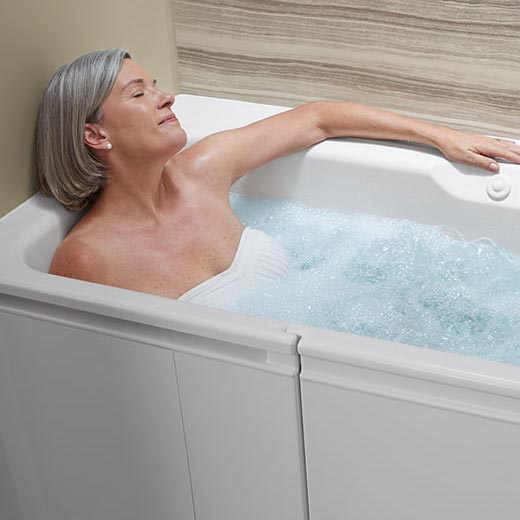 Discovery
We started with a discovery phase, where we established the audience and product value proposition. With the benefit of having worked previously with a direct competitor, we also had insights that we could integrate into the new marketing plan. Kickoff included:
UX / Persona research
Wireframing and moodboarding
Establishing visual identity for product
Crafting core messaging strategy
Developing the product website
Establishing a multi-channel marketing plan to generate and nurture leads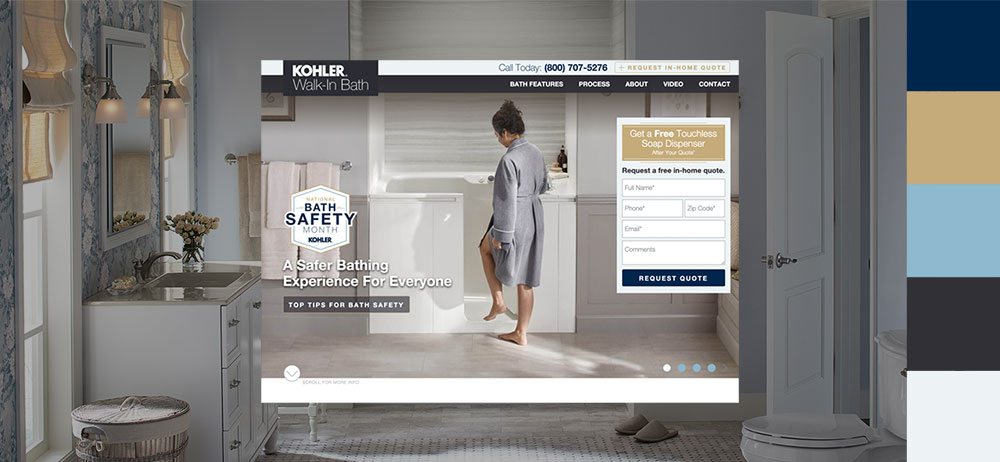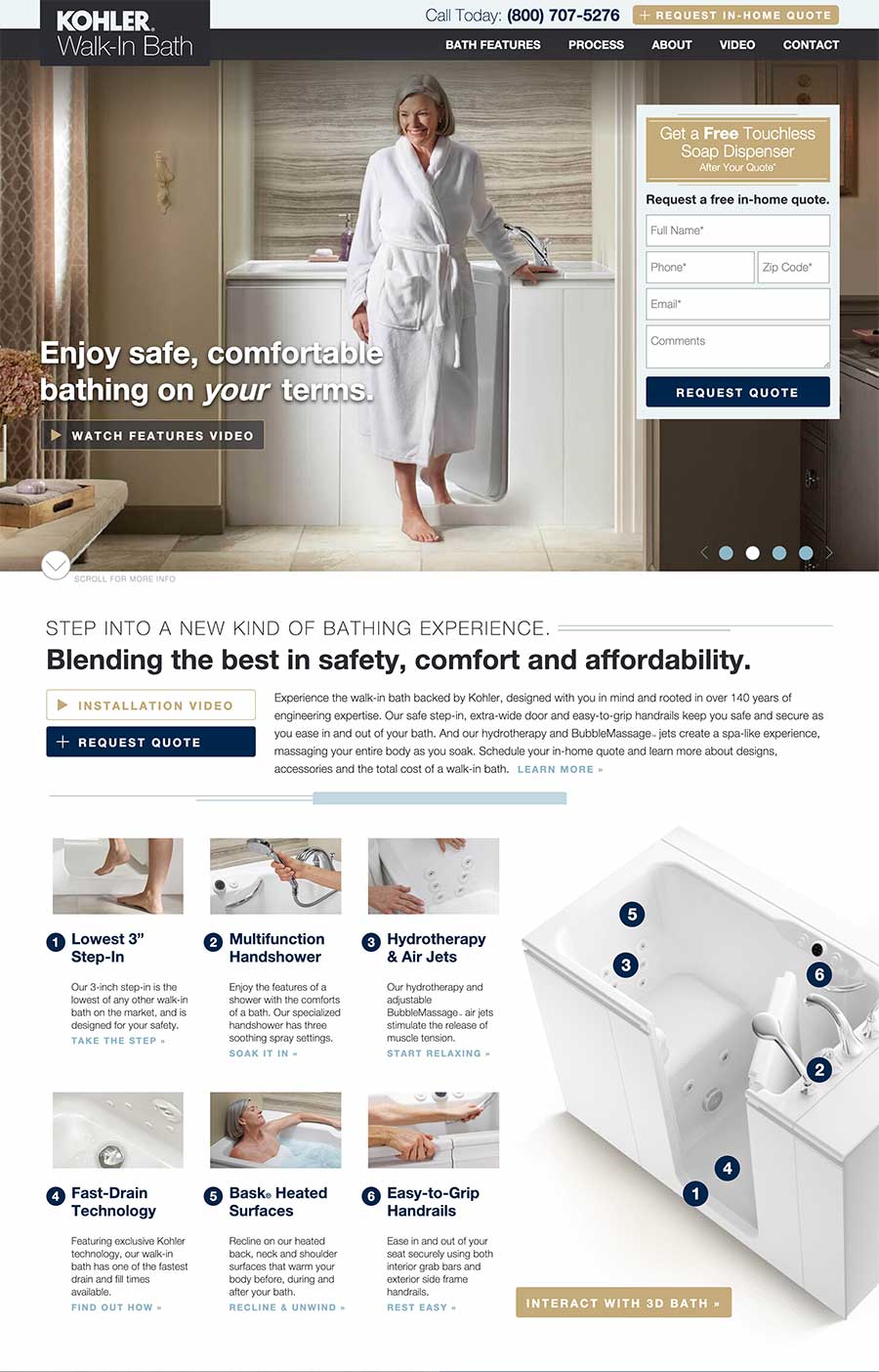 Lead Generation
To sell Kohler's walk-in baths and capture market share from the already established competitors, we needed an aggressive strategy to drive qualified lead calls and form fills across paid and organic touchpoints. To do that, we had to establish how Kohler's product was superior and offered a better lifestyle and design alternative to the competitors.
Paid Search & Social
We created a national strategy, targeted by geographic region, with specific budgets for each dealer based on demand and sales goals. For primary lead generation, we employed a mix of paid search and paid social platforms.
Paid Search: An A/B test showed that a shorter, more streamlined landing page drove more form fills. We also excluded negative keywords to improve the quality of traffic to the page.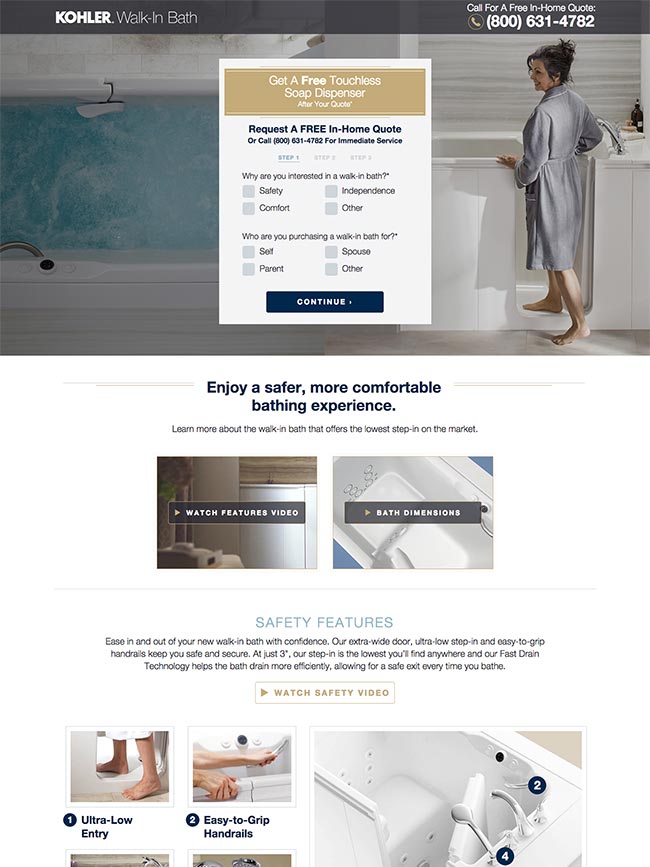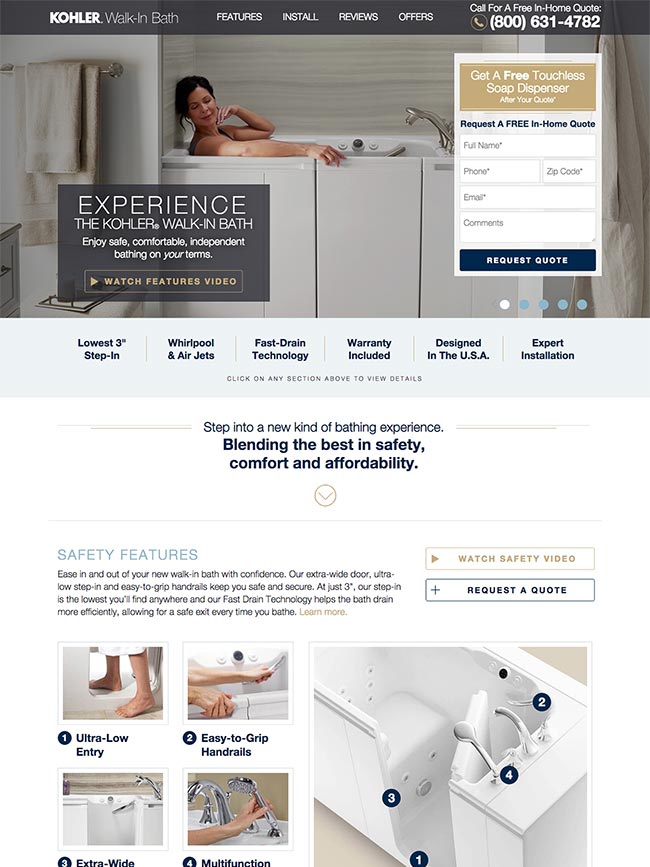 Paid Social: Different ad units, like carousels, lead forms and videos, turned social media into one of our strongest lead drivers.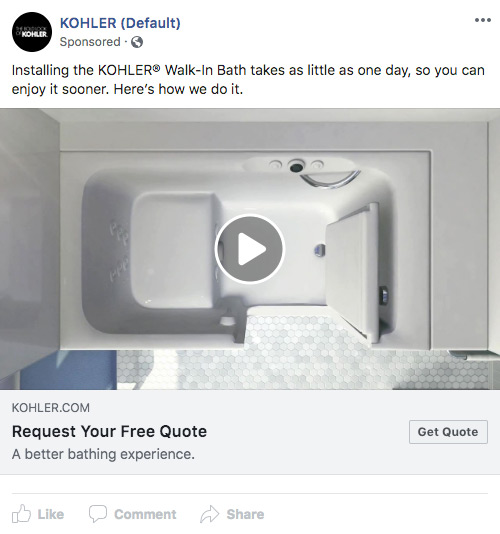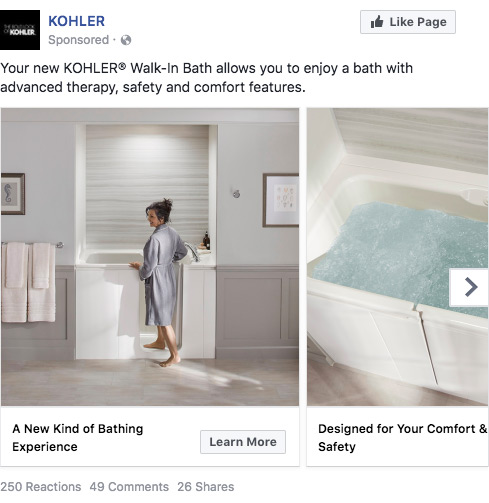 Organic
To drive quality traffic, we optimized the website for relevant search queries, specific keywords and rich content that answered questions commonly asked in the consumer's research phase. A thorough linking strategy and technical work that made the site more visible on search engines also fueled this marketing effort.
On-site: Keyword optimization, schema markup, technical optimization, interactivity and linking led the website's organic optimization strategy.
Offsite: This strategy called for link building, applying for listings on product review and ranking sites, posting relevant content to Google My Business and requesting reviews from customers.
Video
Integrating a mix of live action and animated videos on the website and landing pages as well as emails and social ad campaigns further nurtured leads in consideration.
Customer Story: Showing customer experience with product
Installation: Illuminating what happens on installation day
Specifications: Demonstrating how it will fit in the bathroom
Price Promise: Communicating price, a sensitive and complicated topic, in an approachable way
Lead Nurture
To keep the KOHLER® Walk-In Bath top-of-mind throughout the consumer's decision-making and buying process, we provided time-sensitive and relevant content across email and remarketing channels. We developed assets and touchpoints to nurture leads down the purchase funnel and identify holes in the buying cycle to recapture leads that would have otherwise been lost.
Email
A robust mix of campaigns and automations using customer data from our CRM nurtured customers throughout the buying cycle, such as:
Drip campaigns to educate customers on key product features after signup
Emails based on status triggers (appointments set, after quote appointment, etc.)
Campaign-based emails centered around relevant themes (Bath Safety Month, new offer announcements, etc.)
Remarketing
Display and social ads retargeting past visitors aimed to recapture their consideration. Assets include:
Videos (explaining installation and specifications, highlighting features that outperform the competition)
Social lead form ads
Ads featuring real customer reviews
Third-party print and digital buys
All-Time Performance
The first year of TriMark's partnership with Kohler focused on scaling up a strategy to serve a national audience and ensure that we could max out performance by the start of the second year. This included scaling budgets, targeted markets and overall marketing strategy.
We monitored customer perception by reading reviews, social media comments and third-party websites to stay ahead of brand messaging and reputation management. We also paid close attention to the mix of leads coming from each channel to learn the nuances of the consumer shopping experience for this niche product.
Our strategists took these learnings to fine-tune the marketing plan to perform better than ever before by Q1 of year two. By moving swiftly and using data to drive decisions and action, we are poised to create, modify and replace any part of our strategy to adapt to the marketplace.
Qualified Lead Volume by Month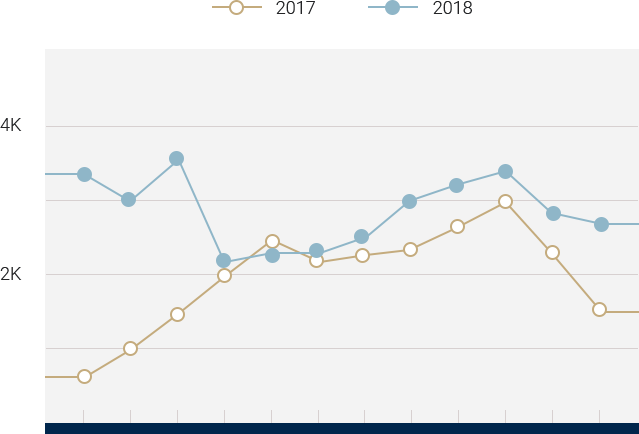 Cost Per Qualified Lead by Month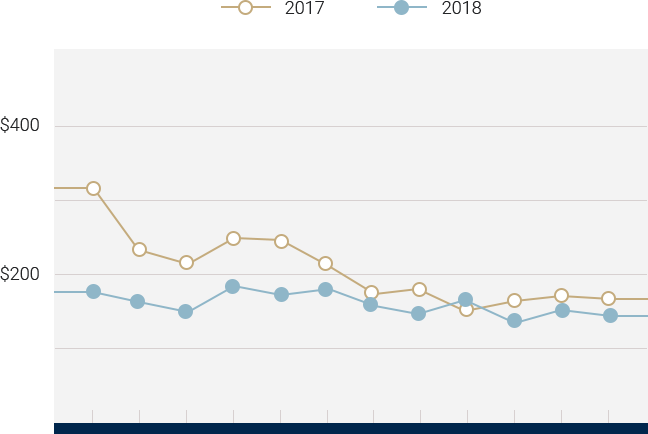 2017 Budget Allocation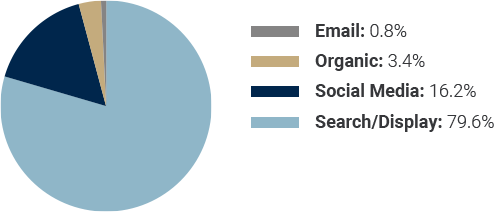 In year one, we focused budget and attention primarily on paid search to ramp up awareness for the product.
2018 Budget Allocation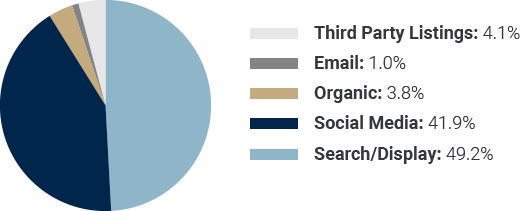 In year two, we adjusted our strategy to become more balanced among primary channels.We further refined our social and organic strategies and began integrating third party listings as additional lead drivers.
2017 Geo-Targeting Pace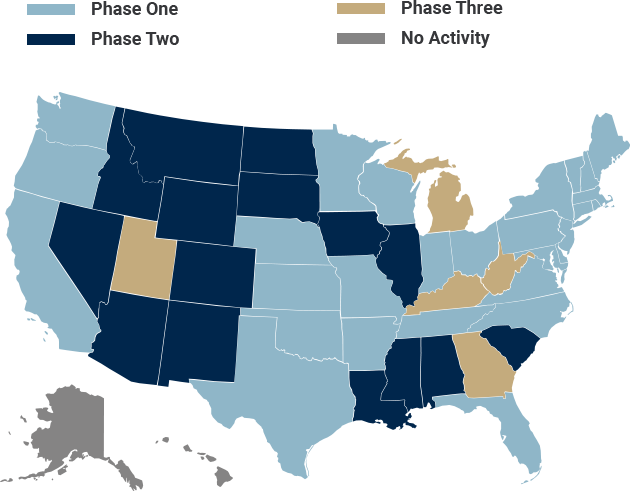 Adopting a phased approach, we rolled out total market coverage for the continental United States within the first six months of program launch. We worked with Kohler Co. to identify key markets and develop unique lead plans per region.