Introducing our smartest, highest-performing local website yet.
Designed to make everything from user experience to backend management a breeze.
Through superior products, unparalleled customer service, and a business model that proves swift, affordable home improvements are possible, Window World has long been a leader in home remodeling. Together, these key qualities set the company apart, helping them deliver the very best customer experience. But effectively marketing these differentiators, especially in locations across the country, meant Window World needed an online user experience that offers the same level of value and customer support.
Our Challenge
An award-winning website fit for an award-winning brand.
With over 200 franchise locations nationwide, America's leader in exterior home remodeling needed a digital solution that was easily scalable for custom, localized content, eye-catching visuals and an effective user experience.
Built with a user-friendly layout, shoppable product pages, and intuitive development, the new website design, dubbed "Breeze", provides an improved site structure that goes beyond aesthetics to drive performance and sales. Discover Breeze below!
Advanced Website Design
Making an immediate visual impact on home remodelers.
Our first step in the redesign process is always a thorough UX audit to better understand how customers interacted with the site. Armed with insights using heatmap tracking and user-behavior analytics, we reconstructed the website design with a modern, upscale look to create a more valuable window shopping experience for both mobile and desktop users.
In the highly competitive home improvement market, we needed to create a website that instantly captured a consumer's attention. To accommodate the needs and wants of potential customers, we refined the entire design by incorporating a cleaner, more robust site navigation, shoppable product pages, eye-catching imagery, and direct CTAs, all centered around the window purchasing process.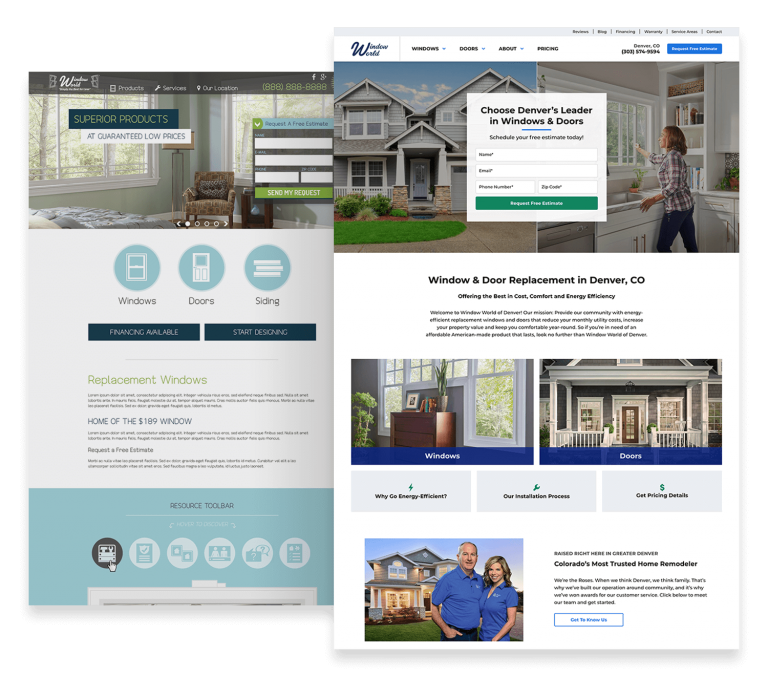 26% Increase in Conversion Rate
24% Increase in Organic Pageviews
Content Strategy
Compelling messaging, customized for each local franchise.
With a nationally recognized brand operating in a variety of markets, a "one size fits all" strategy doesn't work. Thanks to Breeze's scalable design and development, creating unique, customized content became feasible and efficient.
LOCALIZED CONTENT STRATEGY
Crafting unique content for each locally-owned franchise was a top priority. That's why we created a suite of localized content based on subject matter—such as available products, exclusive promotions, educational blog resources, service areas, and "about us" content—each optimized to capture their local audience and nurture the consumer's decision-making process.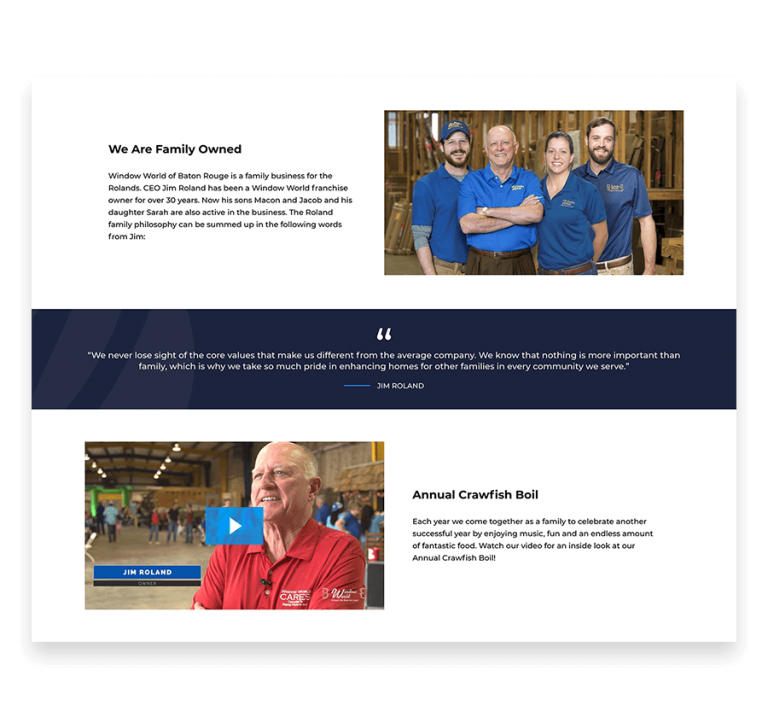 10% Increase in Average Session Duration
12% Decrease in Bounce Rate
Organic Strategy
Nationally known, dominating on a local level.
With a brand whose success relies heavily on local business, we needed to enhance Window World's organic presence by re-optimizing the website, eliminating complex content, and improving UX to drive search traffic and form submissions.
First, we replaced the highly technical content with fresh, relatable messaging that established a friendlier feel. We optimized the site for keywords that had the most search demand, then created a new blog strategy to gain more opportunities in local SERPs. With Breeze's newly elevated website structure, we were able to include a thorough linking strategy and technical work that made the site more visible on search engines. This included:
Page speed improvements
Titles and description optimization
Page redirects to preserve existing backlinks
Internal linking refinement
On-site image optimization
With a complete optimization strategy, the new site immediately attracted quality traffic, improved user experience, and increased organic performance.
21% Increase in Organic Impressions
46% Increase in Organic Traffic
A "Smart" Website Experience
Brilliantly optimized for conversion.
When creating Breeze, we strategically optimized the site to drive form submissions, phone calls, and newsletter sign-ups. Thanks to the new website design and conversion strategy, Window World's digital strategy is performing better than ever, generating its best results yet.
Conversion Strategy
We implemented multiple conversion opportunities throughout the website that helped capture potential customers based on their actions or location on the site. Some of those features are:
Exit Intent AI Chatbot: To assist users, we applied an interactive chatbot that appears when a visitor shows intent to exit the site, converting browsers into buyers.
Unique Lead Form Content: We created individual copy for each lead form to better support converters, nurturing them to take action.
Dynamic Design For Easy Optimization: Breeze was intelligently designed and developed in an easily scalable manner.
Extensive Contact Form Strategy: By tactically placing lead-generating contact forms across prominent real estate, we were able to grab the attention of consumers, driving form submissions.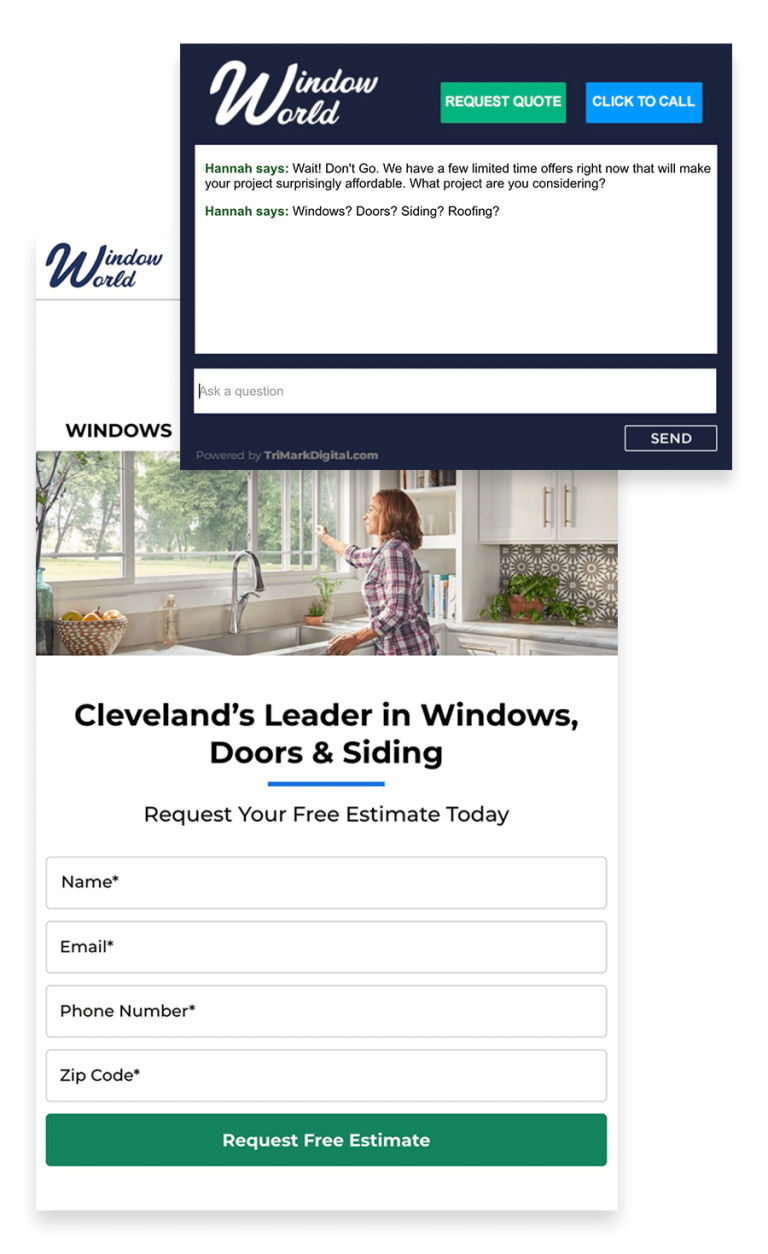 7% Increase in Click-to-Call Actions
80% Increase in Organic Demo Requests
Agile Web Development
Scalable user management.
With Breeze, it's now simple and convenient for all internal teams—content strategists, account management, designers, and developers—to apply immediate, custom solutions and content updates tailored to each market. Not only did we develop Breeze to give us the tools to offer a scalable website, but its unique architecture also allows for fast replication, making development times much shorter.
It was important to build a website that supported the individual needs of each Window World location and made it simple to apply them in real-time. By creating a global theme as well as custom content areas known as "blocks," we now have the capability for fast website replication, development, and speedy content updates that fit cohesively with the streamlined design—extending the life span of each Breeze website.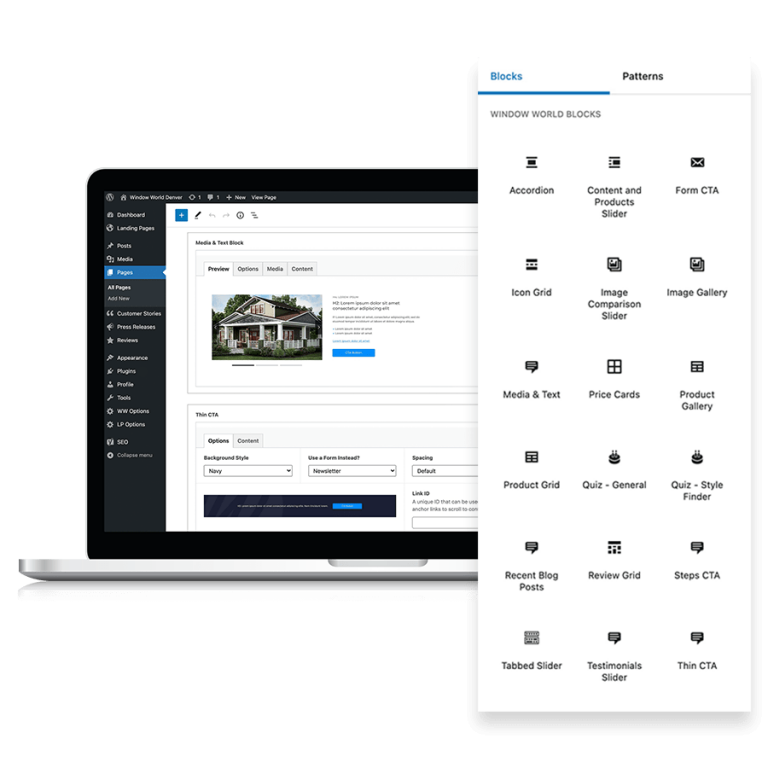 Ongoing Results
The Breeze website redesign is more than an aesthetically advanced website—it's a growth catalyst for the Window World brand. Our data-driven yet personal approach gives Window World customers an unmatched digital experience that allows them to reach their home improvement goals.
Through our expertise and a digital strategy leveraging organic and content strategy, website design, and development, this fresh, dynamic website conveniently meets the needs of both our clients and their customers.
An Award-Winning Website
The Breeze website design won a silver W³ award for the General Websites – Home Renovation For Websites category. The W³ awards showcase the best of marketing, performance, and design from some of the most established brands in the world. Judged by the Academy of Interactive and Visual Arts, an invitation-only body consisting of executives from acclaimed media, interactive, advertising, and marketing firms.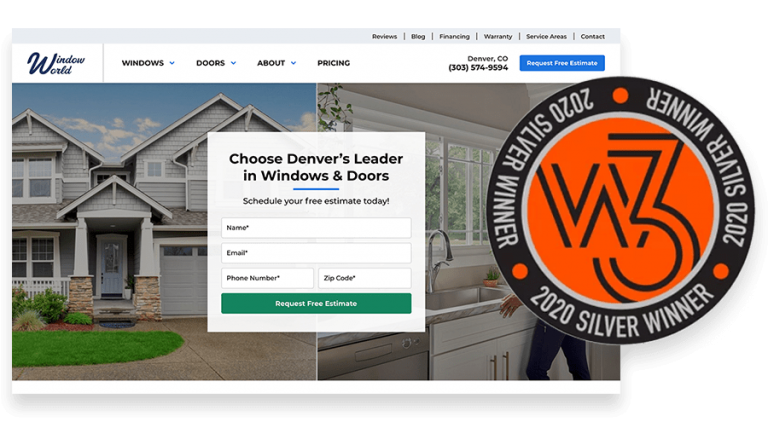 I have been beyond thrilled with TriMark's latest Window World website. We were among the earliest to upgrade to this design, and have seen firsthand the positive impact it has had on our business. It looks absolutely beautiful, is so easy for our customers to engage with, and is highly effective at driving more web visits into leads. I would definitely recommend this website for any Window World market that is interested in enhancing their digital performance and value!

Christina Rose, Owner, Window World of Colorado