Video Production Case Study
Award-Winning Creative Drives New Product Launch
In a single production, we captured two award-winning videos and photo assets to launch Liberty Hardware's new closet system. The multi-channel content cut through the cluttered storage & organization market offering a simple solution to frustrated homeowners.
The Results
One Year After Launch
By planning and executing an intentional, future-focused video shoot, our team was able to create award-winning content that could be repurposed and amplified across organic and paid platforms. The creative not only launched the product, bringing Closets by Liberty to homes across the country, it also informed our target audiences and messaging strategies.
52k paid social leads
were generated
39% of viewers watched
the entire remarketing video
3 industry accolades
were awarded to the creative
The Challenge
A Worry-Free Choice
Homeowners are facing more than just cramped closet spaces. When they begin investigating storage solutions, they discover an overwhelming amount of choices available at home improvement retailers and beyond. Liberty Hardware wanted to change that with their new closet system.
We were challenged to position Closets by Liberty as the worry-free choice for storage and organization. To do this we needed to reach those in need of a solution for their closet chaos, demonstrate the systems' functionality across multiple platforms, and guide customers through a simple installation process.
Our creative strategy would anchor around the production of two marquee pieces of video content:
a high level awareness video illustrating use cases

an educational video showing a step-by-step installation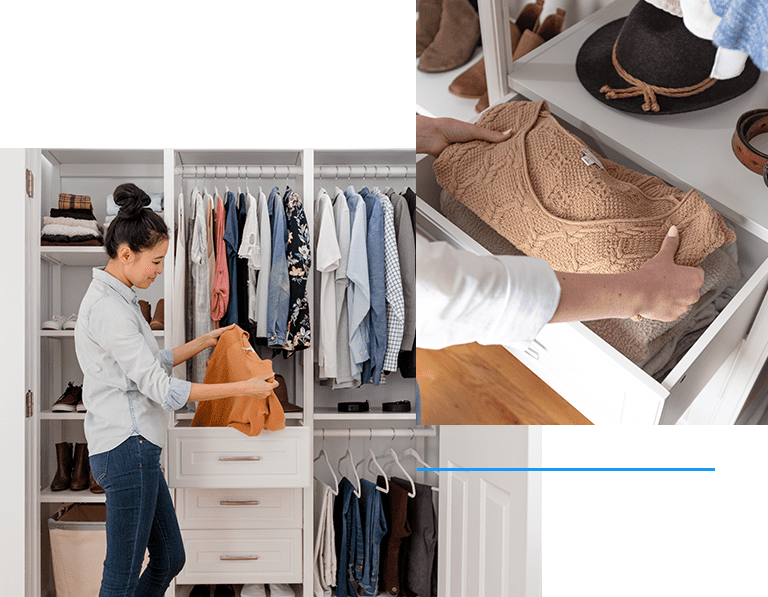 The Creative Strategy
"Meet Your Closet"
For the awareness video, Meet Your Closet, we needed to:
Establish buying personas

Identify their problems

Introduce Closets by Liberty as the solution
Our research revealed three key audiences whose needs were not met by the current storage & organization landscape:
Busy parents whose shared spaces feel out of control and disorganized

Empty nesters looking to downsize and maximize a smaller space

Renovators creating a dream master closet while staying on budget
Structurally, we needed to produce a narrative that could work as multiple pieces of content. Primarily, a full 1:00+ marketing video, but also smaller :10-:30 stories for a variety of online platforms and targeted ad types.
"Closets By Liberty Installation"
One part step-by-step tutorial and one part use case example, this learn level content would address the concerns of potential buyers who were still on the fence about purchasing the Closets by Liberty system, in addition to providing a useful reference post purchase.
The installation content needed to be more succinct than a fully detailed, long form instructional video while nodding to high-level marketing messaging like the system's aesthetic appeal and convenience. 
Multi-Use Creative
Video was simply a portion of our overall digital marketing plan for launch. Our content and design team proactively identified opportunities to capture content during this production that could be used beyond the two marquee videos. Utilizing the fully installed and propped closet systems and the professional talent, we captured creative assets that would appear across paid social, email, display, and web.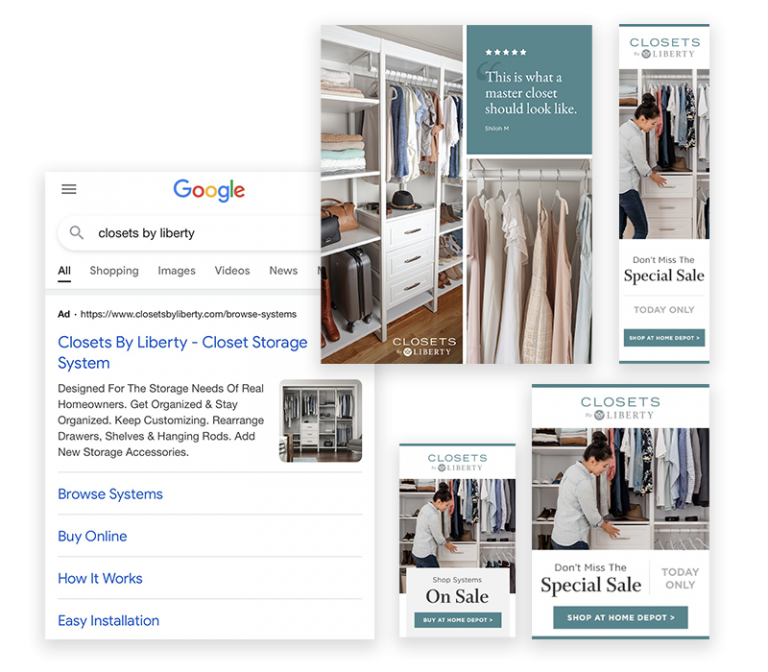 Video Pre-Production
In-House Production Department
With a rapidly approaching product launch, the ability to integrate TriMark Digital's in-house video production department with the other, on-going marketing efforts was a key advantage for the agency.
Learnings from the persona research and hands-on product experience gave our team a complete picture of the new brand and how these videos would fit into the customer's journey.
Plus, it allowed us to quickly step into location and talent searches.
Production Documents
During pre-production, each persona was paired with a bedroom at the residential studio and styled to look like it's own unique home. For example, the studio's master closet was a perfect fit to represent a home undergoing a renovation, while a smaller reach-in closet conveyed the story of empty nesters who recently downsized.
We provided the client with a single presentation deck that contained all of the relevant documents and information that would need to be referenced for approval:
Room layout, wall color, and design style 

Product selection and configuration 

Props to style the bedroom and clothing to fill the closet 

Talent selection and wardrobe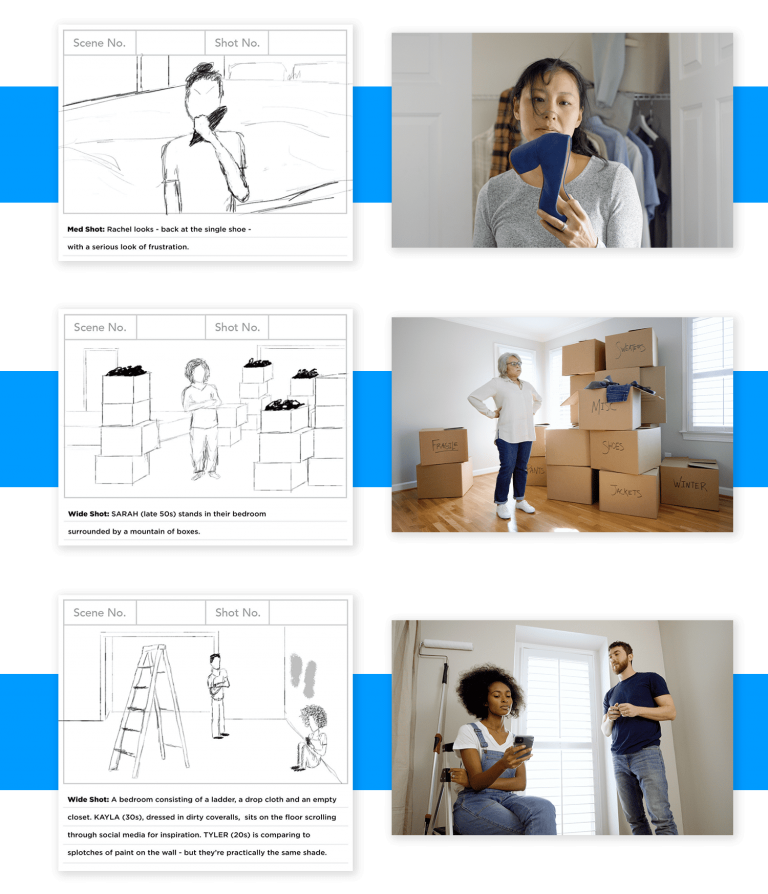 Video Production
The Crew
The shoot took place over 3 days with a dedicated crew who had been heavily involved in pre-production. By using the same in-house creative and client team who was involved in all aspects of the brand launch, we knew this new product like the back of our hands.
Director/Producer

DP + Camera Assistant

Art Director

Content Strategist

Gaffer

Photographer

Makeup Artist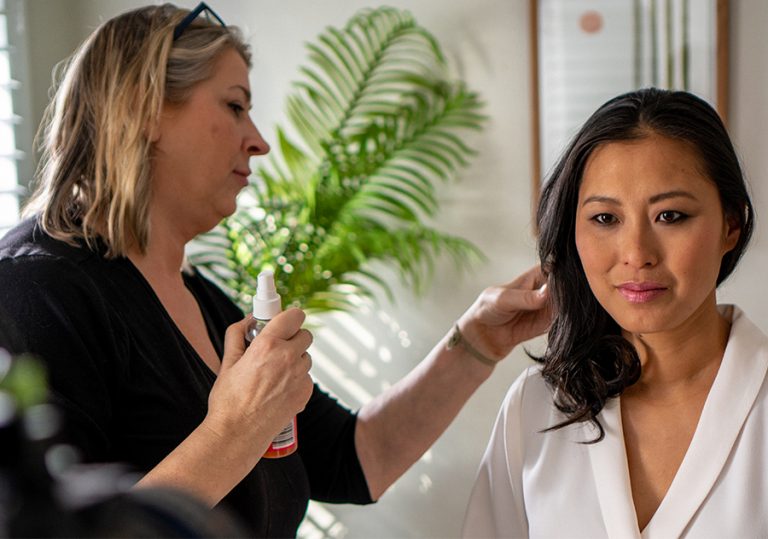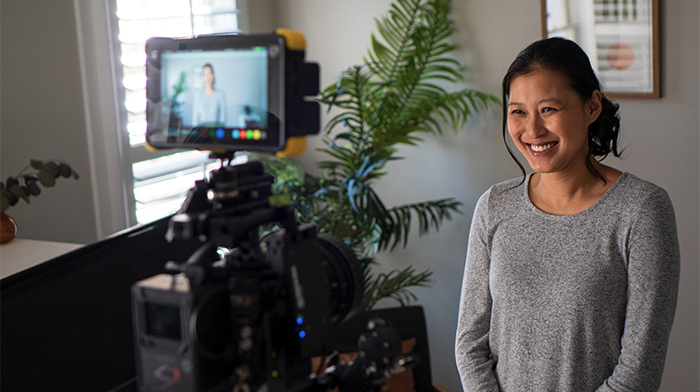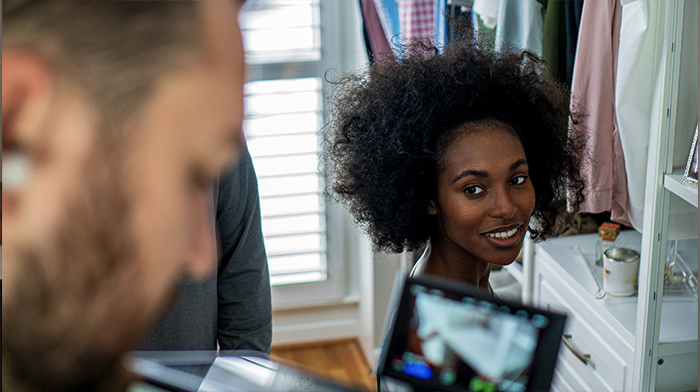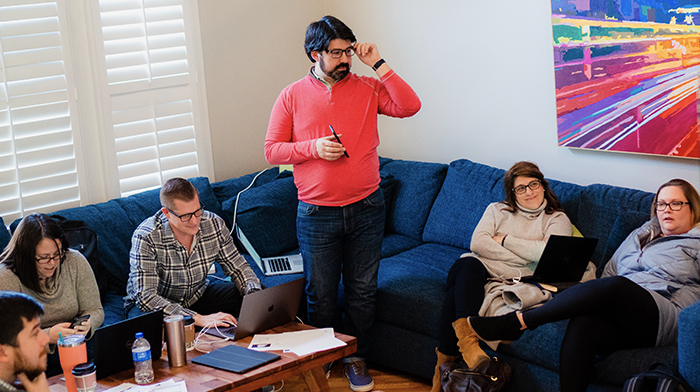 Client Review
We set up a video village for the client team in the comfort of the residential studio's living room. It was the perfect place to work, have meals, and gather feedback throughout the shoot days.
Review monitors were set up for the client team to watch each shot as it was captured for rapid, real-time client review and approval. This allowed for a truly collaborative process and ensured product configuration and appearance was to standard at each step of the process. Based on feedback, the team was able to cut, pick up, and adjust scenes as needed.
While we always welcome our clients on set for productions, we know that schedules and availability don't always allow for clients to share in the production experience. In order to accommodate those clients who can't be present in person, but would still like to stay looped into the production process, TriMark Digital offers a livestream, remote review service that allows clients to see what's being captured by our cameras in real-time.
The Results
Customized For Placement
Once our two marquee videos were finalized, various cuts from :15 to one minute were created for YouTube ads, paid social, and e-commerce product pages on various retailer sites. Depending on whether the cut was intended for an organic or paid placement, we updated video end cards with relevant CTAs.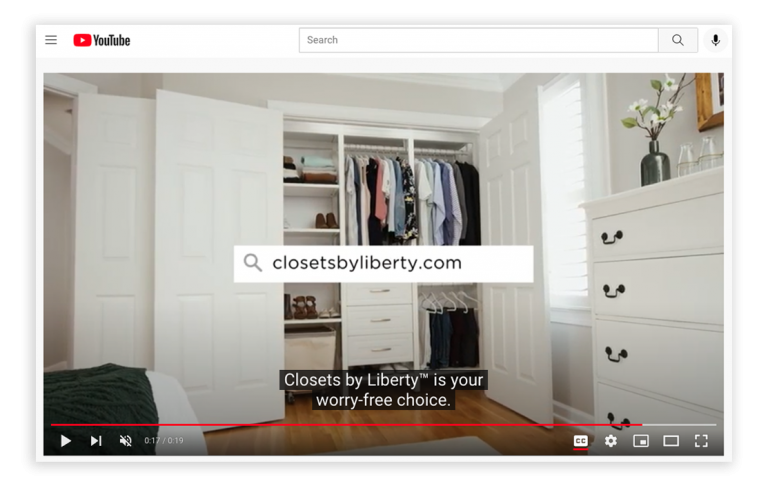 Targeted Audiences
YouTube advertising using our Meet Your New Closet video creative allowed us to specifically target our three key audiences and test for most resonant narratives. We crafted three shorter versions that spoke to unique pain points and the Closets by Liberty solution.
Watch the videos below, respectively:
Out of Control persona video
Renovators persona video
Empty Nesters persona video
Then we created various ad groups:
Custom Intent

: We targeted potential customers who had searched for our top keywords on Google like closet organizers and closet storage systems.

Affinity Audiences

: We reached viewers who were passionate about relevant topics like DIY and home decor.

Placements

: We placed ads on specific YouTube videos and channels that relate to our offerings, from closet systems being built and closet tour videos to content from Marie Kondo, Mr. Kate, and Young House Love.
By running three shorter "persona" videos that spoke to each audience, we were able to gauge which audience resonated most strongly with our offerings. Across all ad groups, we found that the Out Of Control segment performed best in terms of conversions.
57% of all conversions came from the "Out of Control" personal creative
471k  over 471,000 video ad views were generated
Full-Funnel Implementation
Since the Out of Control persona segment performed best on YouTube, we decided to weave that persona into our paid social strategy across Facebook, Instagram and Pinterest. 
Social ad content that was created using footage from the video shoot generated the following results within the first year of launch:
359k+ clicks (to the Closets by Liberty microsite or a retailer's site)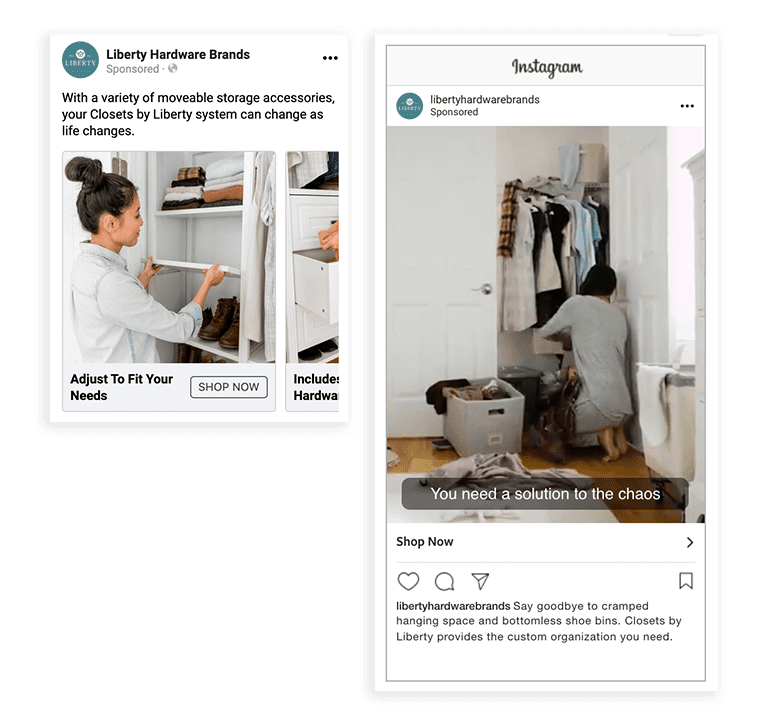 We remarketed to these top of funnel viewers using the Installation video which achieved an outstanding view through rate, moving potential buyers further into the consideration phase.
39.67% of viewers watched the entire video (YouTube)
Award-Winning Creative
The two marquee videos were awarded both Davy Awards and W3 awards.
2020 Davey Gold Award: Online Film & Video: Online Video How-To & DIY
2020 W3 Silver Award: Branded Entertainment – Promotional / Branding For Video: Personas Video