Winning with SEO, paid search and social media.
With 1.3 million square feet of showroom space, Furnitureland South, the world's largest furniture store, offers an unparalleled in-store shopping experience. But it needed a better way to bring that experience online for digital shoppers. With TriMark, Furnitureland South aspired to:
Dominate paid and organic search engine results
Inspire sales force lead generation
Grow its eCommerce business
With a new responsive eCommerce website and a mix of paid search (PPC), organic search (SEO), social media and email marketing, we helped Furnitureland South capture the attention of new customers across the country. Our omnichannel campaigns increased organic visibility by 30%, and our paid search campaigns produced a 1,664% ROI.
Services
eCommerce Website Design & Development
Organic Search Strategy
Paid Search Strategy
Content Marketing Strategy
Social Media Strategy
Email Marketing Strategy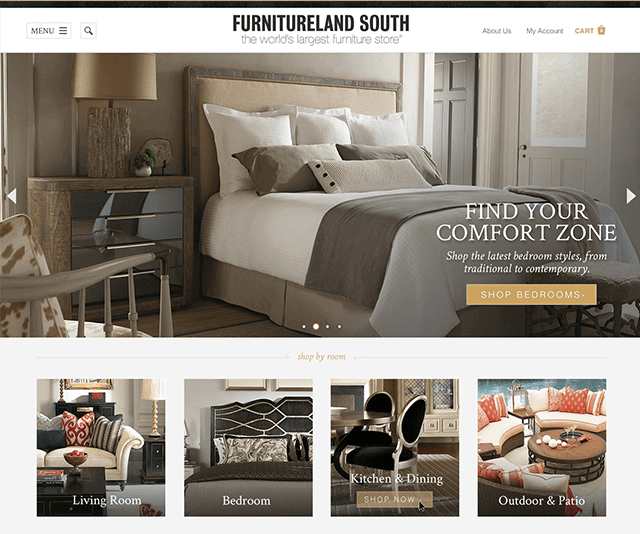 eCommerce Website Design
Despite having the largest product selection of any competitor, Furnitureland South struggled to compete digitally with an outdated site.
Our first step in redesigning furniturelandsouth.com was a thorough UX audit, with extensive user testing to better understand what Furnitureland South's customers wanted and needed. Armed with those insights, we overhauled furniturelandsouth.com with a clean, modern look that emphasized beautiful furniture styles—the ultimate temptation for browsing shoppers.
0
%
increase in average pages / session
0
%
increase in average time spent on site
0
%
increase in page views
Paid Search Strategy
Furnitureland South specializes in home design, with a team of in-house decor specialists dedicated to helping customers style their homes.
Driving new customers to the site was top priority, as was connecting them with a designer to close the sale. We launched Google Search and Display campaigns to capture prospects in key markets. With a series of landing pages, complete with automated email follow-up, we connected thousands of new customers with designers, leading to millions of dollars in sales.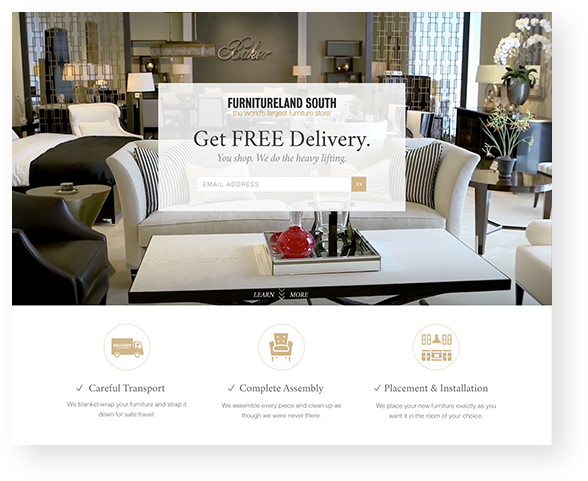 0
Qualified Leads Generated
Search Engine Optimization Strategy
With thousands of products shuffling on and off the site each month, Furnitureland South was plagued with SEO issues that impacted organic rankings. Our multi-phase plan involved fully reoptimizing the site, eliminating duplicate content and improving UX to drive search traffic and, of course, online sales.
First things first, we helped the Furnitureland team clean their product data feed so it would seamlessly integrate with the site. We created new, expanded descriptions for more than 160,000 products available for sale online, and added product schema to optimize the site for keywords that had the most search demand.
0
%
increase in organic traffic
0
X
impressions in search engines
0
%
increase in organic conversion rate
0
%
increase in ecommerce conversion rate
Social Media Strategy
Most furniture shoppers begin their buying process on social media, which made implementing a strong engagement strategy an essential.
Utilizing a combination of organic and paid social strategies, we helped Furnitureland South expand into Facebook, Pinterest and Instagram marketing, where we found their target audiences were most likely to spend their time in the early buying stages. We ran customized contests and engaged with the audiences with interactive posts, pins and photos, and responded quickly to feedback, reviews and comments.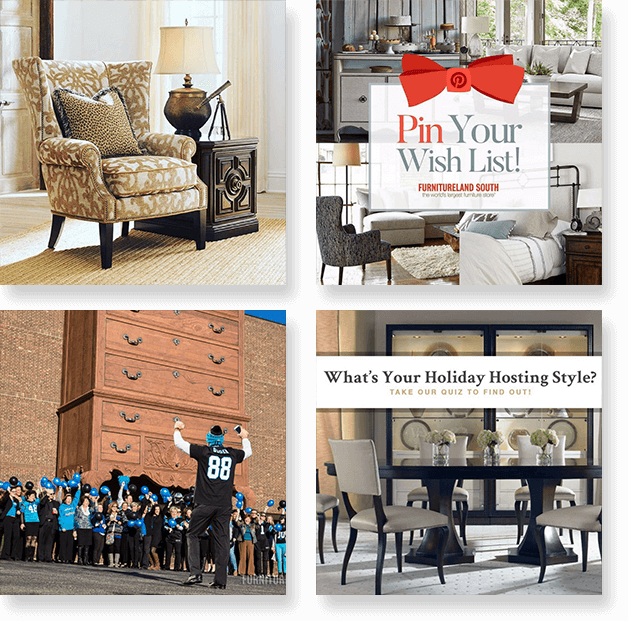 #HomeGoals Contest
As part of an ongoing customer engagement strategy, we created a social media contest designed to highlight new products and give customers a chance to win a $5,000 shopping spree. #HomeGoals stimulated social conversation, generated new email subscribers and engaged customers with furniturelandsouth.com.