By Hannah Freyaldenhoven, Senior Content Strategist, Team Lead
Influencer marketing is a long game. It is often one of many touchpoints that ultimately drives a lead or generates a purchase. This can make it a challenge to assess the impact of your content creators—especially when looking for a direct sales attribution. However, by building a strong community of influencers and content creators, you have brand ambassadors operating at every stage of the marketing funnel to keep your brand top of mind.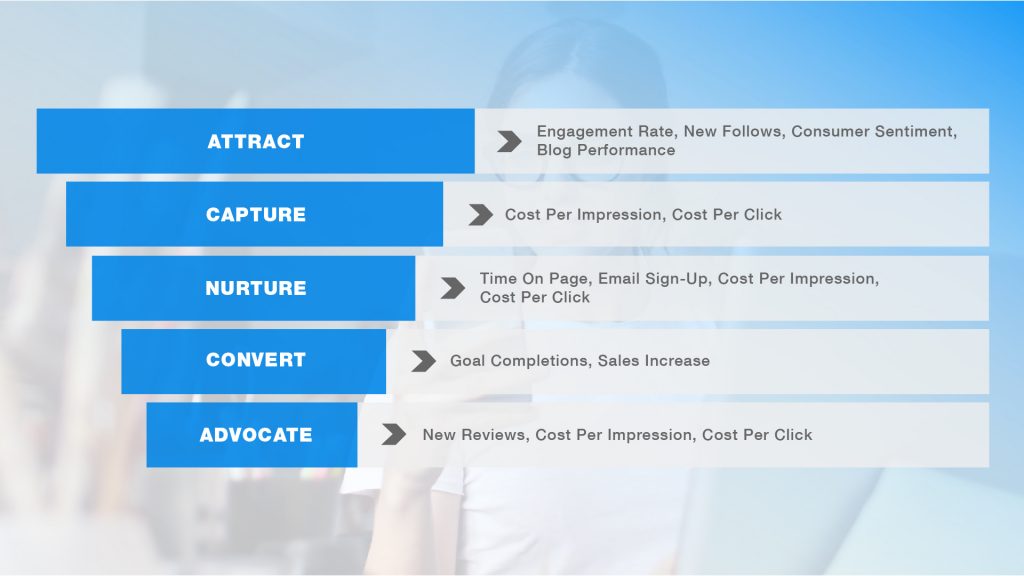 In this post, you'll find 12 key performance indicators (KPIs) from the attract stage to the advocate stage that will help you:
Clarify your marketing objectives
Evaluate the success of your creative assets
Optimize your strategies
Show the value of your partnerships
Assess the impact of your campaign
Let's explore what you can measure at each stage of the funnel.
Attract
During the Attract phase, you are working with your influencers to increase awareness of your brand and generate demand for its products and services. Depending on the content creator you have partnered with, your first touchpoint could be through a variety of organic content shared on the creator's social profiles. This original content might be shared on any combination of Instagram, Facebook, Twitter, Snapchat, TikTok, or blog. Your marketing strategy, as well as the influencer's stats, should direct which of these platforms your content appears on.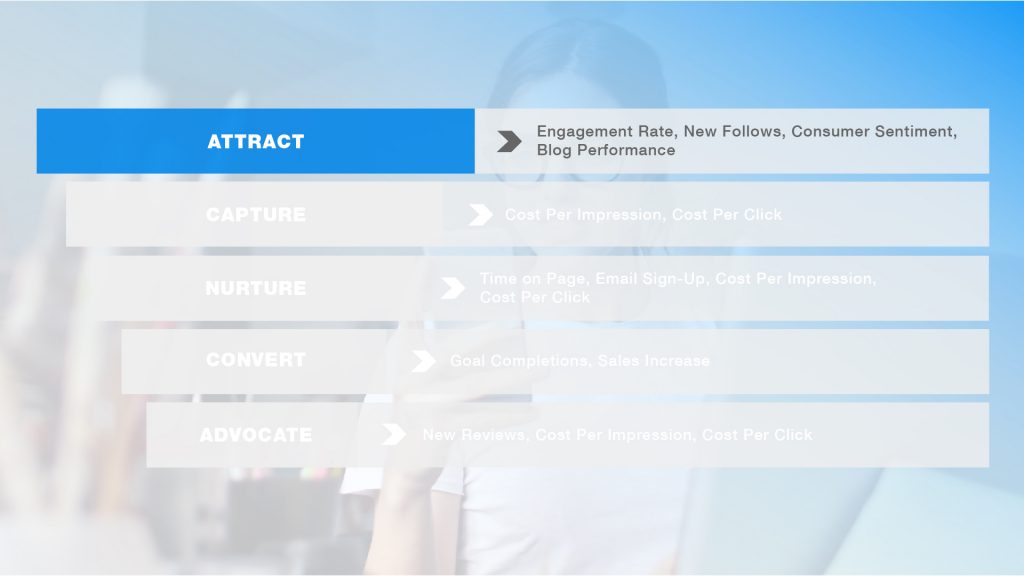 KPIs to consider during the Attract phase:
Engagement Rate: This can be calculated by the number of engagements (likes, comments, saves, shares) divided by the number of impressions multiplied by 100. The resulting percentage reflects how compelled followers were to engage with your content. This year, influencers outperformed brands, earning 3.5x the median engagement rates on Facebook and 2x the median engagement rate on Instagram. While the engagement rate for influencers varies from account to account, microinfluencers see some of the best engagement rates likely due to their emphasis on relationship building. Be sure to ask what the average engagement rate is for your influencer when setting goals at the start of your campaign.
New Followers: Benchmark your profiles' follower counts before your partners publish content. You'll want to note any upticks in follows that your social accounts receive after an influencer tags you in their content.
Consumer Sentiment: Use the conversations happening in the comment section of social posts and blog posts for social listening and insights. You'll quickly be able to tell if the content your influencer created is resonating with their followers. Note any positive or negative sentiments that you observe. Utilize these insights to pivot your messaging or craft new content pillars. You'll even notice FAQs that could indicate a gap in your current content strategy.
Blog Performance: Ask your influencer to report on their blog posts, including information like page views, time spent on the page, and click-through rate to your brand site. You can also check for referral traffic from the influencer's site through your own Google Analytics.
Capture
To capture the demand that you've generated through organic influencer content, consider amplifying the posts as branded content ads on Instagram and Facebook. This allows you to serve the post to a broader audience while maintaining the look and feel of organic content. You'll also be able to see cost per impression (CPM) and cost per click (CPC) metrics.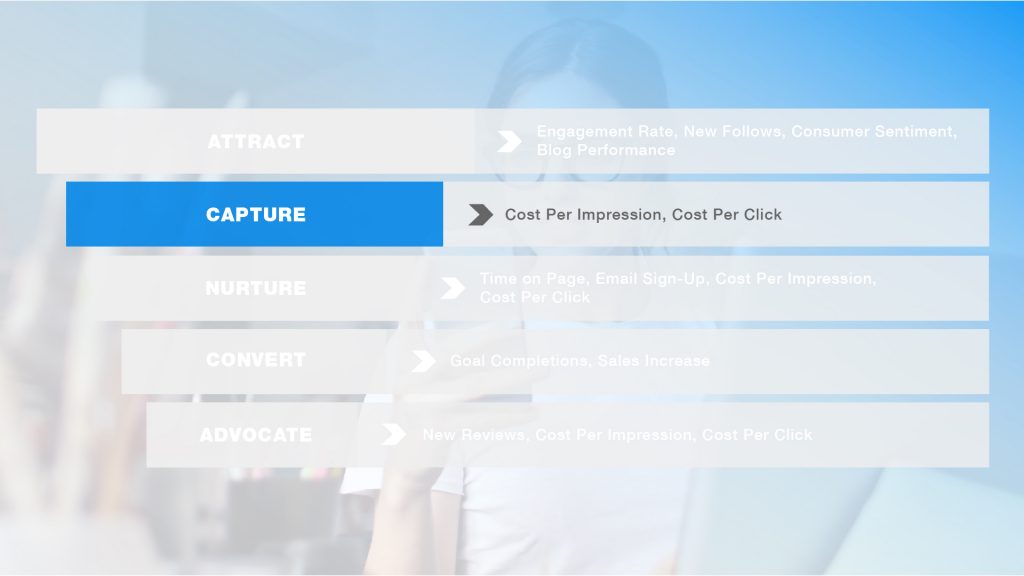 KPIs to consider during the Capture phase:
CPM: We've seen branded content generate a low CPM, which makes it a strong top-of-funnel tactic for generating awareness.
CPC: Monitor the CPC. It may be a bit higher than you see with your other paid social ad versions since it is geared toward generating awareness rather than conversion at this point in the customer journey. Note what creative works best to lower the CPC and use these learnings to shape lower-funnel messaging.
Nurture
From an organic perspective, it's helpful to have long-term partnerships with your influencers to keep your product top of mind after the initial exposure your brand receives. Once the influencer introduces the product or service, they can continue to share at relevant times, which helps nurture those who might be interested in buying. Utilize the same KPIs from the attract phase on these follow-up posts.
Building your creative library is another key benefit of influencer marketing during the nurture phase. Not only does it save costs by reducing the number of styled photoshoots needed, but it also allows you to incorporate different types of lifestyle creative into your website, email, and paid and organic social content. A wide variety of creative can help you determine what selling points best resonate with your consumer. Test this creative as you remarket to your audiences and study what performs best.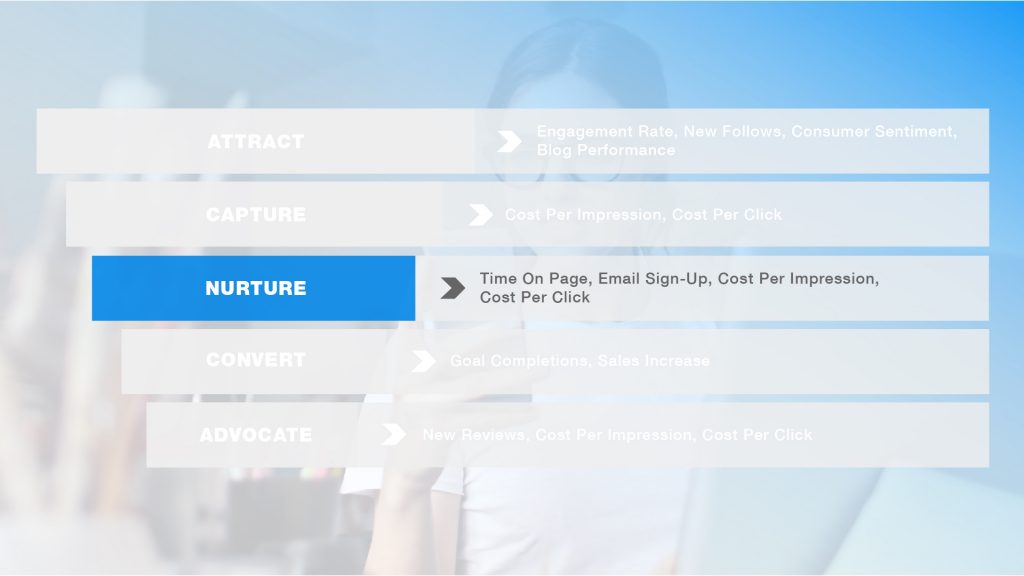 KPIs to consider during the Nurture phase:
Website and Email Performance: Note which pages on your site utilize influencer creative, from blog posts to product pages. Assess how this creative could affect time on page, email sign-up goals, and beyond. Consider running an A/B test with renderings or stock photos to see if influencer imagery is more effective and inspiring. Similarly, test using your influencer content in emails.
A/B Test Imagery for CPM and CPC: If you are curious about how your influencer creative could improve your paid social and display ads, run an A/B test. Our clients have seen some of their lowest CPCs for display when swapping renderings for lifestyle shots provided by influencers.
Convert
The Convert stage is the most challenging stage for measuring the impact of influencer marketing. Remember, many of the top-of-funnel influencer strategies likely assist in converting a purchase that is ultimately attributed to a lower-funnel tactic like email. Still, there are ways to trace conversions, whether that is a lead or a sale.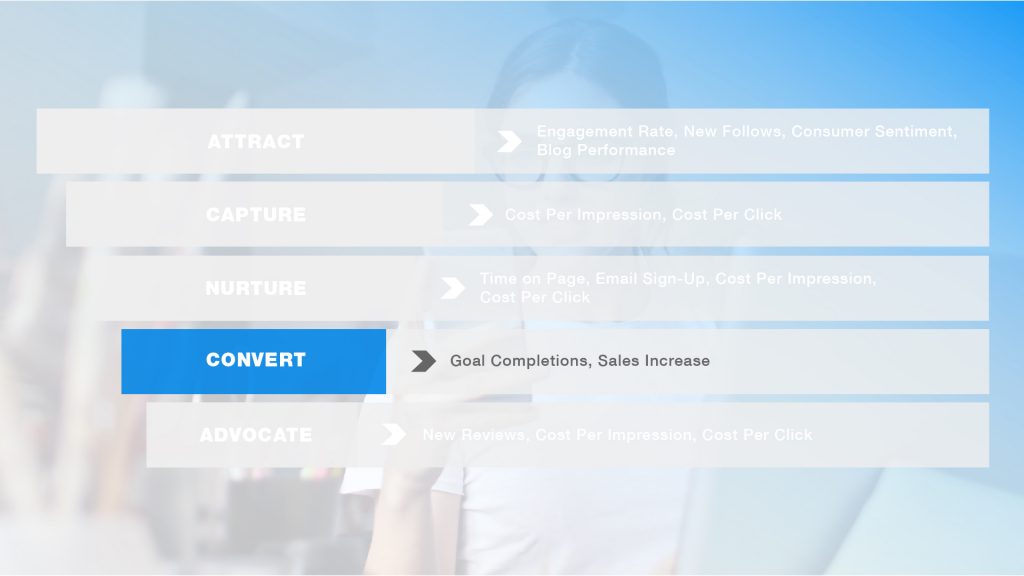 KPIs to consider during the Convert phase:
Goal Completions: Whether you have your influencers send traffic to custom landing pages or your main website, be sure to create clear goals in Google Analytics. From there, you can measure goal completion rate for influencer-driven traffic compared to goal completions for general traffic. We have seen that influencers drive highly qualified traffic that is more likely to complete a goal on a brand's website. While you may not be able to show a purchase, this gives evidence of purchase intent.
Sales Increase: If possible for your product or service, provide influencers with promo codes to use at checkout or when completing a form. This allows you to attribute those leads or sales dollars directly to your influencer.
Advocate
One of the most compelling reasons for creating an influencer program is to build a community around your brand. As brand advocates, your influencers serve as ambassadors for your products and services. They can play a key role in creating loyal fans of your brand.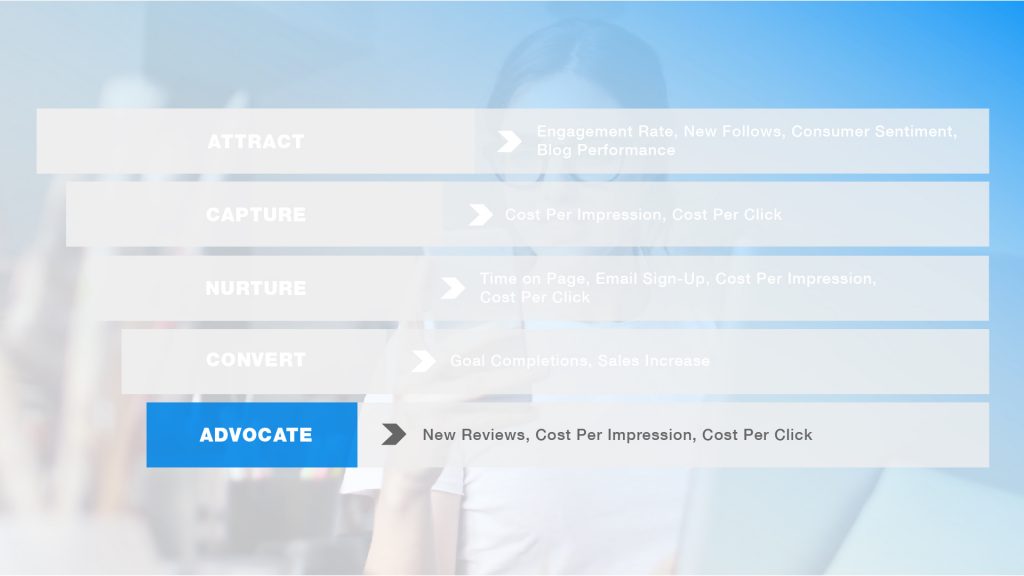 KPIs to consider during the Advocate phase:
Number of Reviews: A glowing review on your brand's site or retailer sites builds trust with potential customers. Benchmark the number of reviews you receive from your partners and ask them to leave reviews on all possible platforms.
A/B Test Messaging for CPM and CPC: Once you've received these reviews, it's time to amplify them. Consider adding reviews to your paid social and display ad creative. Then A/B test against other messaging, comparing CPM and CPC metrics to versions that do not feature a review.
As influencer marketing becomes a more common piece of integrated marketing plans, we expect to see our measurement tactics evolve. We hope this has sparked new ideas for illustrating the value of your influencer marketing programs at every stage of the funnel!
For more information on setting goals and building your influencer marketing program from the ground up, read our previous post.