By Hannah Freyaldenhoven, Senior Content Strategist, Team Lead
In 2022, new privacy updates are forcing brands to think outside the box and look to influencers to reach their target audience. Social platforms are evolving, too. In-app shopping features on Facebook, Instagram, and TikTok mean new opportunities for prospects to convert via influencer marketing.
Curious how you could create an influencer program that supports your marketing goals? We'll start with the basics of influencer marketing and outline how it can expand your current strategies at every stage of the funnel.
What is influencer marketing?
Influencer marketing uses key leaders and content creators—known as "influencers"—to share your brand's message. By collaborating with an influencer, you can speak directly to their unique audience of followers.
Influencers connect with their followers across many platforms in a variety of ways, serving as a subject matter expert for an interest group, geography, or life stage. When chosen intentionally, influencers share products and services that will fit into their followers' lifestyles. They can "influence" their followers to consider your brand because it will actually resonate with their needs and interests.
This allows for a less transactional and more transformational conversation around your brand.
Microinfluencers: A great starting point
While your first instinct may be to partner with someone with as many followers as possible, we've found that micro- to mid-tier influencers are a great place to start – especially when creating an influencer marketing strategy for the first time.
Many micro- and mid-tier influencers would not consider themselves famous in an offline setting. Instead, they've gained the power to affect purchasing decisions of others because of their niche knowledge and relationship with their audience. Microinfluencers boast some of the strongest engagement rates per post because of this strong rapport they've built with their followers.
By partnering with influencers in the 10-70K followers range, you'll reach highly qualified consumers without breaking the bank, allowing for a chance to test and learn. Microinfluencers tend to give us the best deal for the money invested, typically charging less than $500 per post. Plus, microinfluencers are often willing to negotiate in-kind trades, which can help stretch tight marketing budgets.
Why do we recommend influencer strategies?
Here are our top six reasons why influencer marketing could benefit your business and build on your current marketing strategies. Along the way, we'll share examples from our client Closets by Liberty™, who launched their new closet organization systems using influencer marketing.
1. IMPROVE TRUST
When it comes to millennials, only 1% of them trust advertisements. And that makes sense—advertisements are self-promoting, the tone is often transactional, and the message is sales-y. The result? 42% of consumers use ad-blocking technology according to the Digital Marketing Institute.
Influencer marketing can help fill this gap as a way to gather third-party reviews, which are considered more trustworthy than ads. Consumers are able to witness an influencer's positive, real-world product experience and build enough trust to complete a purchase.
Consider these numbers:
82% of customers surveyed by ExpertVoice said they would be very likely to follow a recommendation from a microinfluencer.
Around 40% of people surveyed by Annalect said that they purchased a product online after seeing it used by an influencer on YouTube, Instagram, or Twitter.
Forbes reports 33% of millennials trust blog reviews for their purchases.
When Closets by Liberty™ started its influencer program amidst its brand launch, the goal was to build reviews on both retailer sites and a new microsite. Influencer content directed highly qualified traffic to the microsite, helping the brand break into the crowded storage and organization market.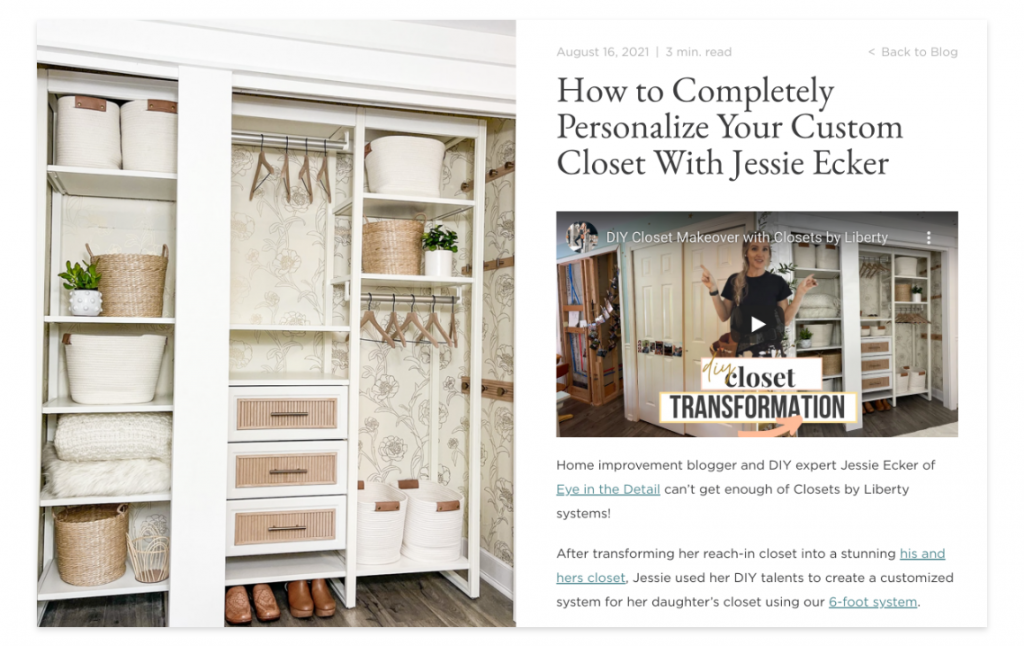 2. CREATE AUTHENTIC CONVERSATIONS
A common myth is that influencers aren't seen as genuine. In reality, microinfluencers work to nurture their relationships with followers rather than simply posting a picture and caption. 71% of influencers believe that it's an honest and authentic voice that keeps their audience engaged.
Choose influencers who are strict about representing products that truly fit their lifestyle and will resonate with their audience. It's a good sign if they ask lots of questions about your product or service! You should also ask for their media kit and investigate past sponsored content to ensure the influencer is engaged and on-brand.
Closets by Liberty™ influencers answered questions and concerns from potential customers on behalf of the brand. You'll see them respond in the comments and create an authentic conversation around the product. Because they were briefed on our marketing goals, they were able to follow up with more information and promote key selling points.
3. APPEAL TO DIVERSE AUDIENCES
Ensure your brand is relatable and inclusive by partnering with influencers that are diverse in location, age, race, style, and budget.
As you vet influencers for your brand, consider the way your product or experience works for different types of consumers:
What does this makeup look like on different skin tones?
What do these clothes look like on different heights and body types?
How does this couch look in different homes?
How does this resort cater to different family or group sizes?
A diverse program of influencers allows us to cast the widest net, appealing to everyone that fits within our target audience. This will also show the versatility of products as everyone will use the product in slightly different ways.
For Closets by Liberty™ we intentionally sought out different home types and design styles, from bohemian to traditional to contemporary. We also diversified by customer age, need, and use case, including a young business owner sprucing up her office, a busy mom making her closet a special sanctuary, a young child growing into his first closet, a design enthusiast in the middle of a home makeover, and more.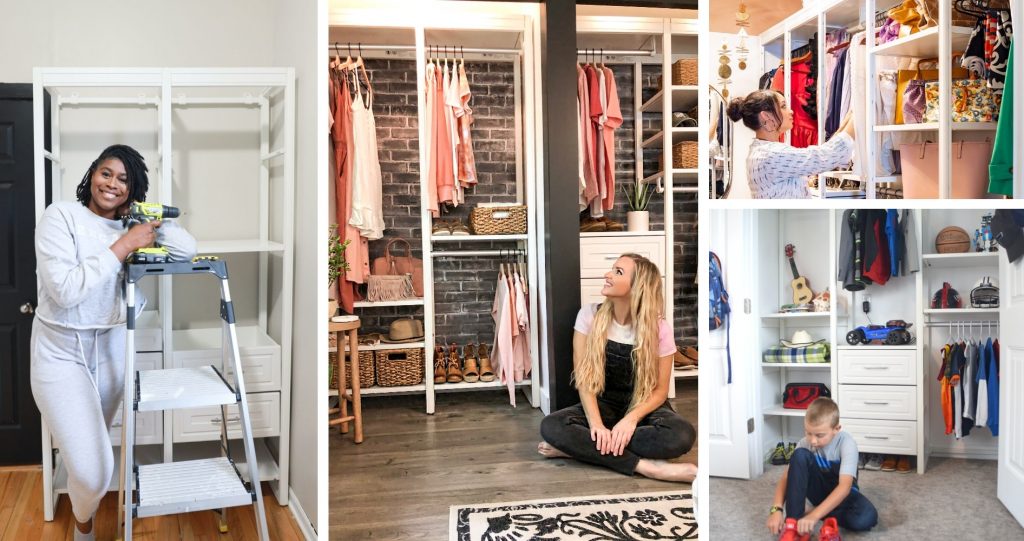 4. GAIN NEW INSIGHTS
Because you will send your influencers product, they will gain practical, hands-on experience with your brand. Living with your product in their day-to-day life means they will likely get to know your product even better than you!
Similarly, if you are marketing an experience or service, these influencers will have a chance to critique your brand with fresh eyes and through a new perspective.
Use this as an opportunity to:
Get feedback on product improvements
Establish pro tips based on how they use the product
Send and test new items before they hit the shelf
Create co-branded products that help shape the future of the brand
When Closets by Liberty™ released its new shoe storage accessory for its closet systems, we sent the product to our influencers before it was publicly available for purchase. This was important for two reasons. Our influencers already had the closet systems installed in their homes and could easily add the new accessory. They also could share their reviews and give us honest feedback on the function of the product. From there, we established key messages around the new accessory based on real experiences. Consider this a mini focus group and gather as many reviews as possible.
5. BUILD YOUR CREATIVE LIBRARY
Influencer content offers a distinct benefit from traditional user-generated content. Unlike UGC, you'll have a hand in the overall look, setting the project up for success with brand guidelines and even mood boards. As a result, you get high-quality, styled creative that you can count on for future assets.
Top benefits:
Save on production time and effort—you don't have to execute a photoshoot, they do it!
Avoid set propping. Your influencer uses their own home and personal items.
Create more looks for less. Each influencer offers a new location.
Pro tip: You'll negotiate rights to the content so that you can repurpose photography, video, and content in fresh ways across different platforms, amplifying their original message and supporting your content strategy.
Working with influencers is also a great way to test new platforms, like TikTok, that are more difficult to create organically in-house. You get their in-app video experience, plus the fact that they've already built a following on these new channels.
We tested influencer imagery in our Closets by Liberty™ display ads, which resulted in some of our top-performing creative yet.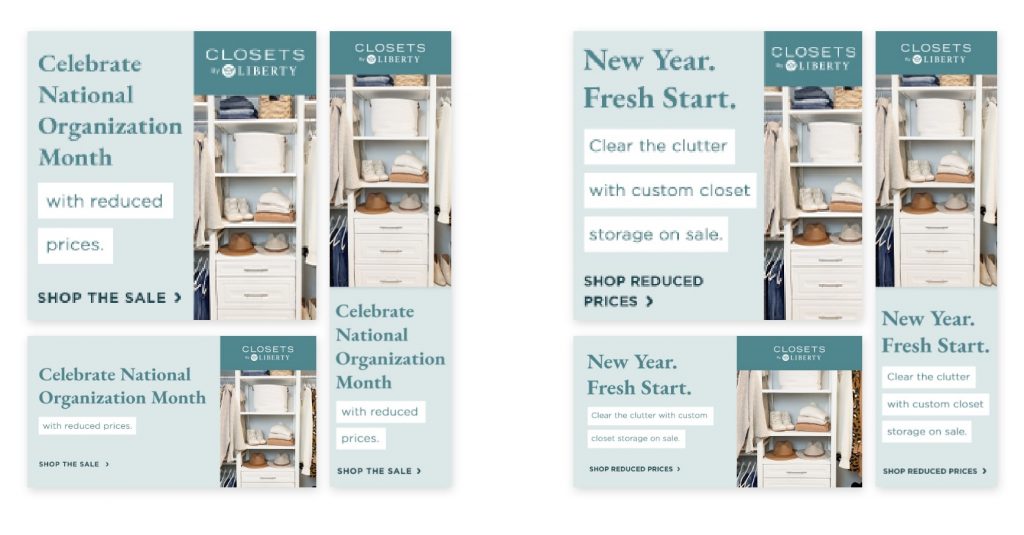 6. TAILOR TO FIT YOUR MARKETING GOALS + BUSINESS OBJECTIVES
Influencer marketing can fit seamlessly into your overall strategy and provide new opportunities at each stage of the funnel. While it is a powerful way to create awareness among key audiences, it can ultimately drive leads and sales.
From blogs to reviews, installation videos, social posts, Pinterest pins, and TikTok, the amount and type of content that you can create to support any stage of the funnel is endless. You'll test and learn what converts best based on the purchase process and decision-making lifecycle of your product.
Social platforms are evolving, too. New in-app shopping features on Facebook, Instagram, and TikTok mean new opportunities for prospects to convert and, in turn, new monetized touchpoints for your influencers to utilize.
Influencers will also have valuable insight on what marketing strategies perform best for their audience. For example, perhaps their followers are very responsive to Instagram stories with links.
One tactic that Closets by Liberty™ implemented in the "capture" phase was a design quiz. It featured influencer photography that matched a respondent's design preferences, creating personalized assets.
How can I get started?
While influencer marketing is very popular for beauty and fashion e-commerce brands, it's also an effective strategy for less tangible "products" like travel, experiences, and services. No matter your industry, there is someone representing your target audience and speaking directly to them.
To get started you'll need to set clear objectives for your program, whether that's to build your creative library, grow product awareness through backlinks and social media impressions, create demand with product reviews, or drive sales with unique promo codes.
Stay tuned for more discussion on how to seek out high-quality partners, negotiate agreements, and track insights.