By Caroline Watkins, Senior Content Writer
TriMark is proud to announce an exciting initiative for the summer of 2022—our new intern program! Developing marketers will participate in eight weeks of training designed to provide them with the knowledge and hands-on experience necessary to thrive in today's digital marketing landscape.
Spearheading this initiative is TriMark's Kelly Ebert, SVP of Marketing Strategy—hear from Kelly about her plans for the program and more in our Q&A!
Q: What was the impetus behind the program beyond additional support for our various departments?
Smart, hungry entry-level talent has been a difference-maker in our business over the years. Having a focused internship program is something we've always wanted to do, and this summer, we decided it was finally time.
Lots of things impacted our decision—like moving into our new office, which has ample space for training, collaboration and teamwork. We also think it's an important way to support the local marketing community; when this first class of interns graduates, they'll enter the workforce with a strong foundation and hands-on experience.
Q: What is your hope for the first group of interns participating in our program?
Our hope is that we can give our interns a well-rounded, top-to-bottom understanding of our business. We want them to learn new things about new areas of marketing, discover new interests and ultimately graduate with confidence in the direction they want to take their career—and we hope that's at TriMark!
Q: How do you think the program benefits the broader TriMark community?
Some of our most seasoned veterans at TriMark started as interns or as entry-level talent. We know how valuable eager, hungry minds can be. We're also pretty different from most other agencies, in both the work we do and how we do it, so we appreciate the opportunity to train employees our way.
Q: What does TriMark offer developing marketers that other agencies do not?
Our goal is to provide our interns with a real sampling of everyday agency life. In addition to their weekly formal training sessions, our interns will actually be working together as the main project team for a client account. They'll be creating the strategy, executing deliverables, evaluating performance and communicating with the client—all of it.
They'll be creating the strategy, executing deliverables, evaluating performance and communicating with the client—all of it.
Meet our 2022 Intern Class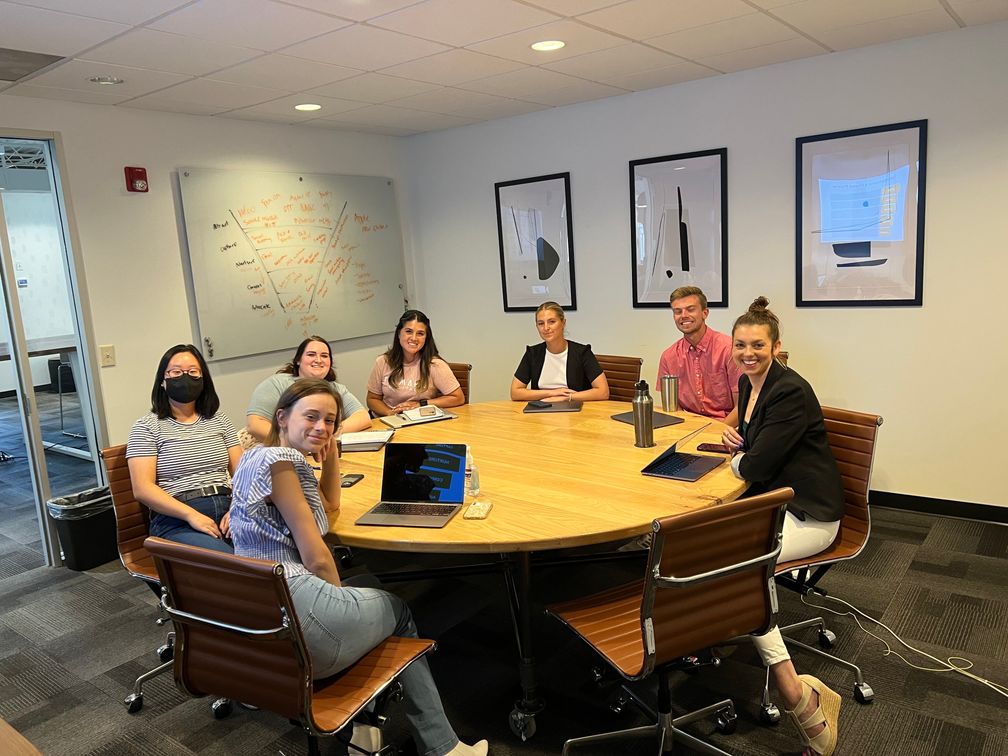 We're thrilled to welcome six bright and creative young professionals to the TriMark community. Get to know our interns below!
Bella Deatherage
Bella joins us from East Carolina University with a degree in Communications and Public Relations, prepared to support the Organic Social and Content teams. She loves the fast pace and ever-evolving landscape of digital marketing and is excited to learn more about TriMark's diverse client base
Ashlyn Hirsh
A recent graduate of the North Carolina State University School of Business, Ashlyn also operates her own freelance business and provides content writing, graphic design, social media strategy, consulting services and more to a network of clients.
Felicity Hoppes
Another North Carolina State University School of Business graduate, Felicity completed both a digital marketing and integrated brand marketing practicum. Her previous agency experience in SEO and PR services and her interest in creative trends make her an exciting addition to the Content team.
Hannah Kim
Hannah joins us from the University of North Carolina School of Journalism, bringing experience in program management, email marketing and more. She is excited to grow her relationships with TriMarkers and client teams and will provide support for our Program Management team.
Mariel Harms
Mariel comes to us from the North Carolina State University School of Business, ready to be challenged and prepared to support our Paid Social team. She has experience in content creation and currently volunteers her marketing know-how to help Saving Grace Animals for Adoption.
Kam Hammack
Kam brings his degree from the North Carolina State University School of Business and marketing experience with NC State Athletics and Trophy Brewing to support the Paid Social team. He is excited to be part of a growing industry that emphasizes teamwork.