TriMark Digital has been recognized as a Premier Google Partner, an honor that only about 3% of Google Partners in North America are eligible to receive. Qualifying for Premier Google Partner status means that TriMark Digital has extensive Google advertising product knowledge and has met all performance criteria for account management. In addition, TriMark Digital has earned certifications in a variety of forms of online advertising, including search, display, and mobile.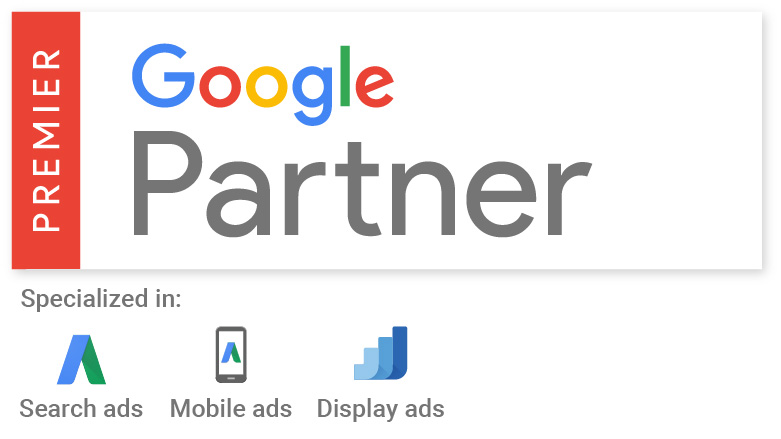 As a Premier Google Partner, TriMark Digital now has more access to a wide variety of trainings, new product updates, beta testing programs, and direct Google support, as well as the ability to attend executive summits at Google offices throughout the year. Because of this, TriMark Digital's team is able to test more AdWords features, utilize the support of dedicated Google representatives, gain enhanced knowledge of new Google products, and continue to provide high-level strategies for search, mobile, video, display, and shopping advertising.
"We're honored to be recognized as a Premier Google Partner," said Randy Goins, President and Owner of TriMark Digital. "This accreditation takes TriMark Digital to the next level in our ability to provide deeper online advertising strategies for clients through exclusive resources and support from Google."
For more information on how TriMark Digital can improve your online paid advertising strategy, please call 919-785-2275 or visit www.trimarkdigital.com.
About TriMark Digital
TriMark Digital
is a full-service, integrated digital agency headquartered in downtown Raleigh, N.C. Providing
digital marketing solutions
and strategies uniquely designed to drive measurable results for each client, TriMark Digital strives to partner with like-minded companies seeking innovative, calculated strategies that stimulate, engage and convert prospective customers.