TriMark Digital named "Best Place to Work" by Triangle Business Journal
Back to Newsroom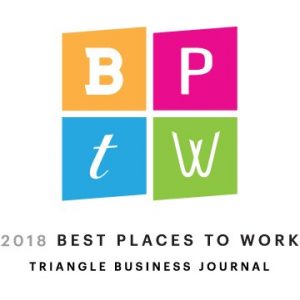 TriMark Digital has been named a "Best Place to Work" by Triangle Business Journal in its annual ranking of companies with high employee satisfaction across a multitude of categories.
Using employee surveys that evaluate team effectiveness, trust with co-workers, manager effectiveness and work engagements, the results are tabulated and ranked by TBJ and partner Quantum Workplace.
"To be named one of The Best Places To Work in the Triangle by TBJ is one of the greatest accomplishments in our history," said Randy Goins, President of TriMark Digital. "We're a people-driven company, and the most important responsibility I have is to ensure our company does everything it can to help our people thrive in and out of the workplace. To have earned this honor after experiencing the most rapid growth we've had as a business is a special accomplishment, and suggests that we are doing a lot of things right!"
"We will continue searching for opportunities to differentiate ourselves as cultural leaders in our market, and are extremely honored to be recognized alongside so many other reputable brands," he adds.

TriMark has shown a dedication to creating an exceptional workplace for employees with unique perks such as standing desks, multiple office spaces (including a Wrightsville Beach studio) to promote collaboration and an annual wellness initiative that includes personal shoe fittings. And a competitive benefits package, including full coverage of health and dental insurance and a six-percent 401k match, underscores the company's employee-first philosophy.
TriMark Digital will be honored at the 2018 Best Places to Work awards ceremony on Friday, Sept. 7 at the PNC Arena in Raleigh.
About TriMark Digital
TriMark Digital
is a full-service, integrated digital agency headquartered in downtown Raleigh, N.C. Providing
digital marketing solutions
and strategies uniquely designed to drive measurable results for each client, TriMark Digital strives to partner with like-minded companies seeking innovative, calculated strategies that stimulate, engage and convert prospective customers.
About Best Place to Work
Best Place to Work is an annual contest that honors superior organizations where voices are heard, cultures are thriving, and employees are engaged. More than 8,000 organizations participate each year, and winners are 100% based on employee voice. This means awards can't be bought, only earned.