Trane Technologies Selects TriMark Digital as Digital Marketing Agency Partner
Back to Newsroom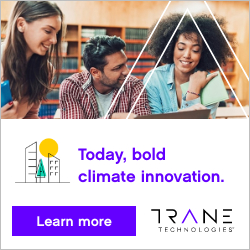 Trane Technologies has named TriMark Digital as a new digital marketing agency partner. TriMark Digital will manage a strategic combination of paid media services, including search, social, OTT and OLV, as well as digital creative services. And since the partnership began, TriMark has also begun work for Trane Technologies brands, including Trane Commercial and the Wellsphere solutions offerings.
"From our early interactions with the team at Trane Technologies, there was a level of comfort and camaraderie suggestive of a positive, long-term partnership," said Randy Goins, CEO of TriMark Digital. "We're extremely proud to partner with a company that strives to be the front-runner in manufacturing sustainable, environmentally friendly products. It is an honor for TriMark to be able to help spread the mission and message for a brand striving to make the planet a cleaner, healthier place."
About Trane Technologies
Trane Technologies is a global climate innovator. Through its strategic brands Trane and Thermo King, and its environmentally responsible portfolio of products and services, Trane Technologies brings efficient and sustainable climate solutions to buildings, homes, and transportation.
About TriMark Digital
TriMark Digital
is a full-service, integrated digital agency headquartered in downtown Raleigh, N.C. Providing
digital marketing solutions
and strategies uniquely designed to drive measurable results for each client, TriMark Digital strives to partner with like-minded companies seeking innovative, calculated strategies that stimulate, engage and convert prospective customers.