High-performance marketing meets America's fastest growing solar company.
Driving 88% more solar leads at a lower cost.
POWERHOME SOLAR, the fastest growing solar company in America, came to TriMark for help competing in a marketplace cornered by established local competitors and other large national players.
To meet aggressive growth goals, we deployed a targeted lead generation strategy in existing and new markets. This required a multilayer media approach, incorporating both national and local tactics, while elevating POWERHOME SOLAR's brand and emphasizing their unique differentiators.
Our Challenge
High-octane lead generation with local finesse.
The solar industry has matured, but so has the consumer. Today, prospects may receive three or four quotes before purchasing–most of them from local contractors. And for larger regional players like POWERHOME SOLAR, that can result in lost opportunities down the sales funnel.
To help increase close rates without sacrificing volume, we devised a flexible and scalable strategy aggressive enough to win more business in established territories and tactical enough to generate demand in all new geos unfamiliar with the brand—all while the COVID-19 pandemic strained in-home consultation options.
With a diverse suite of paid search, paid social and organic search strategies, we met users with targeted, localized messages that positioned POWERHOME SOLAR as the obvious choice for consumers.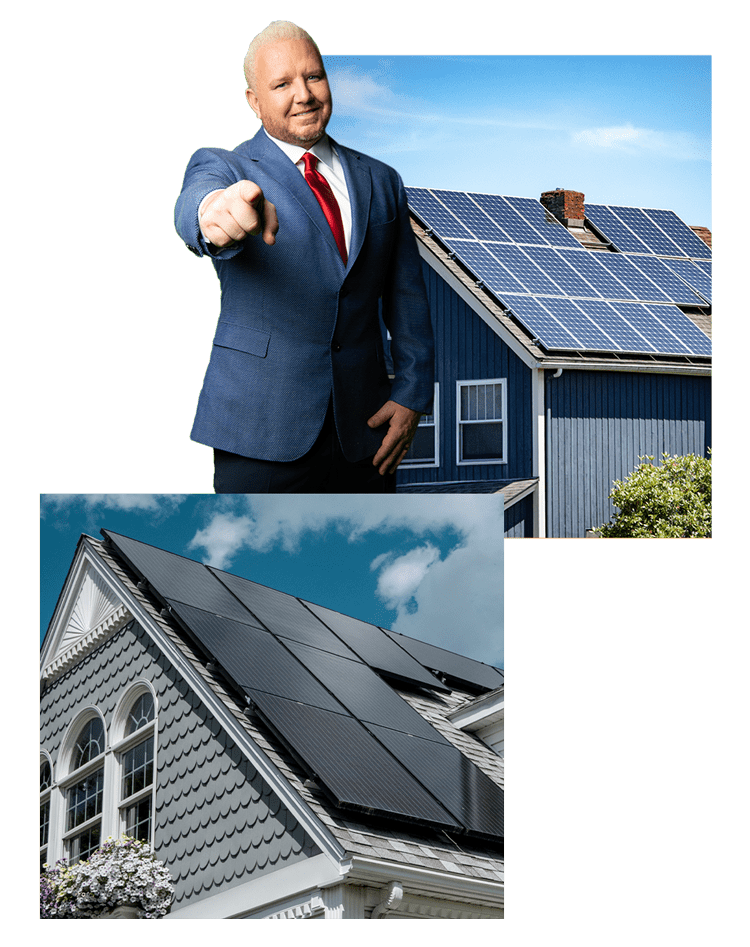 In one year, we've generated…
Organic + SEO Strategy
A holistic blend of both branded and non-branded organic growth.
In order to be heard in a space full of already trusted voices, TriMark's organic strategy for POWERHOME SOLAR needed to be fueled by top shelf marketing intelligence and contemporary best practices.
With an emphasis on attracting quality, high-intent users, TriMark targeted an optimal mix of both branded and non-branded organic growth using such holistic tactics as:
Synergistic Local & National Strategy Development
Competitive Analysis & High-Intent Keyword Targeting
Organic Content Development
Positive Link Building & Offsite Optimization
Advanced Schema Markup
Symbiotic Deployment with Paid
Technical Site Health & Onsite Optimization
Creative Video Production
Conversion Optimization
User Experience Design
Core Web Vitals Optimization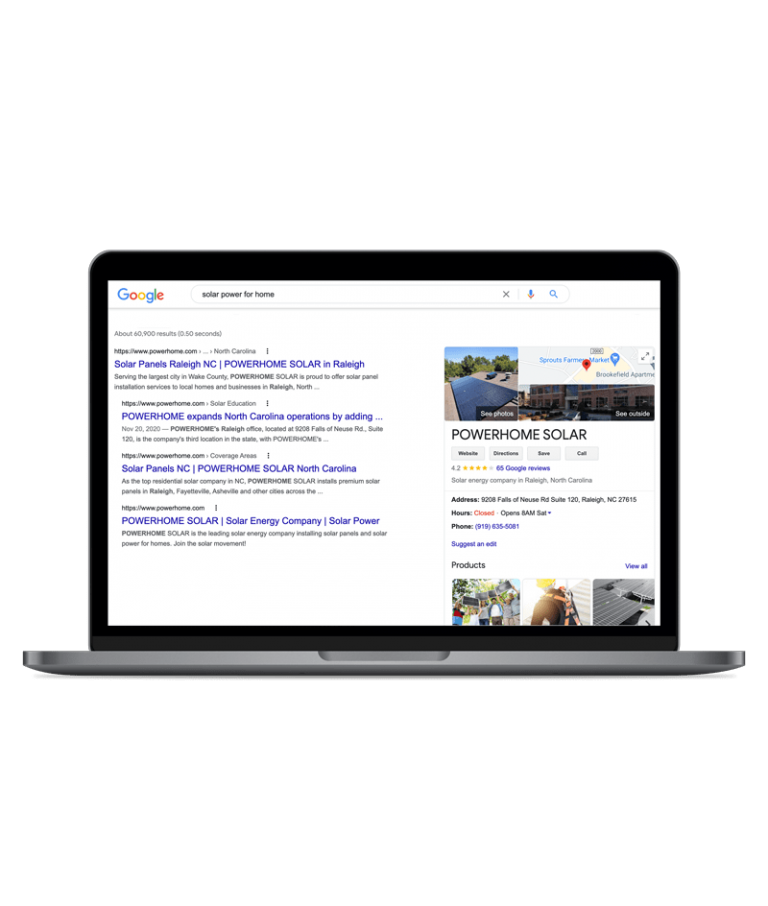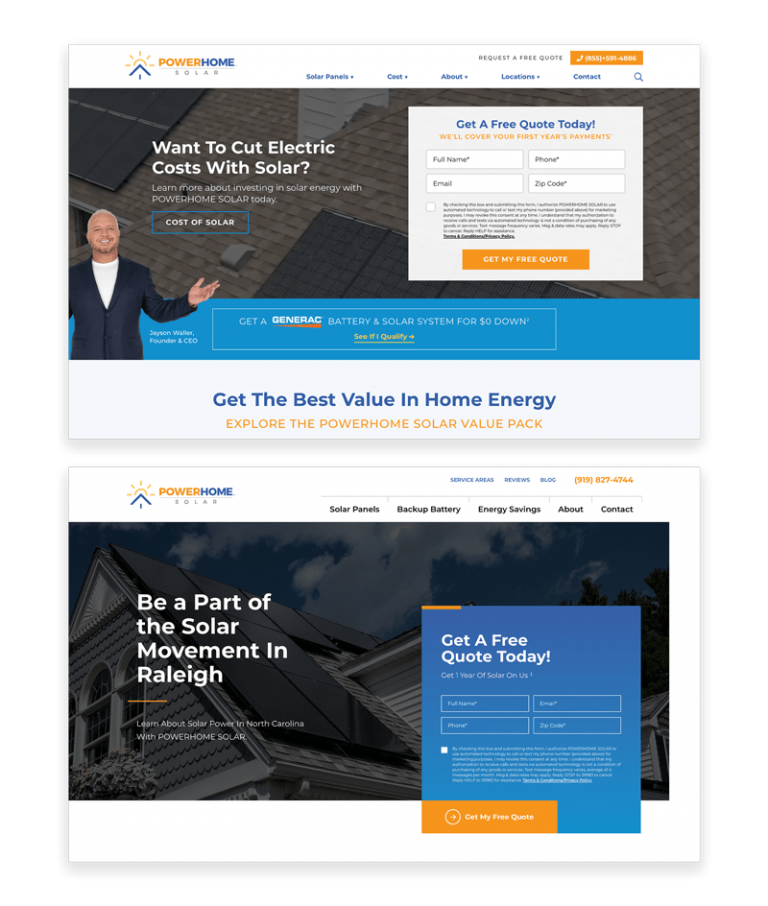 27% Growth in Organic Rankings
23% Growth in Organic Traffic
47% Improvement in Organic Conversion Rate
Paid Social Media
Paid social campaigns to educate, engage, and empower consumers.
Through our social media campaigns, we established the POWERHOME SOLAR brand in saturated markets and attracted to consumers in a way competitors were not. 
Full funnel holistic paid strategies allowed the paid social campaigns to also target and nurture motivated leads through the sales cycle. Working within brand guidelines and a constantly evolving market, TriMark was able to adapt to the shifting trends of social platforms and customize our approach based on user-driven data.
Instant forms
Full-funnel strategy
Tailored messaging & creative
Educational content
Platform adoption testing
Localized campaigns
A/B testing
Optimized landing page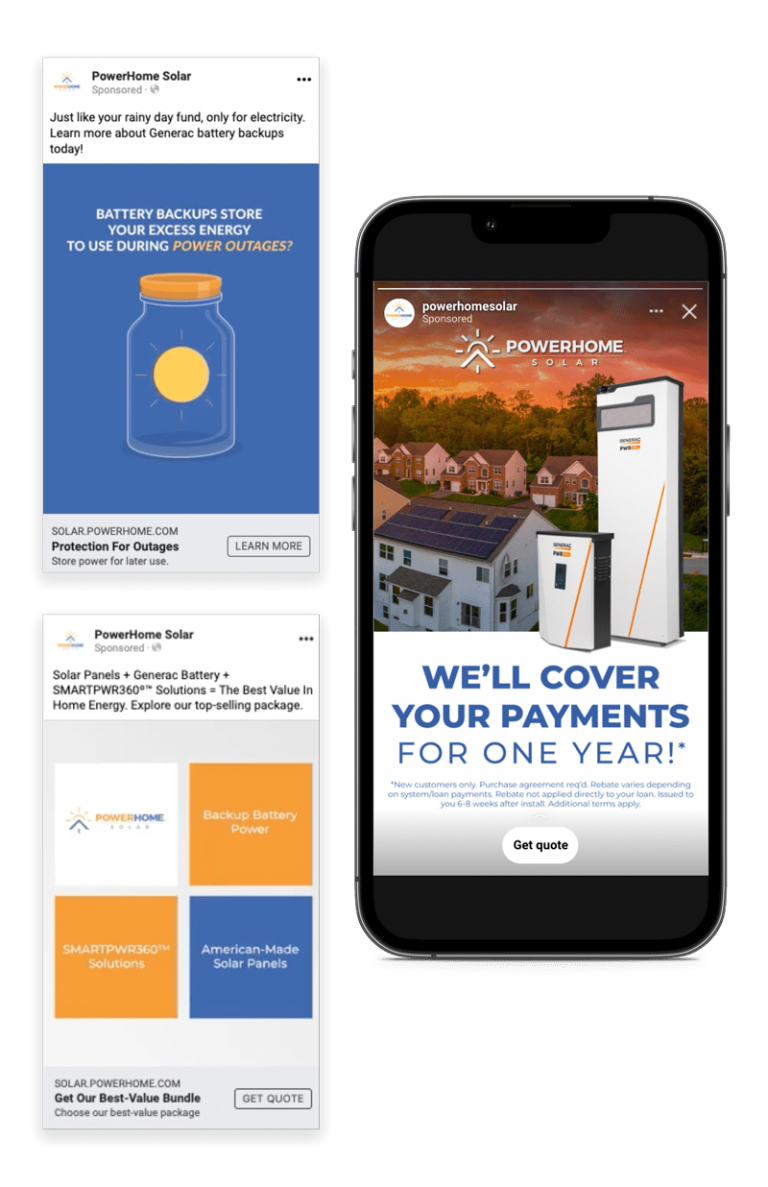 34% of Landing Page Traffic Driven by Paid Social Ads
95.5MM Impressions Generated
Paid Search + Display Advertising
Capturing the attention of high-intent audiences.
Paid search and display strategy played an integral role in our integrated marketing process. In order to effectively compete with well-established players in a highly competitive market, we utilized a carefully curated approach to paid search. 
This included a combination of tactics designed to play off of each other and maximize the overall results. Some of these practices included:
Paid Search & Display Strategy
Landing page strategy
Smart Bidding with Manual Day to Day Management
Geographic Targeted Campaign Setup
Custom Audiences
Ad Copy & Creative Optimization
Negative Keyword List Expansion
Offline Conversion Tracking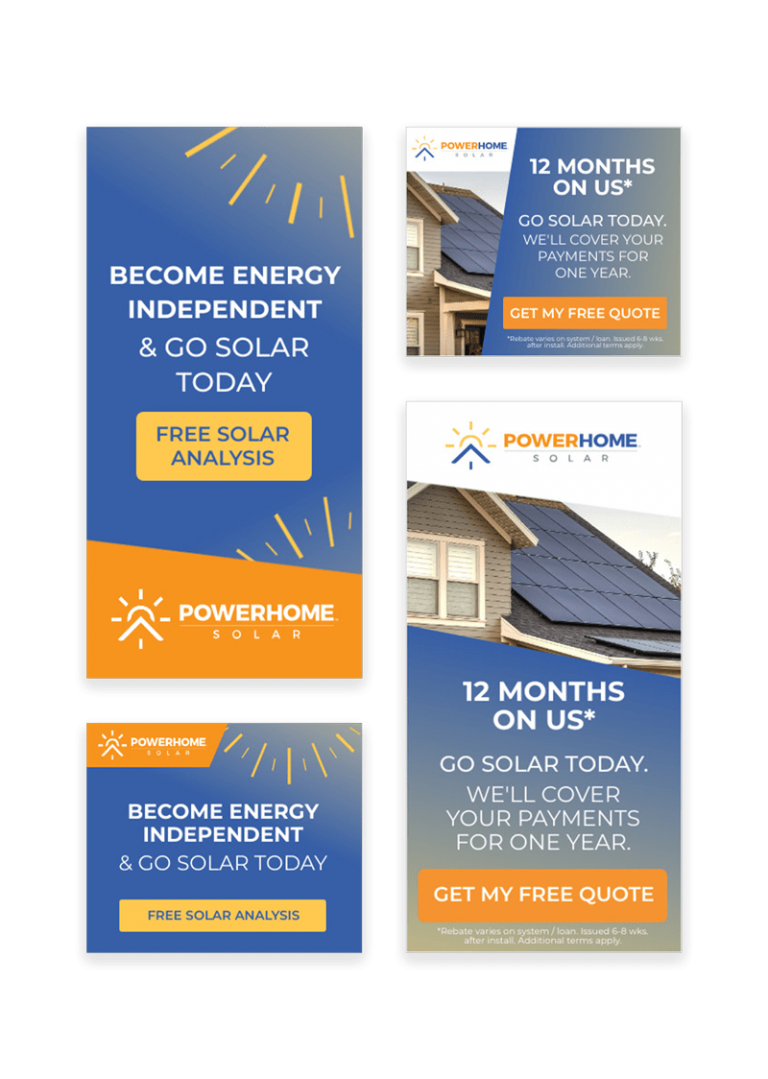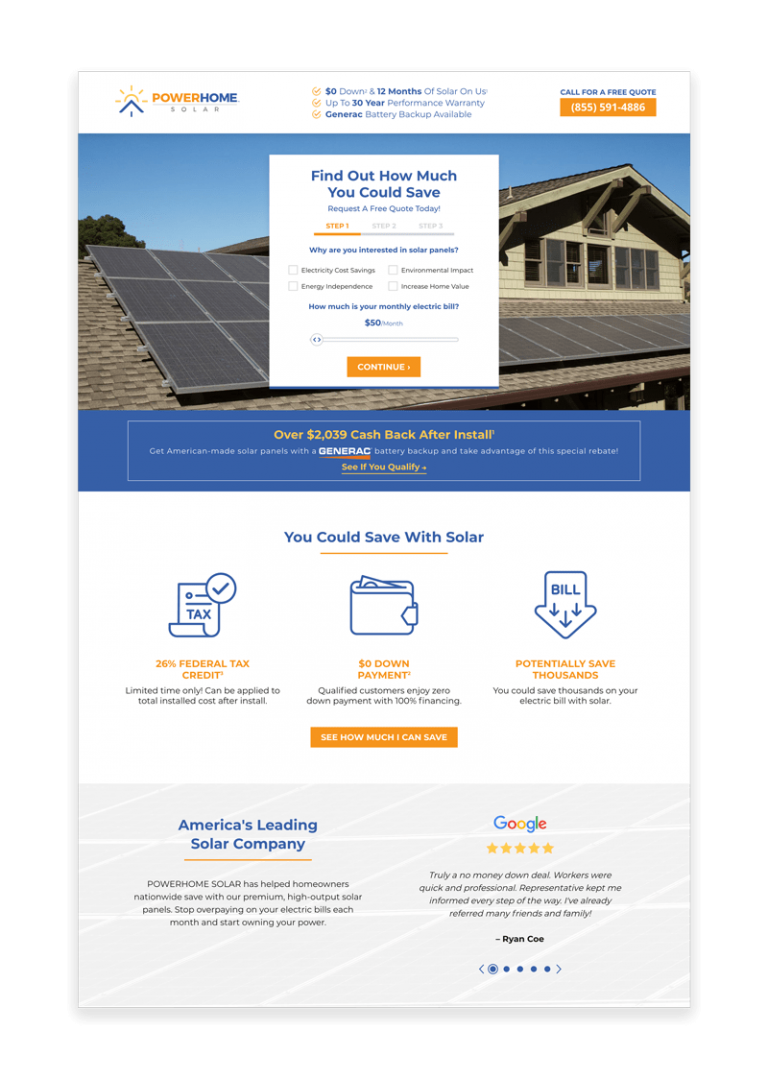 73,193 Total Leads Generated
Our Results.
Big Goals. Bigger Results.
In order to keep POWERHOME SOLAR the fastest growing solar company in America, our team needed to strategically balance quantity and quality from lead generation all the way down to the sale. Our integrated organic, search, display, video and social campaigns drove big results in the form of more leads, more sales, a higher close rate and, overall, more revenue.
88% Increase in Lead Volume YOY
132% Increase in Sales Volume YOY
50% Increase in close rate YOY
181% Increase in Revenue YOY