If you are a self-motivated designer, who possesses a growth-oriented mindset, enjoys team collaboration and shares our excitement of creating top-quality design work that performs, you might be the perfect fit for a mid-level graphic design position at TriMark Digital. As a designer at TriMark, you would be responsible for designing graphics for a wide variety of campaigns, both print and digital, and ensuring the visual strategy effectively meets the performance goals of our clients. Print experience is required.
Requirements/Qualifications
EDUCATION & EXPERIENCE
BA in graphic design or related design field
3-5 years of professional experience
Strong graphic design portfolio
Experience working with print design
SKILLS & ABILITIES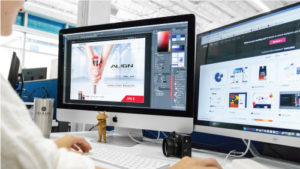 Strong organizational skills required — must be able to multitask in a fast-paced, dynamic environment, under tight deadlines
Proficient in Adobe Creative Suite products — mostly Illustrator and Photoshop
Sense of urgency with simultaneous attention to detail
Quick learner! Our business is evolving constantly.
Mindset rooted in team collaboration and the drive to succeed
Excellent writing and speaking skills
Ability to think strategically and creatively to solve design problems that might have several limitations
Efficient workflow manner required in order to provide top-level design work within short turnaround times
ADDITIONAL BUT NOT REQUIRED: Passion for the game of golf & working in the golf industry. Experience working at an agency. Experience with in-store visual merchandising, P.O.S/P.O.P displays, 3-D modeling, product design, product development, and/or multi-funnel marketing strategy.
Primary Job Responsibilities
Create campaign collateral utilizing existing initial creative direction, brand assets, and strict identity guidelines
Design for a variety of brand marketing materials – including but not limited to: product catalogs, merchandising displays, brochures, magazine advertisements, logos, signage, product packaging, animated display ads, email designs, and social media graphics.
Work in a well-organized and on-time manner, with a strong desire to learn and continue improving skillset
Juggle multiple projects and remain flexible throughout multiple rounds of feedback
Precisely prepare all design files for final production, delivery, and archive
Maintain excellent organization of files and assets
Proofread and double-check all work to ensure accuracy & quality
Stay proactively up-to-date on design best practices, trends, and technology
Maintain the agency's standards of creative excellence, timeliness, and profitability, while achieving the client's goals
Perform other related duties as assigned
Ready to Apply?
If you think you are the right fit for our Mid-Level Designer position, click below to follow our digital application process. If we also think you're a potential fit, we will reach out with next steps.
TriMark Digital, LLC is an equal opportunity employer.