Golf Associations Campaign Collateral
Pebble Beach Golf Resorts is a world renowned resort located in Pebble Beach, CA. The world-class resort is ranked the #1 Golf Course in the US by Golf Digest and named to Conde Nast Traveler's Gold List for World's Best Places to Stay. Pebble Beach Resorts chose TriMark Digital to increase reservations through email marketing and ad design targeted to members of the top 6 state golf associations across the U.S.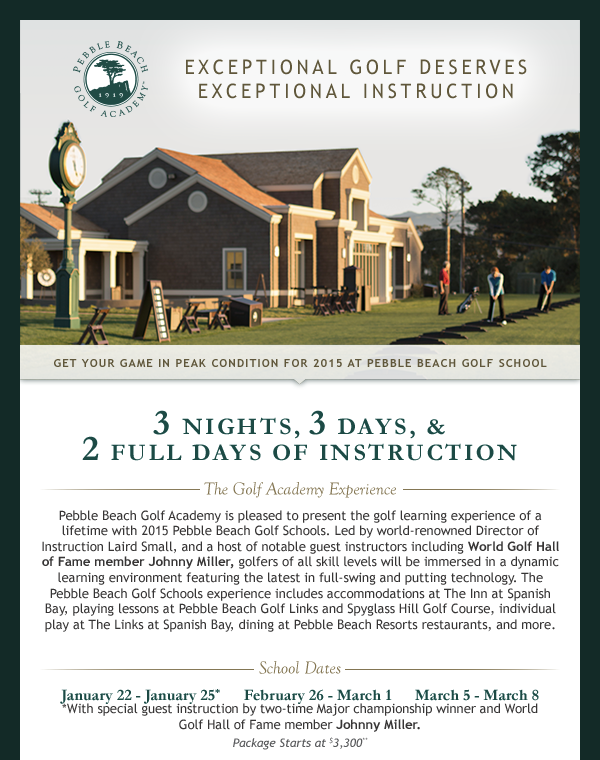 The Challenge
Pebble Beach Resorts were seeking an updated design for their golf association campaigns including email newsletters, print & digital magazine ad placements and banner ad placements. In order to increase reservations with this segment of avid golfers, Pebble Beach needed a new perspective highlighting the resort's world-class offerings which reminded both previous visitors and prospective visitors that there is no experience like Pebble Beach.
The projects included three specific campaigns: the Stay & Play Package, a Pebble Beach Golf Academy Promotion and the Duke Membership campaign.

Our Solution
We wanted to remind golfers and prospective visitors about the unique beauty and one-of-a-kind experience found at Pebble Beach.  The target audience for these campaigns are avid golfers, so we decided to use a message and design that spoke to this group. A golfer keeping their head down during the swing is a fundamental part of the golf swing which could pose a challenge to the even the best golfers when amongst the beautifully dramatic landscape of the Pebble Beach golf courses. "Keeping Your Head Down Will Be Your Greatest Challenge" was set on the background of Pebble Beach's most famous views. The campaign was applied to email marketing campaigns, print ads, banner ads, and digital ads.
Our design team refreshed the layout from previous versions to achieve a premium look that represents the brand while allowing the viewer to gather important information and details easily. The warm color choices in the design complement the Resort's beautiful landscape and well-recognized brand. The spacing and sizing in the designs were carefully crafted to allow a balance of photography and promotion details.