No Cart Left Behind: How To Rescue Online Sales
Imagine you're the owner of a local grocery store. A potential customer waltzes down your aisles picking up milk, cereal, paper towels, and you get the idea.
The potential customer is ready to checkout, but he leaves. Abandoning the cart. Whether the line was too long or the prices were too expensive, your business just lost out on a sale.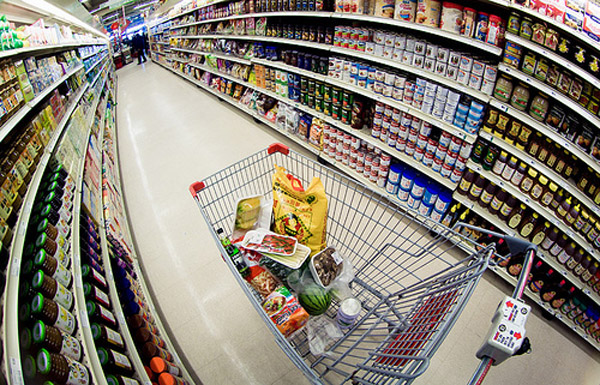 What does this have to do with my business?
If you're a small business owner or a major retailer, you're in trouble. Because according to the Baymard Institute, the average online shopping cart abandonment rate is 67.45%.
Baymard complied data from 22 different online stores. The lowest cart abandonment rate was 55%. The highest? A frightening 80%. Imagine for every 10 people that intend to buy, only two(!) are actually completing a purchase. You don't need to be a math major to understand money is being left on the table.
Every business owner and marketer gears all efforts to generate traffic to the website. You could bring rush hour Los Angeles traffic to your website. But if no one makes a purchase, then it doesn't matter. So why do customers abandon carts?
Customers are Lazy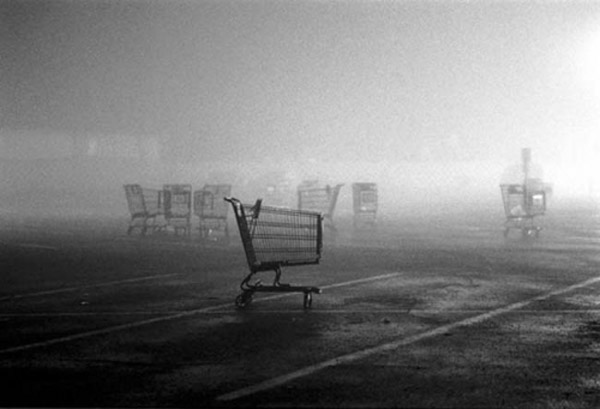 It's the same reason people leave shopping carts in parking spots or three feet from the cart return rack. No one has time to fill out long forms of information. Quick Sprout reports when dropping from 11 required fields to four, conversion rates improved by 120%. Customers do not have the patience. People are lazy. Good thing your business doesn't have to be lazy.
Before we learn tactics to avoid this issue, first we must explore how to calculate shopping cart abandonment rate.
How to Understand Site Abandonment Rate in Google Analytics
"Web analytics packages are sold as if it's an automatic coffee maker. In fact, it's more like buying a coffee plantation.

You can still get your cup of coffee (eventually), but you're going to have to stick your hands in a lot more manure than you ever imagined." – Tom Cunniff
Analytics packages provide lots of data, but your business needs to get its hands dirty to uncover the secrets behind why customers are abandoning your shopping cart. Avinash Kaushik, the Digital Marketing Evangelist for Google, describes the abandonment rate as the number of people who intended to buy, (by clicking the add to cart button), divided by the number of people who actually complete their order.

Utilizing Google Analytics, your business can easily set up e-commerce tracking to investigate why you are leaving money on the table. Once tracking is implemented, set up a funnel to understand the path to the customer's purchase. A funnel is made up of a series of steps, for example, Magento e-commerce software involves a total of seven. Below you can see the seven steps that make up a trackable goal of an online conversion: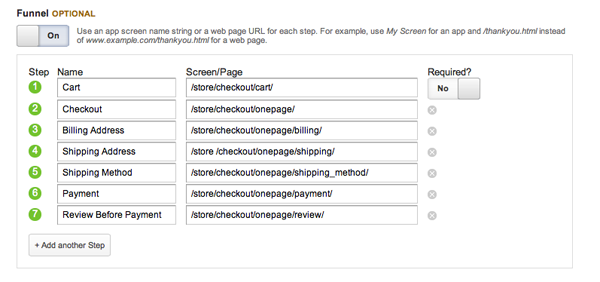 The customer must complete each step en route to reaching the goal of a purchase. Once the funnel is established, your business can pinpoint where customers are abandoning the cart. Access funnel visualization in Google Analytics to view each step. Below is an example of the first four steps a funnel, where 58 of 81 customers exit.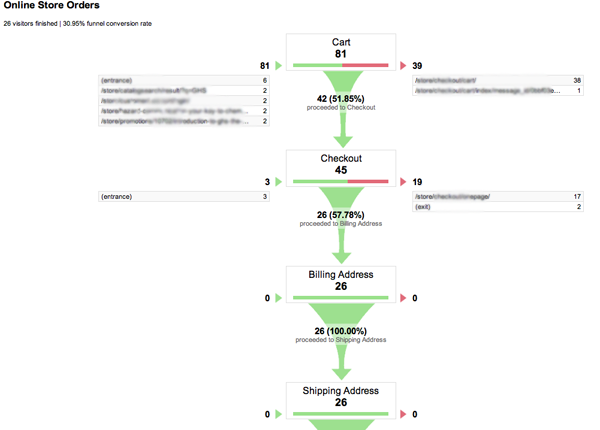 The URLs on the left indicate the traffic source that led customers to the cart or checkout page. On the right, the URLs show where each customer exited. Using our formula above, the cart abandonment rate in this example is approximately 48% [1 – (42/81)].
Notice an additional three customers advanced to the second step without completing the first step. For this reason, it's important to always calculate the checkout abandonment rate to complement the cart abandonment rate. This excludes the first step of clicking the add to cart button. The checkout abandonment rate is usually a healthier percentage because customers that advance to the checkout stage are more serious shoppers.

The checkout abandonment rate for this example is approxiamtely 43% [1-(26/45)]. The remaining 26 customers complete the next five steps to a successful purchase. After calculating each abandonment rate, it's clear the business in the example should be concerned. Because for 81 potential customers, more than half are leaving without making a purchase.
Now that you know how to calculate abandonment rates, you can learn how to tap into this missed opportunity.
3 Ways to Recover Potential Customers

"In 2010, shoppers needed 5.3 sources of information before making a purchase decision. In 2011, just one year later, shoppers needed 10.4 sources before making a purchase decision." – Jay Baer, Youtility
In the age of information, consumers are more likely to window shop for the best price and best product. Customer expectations are changing faster than businesses are willing to adapt. For your business to succeed, you must experiment and use data to drive decisions. Here's three quick ways to return customers to their cart.
1. Offer Online Support
If you run a brick-and-mortar store, cashiers or sales associates can readily answer customer questions. But online, many companies ignore the need for support at the most important part of the shopping experience. The point of sale. Remember people are lazy. If there is no one to help them, it's easier to just leave.
A study by Forrester Research entitled "Making Proactive Chat Work," discovered 44% of online consumers believe questions answered by a live person while in the middle of an online purchase is one of the most important features a Web site can offer. Olark, a live chat software, opens the lines of communication so your business turns prospects into customers.
2. Retarget with Timely Email
Several potential customers will abort a purchase, and your business just can't control it. Or can it? If your business already has an email address for the cart abandoner, all you have to do is utilize email retargeting. Rejoiner provides detailed examples of how to remind lazy shoppers to complete their purchase.
In the Swim, capitalizes on the opportunity to interact with customers using retargeting methods and offers a 5% discount to finish the order. If you know what was in their cart, you know what they are interested in and can deliver a specific message. Fulfill potential and convert on the sale with email.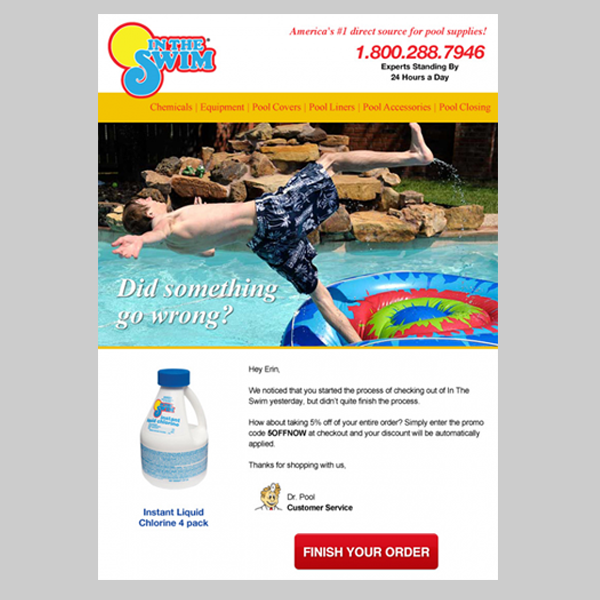 3. Provide Free Shipping
In 2011, Deloitte determined 69% of customers are more likely to shop with online merchants that offer free shipping. The difference between going to a brick-and-mortar store and shopping online is simple. It's the cost of shipping and handling.
You can thank Amazon for shifting all consumer expectations when it comes to shipping. With Amazon Prime customers pay an annual flat free to receive great benefits, including FREE two-day shipping. Your business should follow suit. Why? The e-commerce juggernaut was down earlier this week. For every second Amazon is down, they're losing $1,104. People love to shop with Amazon. Free shipping and an easy shopping experience is the reason why.
No Cart Left Behind
There is no magic formula to slashing your abandonment rate. Use analytics, experiment, and adapt. Don't surprise customers with hidden fees. Respect how they are trying to purchase your products. Prepare to cater to mobile devices. And leave no cart behind.
Stop allowing potential customers to walk away. And start delivering an online shopping experience that checks out.
1 Comment
One

Response to "No Cart Left Behind: How To Rescue Online Sales"