Facebook page owners can now convert their page to the new Timeline format before all pages will be automatically converted on March 30th.  Here is a guide with the changes you need to know for maximizing the new features for brand pages.
Anatomy of the new Timeline (Photo via Facebook)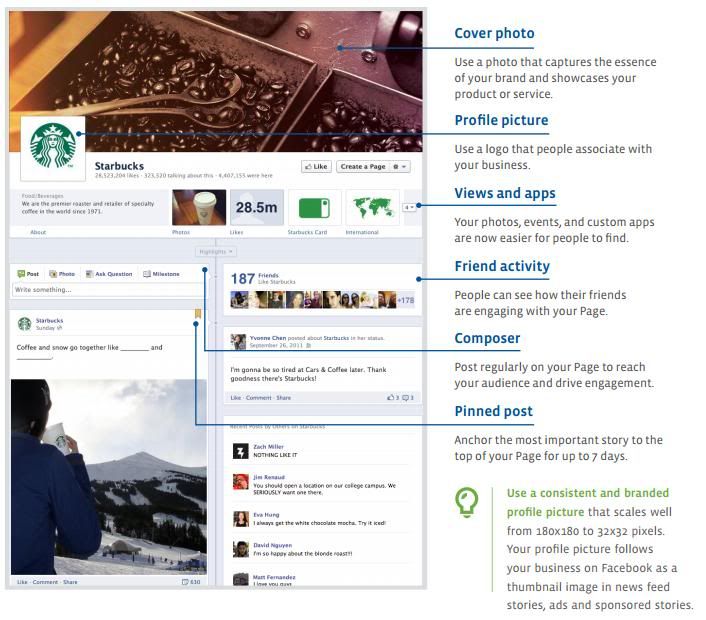 Visual Changes
Maybe the most obvious change to brand pages is the new layout. We have seen these changes in our personal profiles for a few months now, but it is very important that brands know how to use their new page layout to its full potential.  Facebook is trying to help brands tell a story and make their pages more interesting for users. What do most users like? Photos!
The Cover Photo can now be a large 851×315 which allows a lot of space to get creative and present your company in a visually appealing way.  Photos and Videos have always been the most interactive media on pages, so Facebook has made their space on the wall much more prominent as well.  Make sure to read the rules on Cover Photos before adding your awesome new image.
Cover Images may not contain:
Price or purchase information, such as "40% off" or "Download it at our website"
Contact information, such as web address, email, mailing address or other information intended for your Page's About section
References to user interface elements, such as Like or Share, or any other Facebook site features
Calls to action, such as "Get it now" or "Tell your friends"
Application/Tab Changes
Four tabs/applications are placed under the new cover photo with "Photos" being a mandatory tab in the first position. It is possible to add 12 total tabs that will be displayed and swap the tabs around in the order you desire based on what you want to drive attention to during a specific promotion for example. The new tab title images are 111px wide x 74px high, so it is important to use this space to create more attention to the tabs you want to drive traffic.

Without being able to highlight these tabs in the new cover photo it is important to use creative tab images, unique tab titles and pinned content (discuss below) to draw attention.
One of the biggest changes that many marketers are talking about is the removal of default landing tabs. Setting up like-gated coupons or content on a welcome tab for non-fans was a strategy many marketers used to gain new likes. You will no longer be able to set a default landing tab as all visitors will go directly to the wall. This may negatively impact the effectiveness of social promotions using a custom tab, so we must use the new post highlighting and pinning tools and design creative tab images to attract users to custom tabs.  You can still link Facebook ads and content on other sites directly to these landing pages, so you will likely see larger ad budgets to help promote traffic directly to Facebook campaigns.
Highlighted & Pinned Posts
Since the new timeline format is all about telling stories and we know how valuable photos and videos are within Facebook, they have made the area larger for multimedia content. Photos and videos now draw more attention on the wall. If you need more space to highlight a promotion or a really awesome video, you can Highlight the story so that it spreads the width of your page.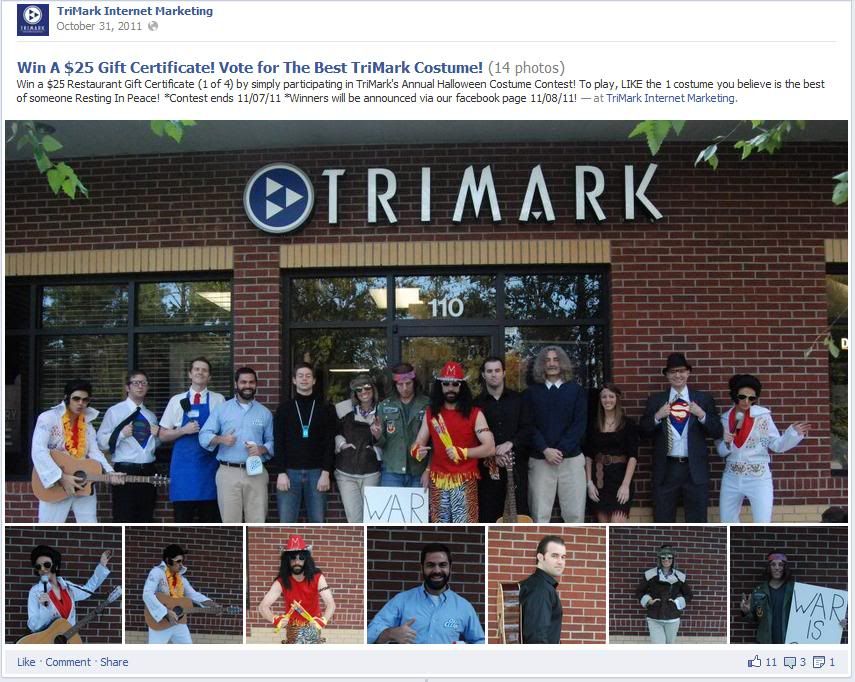 While you are promoting that content throughout the week you can now make sure it stays in prime view for page visitors. 
Pinning stories will keep that content at the top of your page for up to a week, so your other posts will not bury this important content.  In the upper right hand corner of each post is a Star and a Pencil where you can Pin and Highlight the post. Clicking the star will highlight and clicking the pencil will show a dropdown with a Pin selection.  If you notice a post is getting a lot of interaction, try pinning the post to keep the conversation going.
Company History
Tell the story of your company by adding the date you opened, add photos of the early days and add Milestones throughout your history.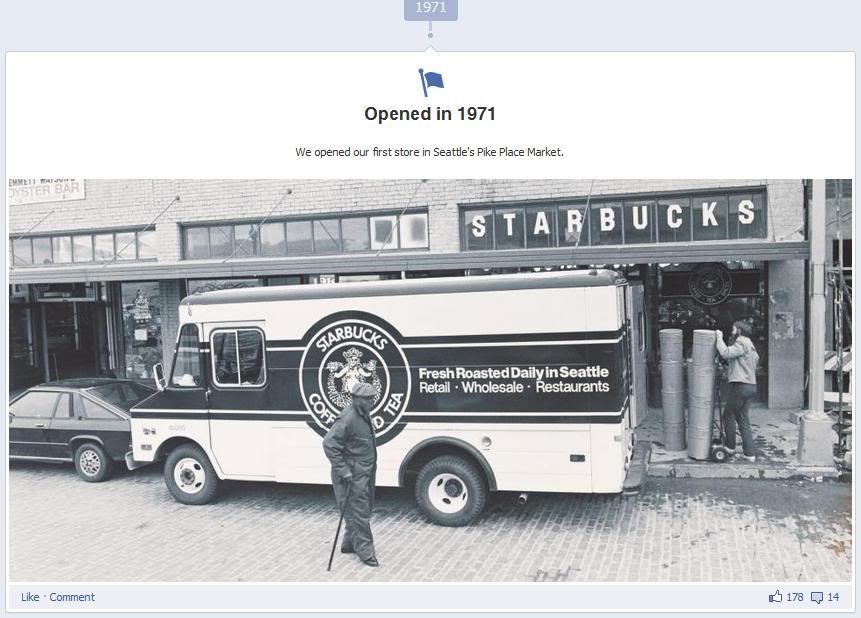 Adding this additional information and photos will hopefully keep people on your page longer as they scroll through your timeline.
Admin Panel
The new admin panel is a dashboard to access all notifications and settings to manage your page. The Admin Panel shows Notifications for people liking or interacting on your page, so you can quickly view and respond to comments.
Messages
Messages is a new function which will allow users to send private messages to the company. Hopefully this will keep users from posting negative comments on the wall, however for pages with larger fan bases, it will become an extra customer service channel to monitor. It can be disabled within page settings.
Facebook Advertising
It's no secret that marketers on Facebook are constantly trying to reach their audience, but their content is often buried in the crowded network among friends and other businesses.  It is reported that a business page only reaches 16% of their fans with content in a week, so Facebook has announced a new ad, Reach Generator.  This ad guarantees a page will reach 75% of fans each month and 50% of fans each week.   The ads will be Sponsored Stories and displayed on the right side of page as usual.
Premium Ads is another new ad Facebook has started offering to large brands. You may have already noticed the full page ads on the log-out page. Premium ads will be much more expensive and are geared towards larger brands.
Now, Create Great Content!
More engaging content is a common theme that will generate more success with these new changes and while many are going to be frustrated at first with the changes, we must continue to find ways to provide valuable and interactive content to our fans.
We will keep you updated as all the changes roll out.